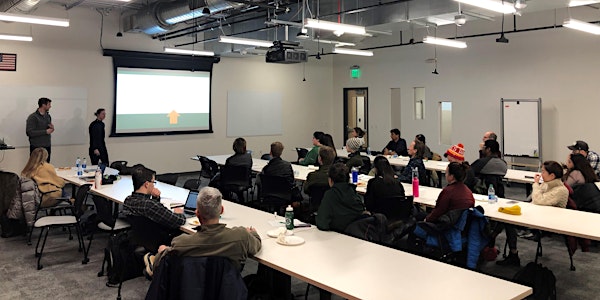 Venture Works: Launching & Scaling Companies Using the Power of Crowdfundin...
Event Information
Location
Nancy Richardson Design Center
522 West Lake Street
Room 121
Fort Collins, CO 80523
Description
Join us for the March Venture Workshop "Launching & Scaling Companies Using the Power of Crowdfunding" with Eli Regalado, Founder of the Mad Hatter Agency

Crowdfunding is the process of raising funding online... It's an entirely new way of financing that has revolutionized the way entrepreneurs raise capital. But there are many different ways to do it. Join us as we explore what crowdfunding is, how to use it, when to launch, and how to scale with one of Colorado's leading experts in the space, Eli Regalado, Founder of the Mad Hatter Agency!
The Mad Hatter Agency is a digital marketing and launch agency specializing in online advertising, PR, and crowdfunding. They launch companies and products using unique marketing and PR angles to grab people's attention. Once they have that attention, they position your product in the mind of a consumer, so they buy. This practice is called sales and work well for crowdfunding campaigns.
The Mad Hatter Agency has crowdfunded over $50,000,000 and has had 10,000+ students go through their crowdfunding course.
Food and drinks will be provided. Please come prepared to get hands-on and learn! Attendance is FREE and open to ALL CSU students, staff, faculty, alumni and community partners.
About Venture Works: Startup Workshops
The road to entrepreneurial success is long and strewn with pitfalls, obstacles and blind turns. It is the goal of Venture RAMS to help support our startups at every turn, so they can grow into revenue generating businesses.
Throughout the Venture RAMS program, we offer supplemental, hands-on workshops designed to inspire and support our CSU entrepreneurs. These workshops introduce individuals to the entrepreneurial mindset, while simultaneously providing hands on training in high impact entrepreneurship and in-depth knowledge on critical success factors. Participants build entrepreneurial confidence, develop creative capacity, and acquire the necessary skills to scale their CSU Venture RAMS that solve real problems.
Date and time
Location
Nancy Richardson Design Center
522 West Lake Street
Room 121
Fort Collins, CO 80523