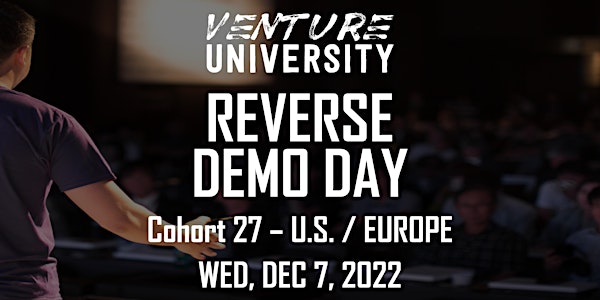 Venture University - REVERSE DEMO DAY - Cohort 27 - U.S. & Europe
Come see Cohort 27`'s investment team present the companies it selected to invest in, sourced from ~4K companies
About this event
Main Event: 1 Hour
Venture University - Welcome Presentation (10 Mins)
Investment Thesis Presentations (50 Mins): Presented By Cohort 27's Investment Team - Companies To Be Announced At Event
We're excited to invite you to Venture University's Cohort 27 REVERSE DEMO DAY!
What's a REVERSE DEMO DAY?  Glad you asked!
Venture University is an investor accelerator (vs. a startup accelerator), so rather than having startups pitch at DEMO DAY, we have the investors within the cohort pitch the companies they selected to invest in and explain why they chose to invest.
Cohort 27 has formed five investment teams: Consumer, Enterprise, Fintech & PropTech, Frontier, & Healthcare. Over the last ~3 months they have sourced and reviewed ~4K companies, met with a large number of investors and startups, conducted deep due diligence, and narrowed down to the top companies they are investing in (a ~0.1% selectivity, ~10x more selective than an average venture fund). Meet Cohort 27.
At REVERSE DEMO DAY VU's Cohort 27 investment team will share their key findings and insights from their due diligence for why they got excited about the market, the team, the solution and strategy, and some of the key traction metrics that made them say "yes" to invest.  
Are you an angel investor or family office interested in co-investing with VU each quarter?  Apply to join Bonded - VU's Investor Syndicate: https://5jnciibb18c.typeform.com/to/jbOcTT7y
Are you looking to hire Analysts, Associates, Principals, or Partners to join your investment team?  If you're an investment group that is hiring signup to participate in VU's quarterly VC/PE Recruiting Match Making and VU will curate 3-6 top candidates from the current VU Cohorts and VU alumni to interview for your job positions.
VU's cohort members include three types of individuals:
1) Individuals looking to break into VC / PE as Analysts, Associates, Principals, and Partners
2) Emerging fund managers, angel investors, and family offices looking to improve their overall VC/PE investment skills
3) Founders and entrepreneurs that are looking to join high growth businesses or start their next company     
Pitch Your Startup to VU's Investment Team: https://www.venture.university/pitch-vu
Interested in learning more about Venture University? 
Go to www.Venture.University. 
Venture University is currently accepting applications for:
U.S. / Europe Cohorts:
Winter 2023: Jan 9 - Mar 24
Spring 2023: Mar 27 - Jun 9
Asia-Pacific Cohorts:
Winter 2023: Feb 6 - Apr 21
Spring 2023: Apr 24 - Jul 7