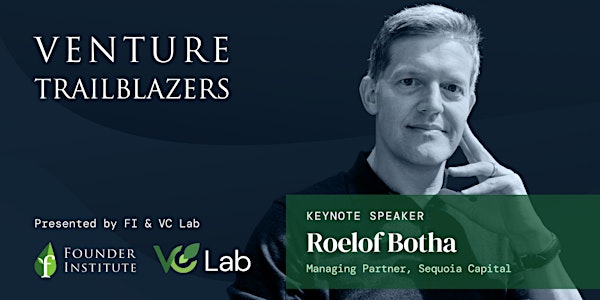 Venture Trailblazers, featuring Roelof Botha of Sequoia Capital
Venture Trailblazers is an exclusive, invite-only event series hosted by Founder Institute and VC Lab
About this event
Venture Trailblazers is an exclusive, invite-only event series that connects leading investors, founders, and ecosystem leaders from across the globe to discuss the latest trends in startups and venture capital.
For this inaugural edition, we welcome Roelof Botha (Managing Partner at Sequoia Capital) for a Fireside Chat with Adeo Ressi (Chairman of Founder Institute, CEO of VC Lab).
After the Fireside Chat there will also be a short panel discussion on VC trends with emerging fund managers from across the globe, followed by a long structured networking session.
The goal of Venture Trailblazers is to educate and connect the founders, leaders, mentors, and investors across the global Founder Institute, VC Lab, and FI Venture Networks.
About the Speaker: Roelof Botha (Managing Partner, Sequoia Capital)
Roelof Botha has spent over 20 years building companies in Silicon Valley. He began within the walls of nascent PayPal, where he joined in March 2000 while completing his MBA at Stanford. He became CFO in 2001 and led the company through both its IPO in early 2002 and the subsequent acquisition by eBay.
Roelof joined Sequoia Capital in 2003 to help founders build enduring businesses. He leads the US/Europe business as Managing Partner and serves as Senior Steward of the global Sequoia Partnership. Roelof is a Director of 23andMe, Bird, Ethos, Evernote, Inside.com, Landis, mmhmm, MongoDB, Natera, Pendulum Therapeutics, Square, and Unity Technologies. Previously, he was a Director of companies that include YouTube, Tumblr, Xoom, AssureX, and Eventbrite. He also led Sequoia's investment in Instagram.
Agenda
8:30AM PT: Event starts with open networking
9:05AM: Introduction
9:10- 10:00AM: Fireside Chat with Roelof Botha and Adeo Ressi
10:00 - 10:30AM: Roundtable Discussion with VCs
10:30 - 11:30AM: Structured Networking
Venture Trailblazers is presented by the Founder Institute, the world's largest pre-seed startup accelerator; and VC Lab, the leading venture capital accelerator for emerging managers worldwide.
This event is strictly invite-only, and reserved for the Founder Institute and VC Lab networks: including Local Leaders, Alumni, Mentors, Investors, Partners, and Enrolled Founders/ Fund Managers. If you fit these criteria and have not received an invite, please complete this form.