Description
Sponsored in part by
Bixby is a mobile building communication & hospitality platform making it easier for owners & managers of all property types and portfolio sizes to provide top quality service to tenants and residents while making properties more connected, efficient, & sustainable.
---
Smart Cities present a lot of opportunities - and a lot of risk. How can governments, businesses, investors, and innovators plan effectively for the smart cities digital transformation to focus on local impact and global reach?
On Tuesday, December 12th at the New York Bar Association, leaders in government, business, and academia will come together to explore setting Smart City Development Goals in New York City, throughout the region, and beyond.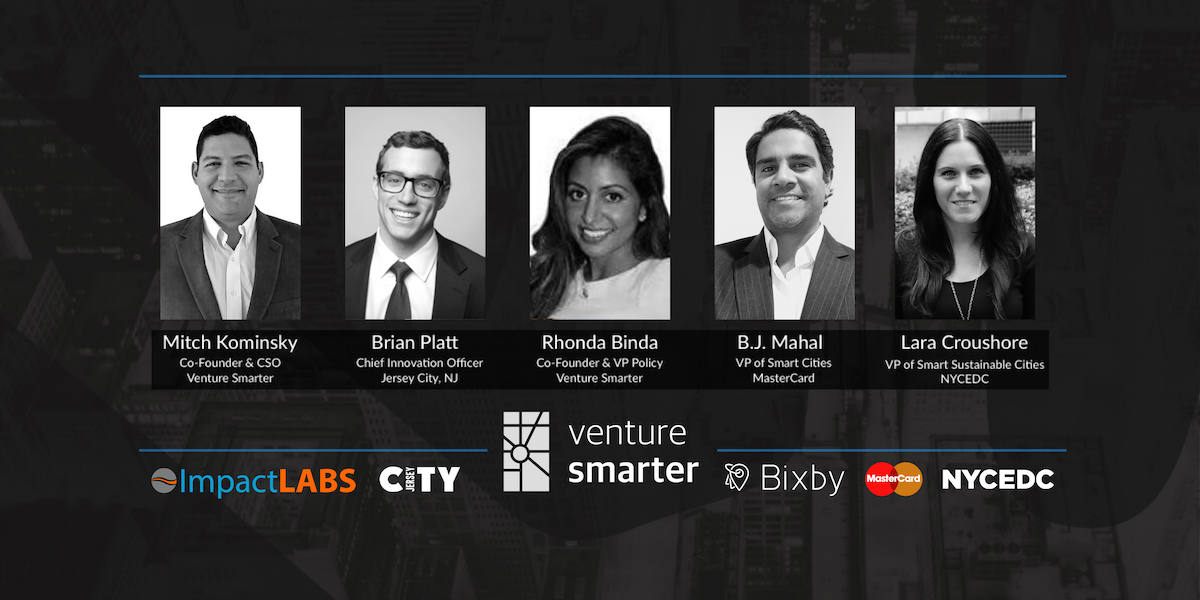 Topics will focus on connectivity, mobility, and resilience, and how we will leverage IoT and advanced technologies to optimize or replace our infrastructure and digital systems. There will be brief presentations from NYC leaders, including:
Brian Platt, Chief Innovation Officer for Jersey City, NJ
Rhonda Binda, Vice President of Policy and Co-founder of Venture Smarter
B.J. Mahal, Vice President of Urban Innovation & Smart Cities for Mastercard

Mitchell Kominsky, Chief Strategy Officer and Co-founder of Venture Smarter
Lara Croushore, Vice President and Director of Smart and Sustainable Cities for New York City Economic Development Corporation
Following the presentations, a forum and open discussion will take place, featuring a number of special guests and industry experts, including Chris Rezendes from IoT Impact Labs and many more.

The goal is to help facilitate conversation and awareness on the topic in the community that will drive social mobility and economic development while using technology as a tool to improve outcomes for people. What will it take to make NYC citizens 100% connected, and 100% mobile? How can your organization or business help?
The event will take place from 3:00 - 4:30 pm and include a networking opportunity following the program. #SCDG

---
About the Speakers:
Brian Platt
Brian Platt is the Chief Innovation Officer for Jersey City, NJ and helped create the Jersey City Office of Innovation in 2015 (thanks to a grant from Bloomberg Philanthropies).
The office focuses on addressing Jersey City's most complex challenges utilizing a data driven, collaborative, community-based approach to problem-solving. Major projects include initiatives seeking to better support small businesses and mitigating local flooding and pollution of waterways through better stormwater management.
Brian previously worked for McKinsey & Company and as a kindergarten teacher with Teach For America. He completed his Masters in Public Administration at Columbia University, and was recently included on the 2017 "Traeger List" as one of the top 100 local government leaders in the United States.
Brian is extremely involved in the Jersey City community. Some of his hobbies include
Teaching Olympic weightlifting at CrossFit Jersey City
Volunteering as an Emergency Medical Responder with United Rescue
Serving as President and co-founder of the Hudson County Young Democrats, a grassroots political organization with a mission to expand civic activism and engagement in the political process for young people throughout Hudson County
Serving as a board member and co-founder of Content Creators Academy (CCAJC), an after-school youth mentorship program focusing on digital media skills
He also is the founder of Factual Uprising, a research and education tool providing easy access to information about key national issues.
Rhonda Binda
Rhonda Binda is VP Policy for Venture Smarter and Director of their Regional Smart Cities Initiatives. She has a distinguished history of public service, as Deputy Director for the U.S. Department of State's Global Intergovernmental Affairs Division, and in the West Wing of the White House, under two administrations respectively. In between her government tours she practiced technology law with Alston & Bird.
Binda most recently returned to her hometown and served as the Executive Director of the Jamaica Business Improvement District. Under her tenure, Governor Cuomo awarded Jamaica the #1 award state-wide for downtown revitalization, Jamaica was named #1 hottest neighborhood in NYC by the Wall Street Journal and won NYC's SBS Neighborhood Challenge Grant.
In 2016, she was Queens Chamber of Commerce's Business Leader of the Year and named Community Leader of the Year by QCYD. Binda attended Duke and Oxford and received her JD from Georgetown.
B.J. Mahal
B.J. Mahal leads Smart Cities & Urban Innovation initiatives for Mastercard in North America. His efforts focus on working with municipalities, corporations, start-ups, academia, and non-profits to develop and bring to market solutions to help cities improve capabilities in areas such as: mobility, economic development, travel & tourism, digital payments and inclusive growth.
Previously, B.J. worked with global companies and governments as part of Monitor Deloitte's Strategy practice helping organizations in the areas of: M&A, go-to-market, organizational design, and business unit strategy.
His earlier experience at Microsoft involved business development with states, cities, and the federal government to integrate cloud and advanced analytics technologies.
B.J. began his career serving in the U.S. Navy leading teams around the world in multiple combat theaters.
He holds a MBA from Cornell University's Johnson Graduate School of Management and a B.S. in Systems Engineering from the United States Naval Academy.
Mitchell Kominsky
Mitchell Kominsky is the Co-founder and Chief Strategy Officer for Venture Smarter. Mitchell is leading the company's effort to build a platform, based on artificial intelligence, to help cultivate the Internet of Things ecosystem. Additionally, Mitchell is a founding advisor to 1776, a global incubator and seed fund with $12.5M under management and advised high-tech startups from seed stage to venture-backed companies with more than $30M in funding.
Mitchell recently served as a senior counsel for U.S. Senate Leadership on emerging technology, and is the author of various cybersecurity laws. As a Counsel in the U.S. Congress, Mitchell led high-profile investigations and congressional hearings into matters at the intersection of emerging technologies and national security.
Lara Croushore
Bio Coming Soon...
---
Contact: hello@venturesmarter.com
---
Venture Smarter hosts regular webinars, roundtables, forums, and thought leadership summit events. This Fall Venture Smarter hosted the first Smart Regions Conference in the United States with featured keynote Anil Menon, Cisco's Global President of Smart Cities and Connected Communities, as well as Karen Jackson, Secretary of Technology for the Commonwealth of Virginia. This summer we also hosted an international youth leadership forum at The World Bank Group in Washington DC and launched Regional Smart Cities Initiatives in Spring 2017 at the Smart Cincy Summit in Cincinnati OH.