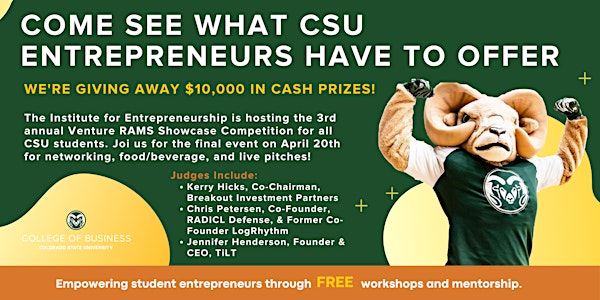 Venture RAMS Business Showcase Competition & CSU Demo Days Awards Ceremony
Location
Colorado State University C. Wayne McIlwraith Translational Medicine Institute
2350 Gillette Drive
Fort Collins, CO 80523
Join us for a fun evening of networking, pitches and prizes! Come see the latest innovations and entrepreneurial endeavors at CSU.
About this event
Join us for networking and the final Venture RAMS Business Showcase Competition and CSU Demo Days Awards Ceremony on Wednesday, April 20th at the Translational Medical Institute at Colorado State University.
Throughout a new venture's journey as a start-up, aspiring entrepreneurs will undoubtedly pitch their idea to countless stakeholders with the future of their companies on the line. The CSU Institute for Entrepreneurship Venture RAMS: Business Showcase provides start-up founders with the experience and exposure to present their businesses effectively. Come see the latest research, innovations, and startups to come out of Colorado State University.
AGENDA:
4:00PM Happy Hour Networking & CSU Demo Days Finalist Poster Showcase
4:45PM Welcome & Opening Remarks
4:50PM Keynote
5:00PM Pitch I
5:12PM Pitch II
5:24PM Pitch III
5:36PM Pitch IV
5:48PM Pitch V
6:00PM CSU Demo Days Awards Ceremony & Showcase Judging
6:20PM Showcase Competition Winners Announced
6:28PM Thank you & Close
PRIZES:
1st Place Prize - $5,000
2nd Place Prize - $3,000
3rd Place Prize - $1,500
People's Choice Award - $500
CSU Demo Days Game Changer Award - $1,500
Keynote:
Jennifer Henderson, Founder & CEO of TiLT - TiLT is a local Fort Collins startup that is revolutionizing employee leave in the workplace. Through a web-based platform, our process guides employees and companies through a research-based, inclusive approach to retention, engagement, and effective transitions. Ensuring organizations reduce turnover, attract new workforce generations, support managers and sustain a respectful and effective process for parental leaves through an easy to use SaaS platform (TiLT- Talent in Leave Technology). Often a highly charged and anxiety provoking process for all parties that company policies, procedures, and programs alone wont fix.
Judges:
Kerry Hicks, Co-Chairman, Breakout Investment Partners
Chris Petersen, Co-Founder & CTO, LogRhythm
Jennifer Henderson, Founder & CEO, TiLT
Interested in applying to pitch?
Submit your application at this link: https://biz.colostate.edu/events/2022/april/venture-rams-business-showcase
The founding team of each venture must be at least 50% current CSU students. The following will be required to complete the application:
1-Page Executive Summary (single spaced, 12pt font)
Filled out a Business Model Canvas (BMC)
URL to 30 second elevator pitch
URL to your 3-min video pitch