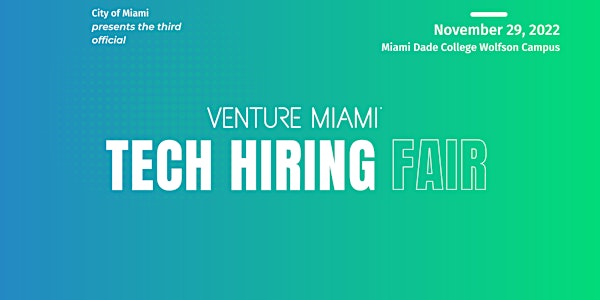 Venture Miami Tech Hiring Fair 3
Connecting local talent to the tech companies that are hiring now!
When and where
Location
Miami Dade College, Wolfson Campus (Kyriakides Plaza, between buildings 1 and 2) 300 NE 2nd Ave Miami, FL 33131
About this event
The "vision" of Venture Miami is to make Miami the "capital of capital" with an innovative technological ecosystem and an economy that delivers for everyone. A key component to realizing the vision is connecting local talent to career opportunities.
Please join City of Miami Mayor Francis Suarez, Miami-Dade County, Miami Dade College, Florida International University, and University of Miami leadership for the third Venture Miami Tech Hiring Fair.
This event is free and open to the public
INFORMATION FOR JOB SEEKERS
Job seekers should come ready for on-site interviews and on-the-spot hiring.
PREPARING FOR THE HIRING FAIR
VENTURE MIAMI TALENT REPOSITORY: Please upload your information to the Venture Miami Talent Repository, so we can share your resume and LinkedIn with participating companies. This will also allow for you to connect with the companies you're interested in directly.
WORKSHOPS: Venture Miami will host a series of workshops to help job seekers prepare. Dates, times, and locations will be announced soon.
Program:
4:00 pm Doors open + Check-in
5:00 pm Welcome & Remarks
5:15 pm Open networking (opportunity for spot hiring & interviews)
7:00 pm Event concludes
INFORMATION FOR TECH COMPANIES LOOKING TO PARTICIPATE
If your company is interested in being part of the hiring fair, please make sure to read through the qualifying criteria BEFORE applying.
1. Tech company or startups should be considered tech-based
2. Tech company or startups should be actively hiring a minimum of 5 technical or non-technical roles.
NOTE: At this time we are not working with recruiters, service providers, or third-party providers. Companies that don't meet this criteria will not be accepted. All companies are asked to register before attending as walk-ups are not allowed.
A confirmation email with more information on setup details will be sent once the company has been accepted to participate.
Past participating companies and their jobs openings are below-
0 Percent, 1nce, AEXLAB, Altada, Amori, Appgate, Argo AI, Assurant, Atomic, BankUnited, BillerGenie, Blackstone, Blockchain.com, Bootup, Brainstation, Bungie, Chenmed, C3 Complete, Chewy, CoinFund, CoinRoutes, Colle, Crowd Capital, Crypto.com, eMed, Etha, Ethernity Chain, everphone, everymundo, Ford, Forte Group, Gemini Sports Analytics, Grover, Hartmann Capital, Haku, Healthcare.com, Introhive, Ironhack, itopia, Kaseya, Kyte, Lula, Majority, Marco, Microsoft, Milo, Mirror World, ML Tech, Neocis, Ninja Holdings, Nirvana, Novo, Nuvalence, Openstore, Papa, Relief App, Rillavoice, Santander, Santex, Schonfeld, ShiftPixy, Slalom, SmartHop, Swagup, The Rounds, Traba, Tradestation, Transak, UKG, Yieldstreet, Yupix, Zilch, Zumper, and more.
Please check each company's website and/or LinkedIn to learn more about open positions and job descriptions.
Follow Venture Miami on Twitter or LinkedIn for more updates
EVENT LOCATION (map below): Kyriakides Plaza, between buildings 1 & 2