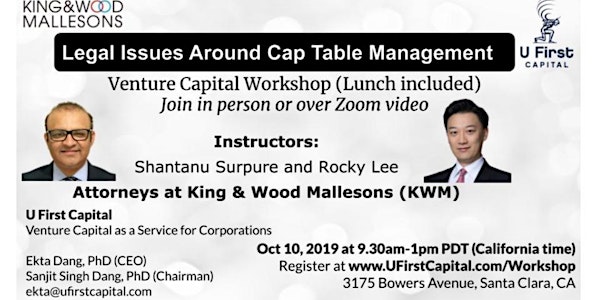 Venture Capital Workshop: Legal Issues Around Cap Table Management
When and where
Location
3175 Bowers Avenue Santa Clara, CA 95054
Description
Date: Oct 10, 2019
Title: Legal Issues Around Cap Table Management

Instructors: Rocky Lee and Shantanu Surpure, Attorneys at King & Wood Mallesons (KWM)
Time: 9.30am to 1pm
Location: U First Capital office, 3175 Bowers Avenue, Santa Clara, CA 95054.

You can attend in person or over Zoom video. Speakers will join in person from U First Capital office. Zoom link will be sent to registered persons only. These events are intended to be interactive, so attendees will get a chance to ask questions.
Agenda:
9.30-10am Registration and Networking
10-12pm Training
12pm-1pm Lunch and Open Discussion
Description:
The workshop will provide an understanding of cap table and its calculation. It will go over SAFE Note vs Convertible Note. Below are the topics that will be covered:
What is a cap table, why do you need one and what should it look like?

How to calculate the price per share accurately? What does "on an as-converted and fully diluted basis" mean?

Common stock vs. preferred stock and how do the different classes of stocks affect the cap table?

How does liquidation preference work? What are the types of liquidation preference (i.e. non-participating, participating with no cap and participating with a cap)

Restricted stock and ESOPs

SAFEs and Convertible Notes compared

What are Options and Warrants? How do they affect the cap table?

What sort of dilution is typical at various stages and how does it play out in the real world? What equity stake is typical for founders, early employees, advisors, angel investors, etc.?

How to set up your cap table for future rounds of capital

How to keep your cap table organized and accurate
Speaker Bios:
Rocky Lee
Rocky Lee is an International Partner at King & Wood Mallesons (KWM) and a deal lawyer with nearly two decades of experience in China cross-border transactions. He is widely recognized as one of the top legal advisors to funds and founders with numerous awards and accolades from the likes of Asia Law & Practice, Chambers Asia, China Business Law Journal, the Financial Times and Legal 500.
Mr. Lee has particular expertise in China's "restricted industries" which often involves the use of "VIE" structures, as well as complex regulations governing foreign investment to and from China. Amongst his many China transactions, Mr. Lee led Xiaomi's financing, breaking ground for billion-dollar tech deals in Asia and multi-billion dollar valuations. Didi, Tujia, Grab, Lufax and OFO are some of the unicorn deals Mr. Lee managed for investors.
Mr. Lee received a BA from the University of California Berkeley with high honors and his JD from the University of California Los Angeles. Mr. Lee is admitted to practice law in California.
Shantanu Surpure
Shantanu Surpure is a US, UK and India admitted attorney and Of Counsel at King & Wood Mallesons (KWM). Shantanu has broad experience in cross-border corporate, M&A, capital markets, venture capital and private equity transactions.
Mr. Surpure is a Charter Member of The Indus Entrepreneurs (TIE) and a co-founder of Mumbai Angels, which is India's leading angel investment group.
Mr. Surpure is a frequent speaker regarding cross border M&A, venture capital/private equity and entrepreneurship having spoken at Harvard, Stanford, Columbia Law School, UC Berkeley, Wharton (Wharton India Economic Forum) and the Indian Institute of Technology (IIT). He has also been quoted by and/or had articles published in Forbes, Reuters, International Financial Law Review, Asian Venture Capital Journal, The Economic Times and India Business Law Journal.
Mr. Surpure holds a BA Magna cum Laude from Brown/London School of Economics, an MA Jurisprudence from Oxford University and a JD from Columbia Law School.
Mr. Surpure is admitted to practice law in California, New York, Nevada, India and England and Wales.
The speakers will be assisted by Anna An:
Anna An
Anna An is an associate at King & Wood Mallesons, specializing in venture capital, private equity, foreign direct investment, and general corporate and commercial matters. Mrs. An has represented major international corporations in investment projects, including in deal structuring and closing, conducting due diligence and drafting transaction documents.
Mrs. An graduated from China University of Political Science and Law with an LLB, an LLM from Boston University Law School and an MA in political science from Northeastern University. Mrs. An is admitted to practice law in California and New York.