Event Information
Refund policy
Contact the organizer to request a refund.
Eventbrite's fee is nonrefundable.
Venture Capital Fundraising in USA & Financial Valuation for Startups
About this event
Trainer & Coach: Tom Hayhurst, Horizon Performance Consulting Group
Dr. Zahra Asgharpour, ELAVITY, Elevating Technology Ventures
Tom Hayhurst has been working closely with biotech start-up companies for over 25 years. He advises founders, VC, and executive management on how to build the sales and marketing functions of a startup enterprise.
He has been consulting with executives from pre-IPO/startups to Fortune 500 companies in the healthcare industry. His scope of over 150 clients include device, lab services, point of care, and information management companies. Tom has been on the board of directors for the Biomedical Marketing Association and is a 25-year member of the American Association for Clinical Chemistry.
Dr. Zahra Asgharpour is a Medtech & Software expert. She has worked over a decade in Medical Device, Corporate Venture Capital and Software and has co-founded start-ups in Regenerative Medicine & Virtual Reality. She brings in views as an Investor & founder and provides a lecture on financial valuation.
This course will cover 3 major topics on how to successfully raise a VC fund and financial valuation in fundraising.
I. Opportunities US Investment Community Overview
Investment landscape in the US market (Angel investment & Venture Capital)
Overview of Biotech funding in the USA
Top VC firms investing in Medtech & Biotech in USA
Overview of Angel investments areas in USA (Diagnostics, Medical Device, Pharma & Digital Health)
II. Challenges
How to get the attention of investors in US market
What investors are looking for, what are their criteria of investment
What US-consumer market is looking for?
How to map the US market
Premarket research: What do you need to look for and why is it important?
Disruptive vs replacement product
High tech vs low tech
Regulatory
III. How to Overcome the Challenges
Describe the "problem" in the marketplace from your pre market research
What is your "Idea" that would address that problem?
What "product" or "service" have you created to address that problem?
Who are your main competitors and why is your product superior?
What "proof of concept" do you have to justify that it will work?
Commodity or unique product/service?
What "IP/Patent" protection do you have to preserve your idea/s?
Has the "regulatory pathway" been defined?
Know your market,The segment and the buyer within the segment,
How and how much do you expect consumer will pay for this product/service?
Individual consumer, institutional, government, distributor.
Second part of the seminar will include financial valuation:
Finance a Key factor in Success or Failure for start-ups and Venture capitals. ELAVITY is hosting a Training course on Financial Valuation for New Ventures, Startups & venture capitals.
You will learn about the main challenges behind valuing a start-up and the key concepts that entrepreneurs should have in mind when raising capital from financial investors. We will cover multiples valuation and how to identify peer groups.
If you are a venture capitalist and want to learn from the leaders in finance from The London School of Economics and Political Science (LSE) or a startup willing to strengthen your knowledge in finance, putting a compelling fundraising strategy and understanding how to make a multi-billion dollar business, this course is well-designed for you.
Topics:
Developing methods for financial valuation
Understanding the value of technology companies
The importance of valuation in early stage start-ups
A case study on financial modeling for a medtech startup
How to manage finances in new ventures
Develop a strategy on your fundraising to take maximum return as a founder
Master the art of valuation as an investor
Those who want to book additional 75 minutes consultation on building a compelling pitch please select the Additional training for Investor Pitch Building. You can drop us a line with date/time to book your additional training at your convenience. Please email nicole@elavity.com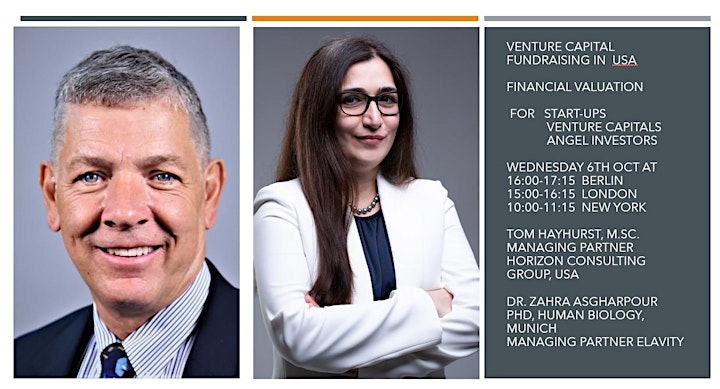 Date and time
Location
Refund policy
Contact the organizer to request a refund.
Eventbrite's fee is nonrefundable.
Organizer of Venture Capital Fundraising in USA & Financial Valuation for Startups