Description
One question:

What will Ann Arbor look like in five years, if it is significantly supported by local capital?

Reconsider and Washtenaw County Office of Community and Economic Development (OCED) are announcing the launch of venture LOCAL -- a local investing awareness, education, and engagement campaign designed to accelerate investment in locally-owned businesses across Washtenaw County.
Join the conversation!

What to Expect:


5:00 - 5:30 Open connecting
5:30 - 5:45 Setting the Foundation: What is local, what is investing, and what is the MILE Act.

5:45 - 6:45 Answering the one question: World Cafe style
6:45 - 7:00 Check out the results
7:00 - 7:30 Open connecting
You MUST register to attend, so register now!

---
Curious Questions

What is the venture LOCAL campaign involve?

The campaign includes several elements that will roll out over the next six months.
Community Gathering in each major city: Ann Arbor, Chelsea, Dexter, Manchester, Milan, Saline, and Ypsilanti
Local investor trainings in Ann Arbor and Chelsea
Outreach across all denominations in the faith community
Investment Readiness Training

Scholarships

for local enterprises
Creation of fact sheets and learning aids

Who will be there/should I be there?
If this word cloud describes you or is of interest to you, then YES!
The county-wide venture LOCAL campaign is designed for community members who are interested in investing locally, for new and growing businesses (and retiring owners) who are interested in raising capital, for community leaders and officials interested in innovative economic development, and for professional service providers interested in effectively serving their business clientele.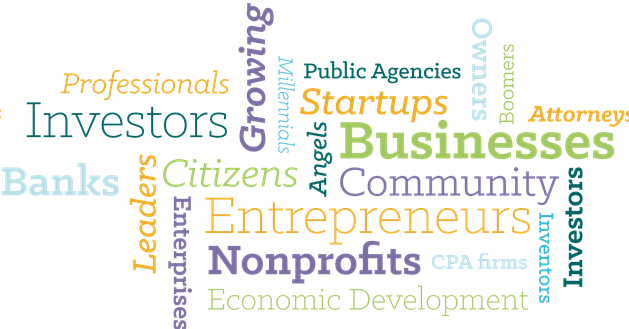 Do I have to live in Ann Arbor to attend?

No, but you have to have a reason to be influencing Ann Arbor's economy for Ann Arbor natives to want to have you in the conversation. You're probably solid if you: live in, work in, have a business in, have family in, grew up in, or went to school in... Ann Arbor. Let us know if you fall outside these descriptions, but still want to come.

AND Not to forget our smaller communities who enjoy the quieter life outside of town! Come to this event if you live in: Ann Arbor Township, Pittsfield Township, Barton Hills Village, Bridgewater Township, Northfield Township, Salem Township, or Scio Township!

What's the point?
Shifting more capital into Ann Arbor is a great idea, but where would that capital actually go? The goal is to get people thinking and talking about what they envision in their town.
The ideas will be recorded in a unique way that will help everyone understand the primary themes and ideas that rose to the top of the conversation in the room. For ideas with traction, next steps will be suggested.

Who initially made this possible?


An Act 88 local economy endeavor
When are you coming to my town?
Watch for your town's Gathering announcement!
October 30: Ann Arbor

November 19: Dexter

December: Manchester

January: Saline

February: Milan

March: Ypsilanti, Chelsea
---
Supported by: