Description
Please join Lock & Key and Ventura Spirits for an exclusive 3 course dinner by chef Cyndi Tran and a tasting of: California Vodka, Wilder Gin, Opuntia Prickly Pear, and Strawberry Brandy.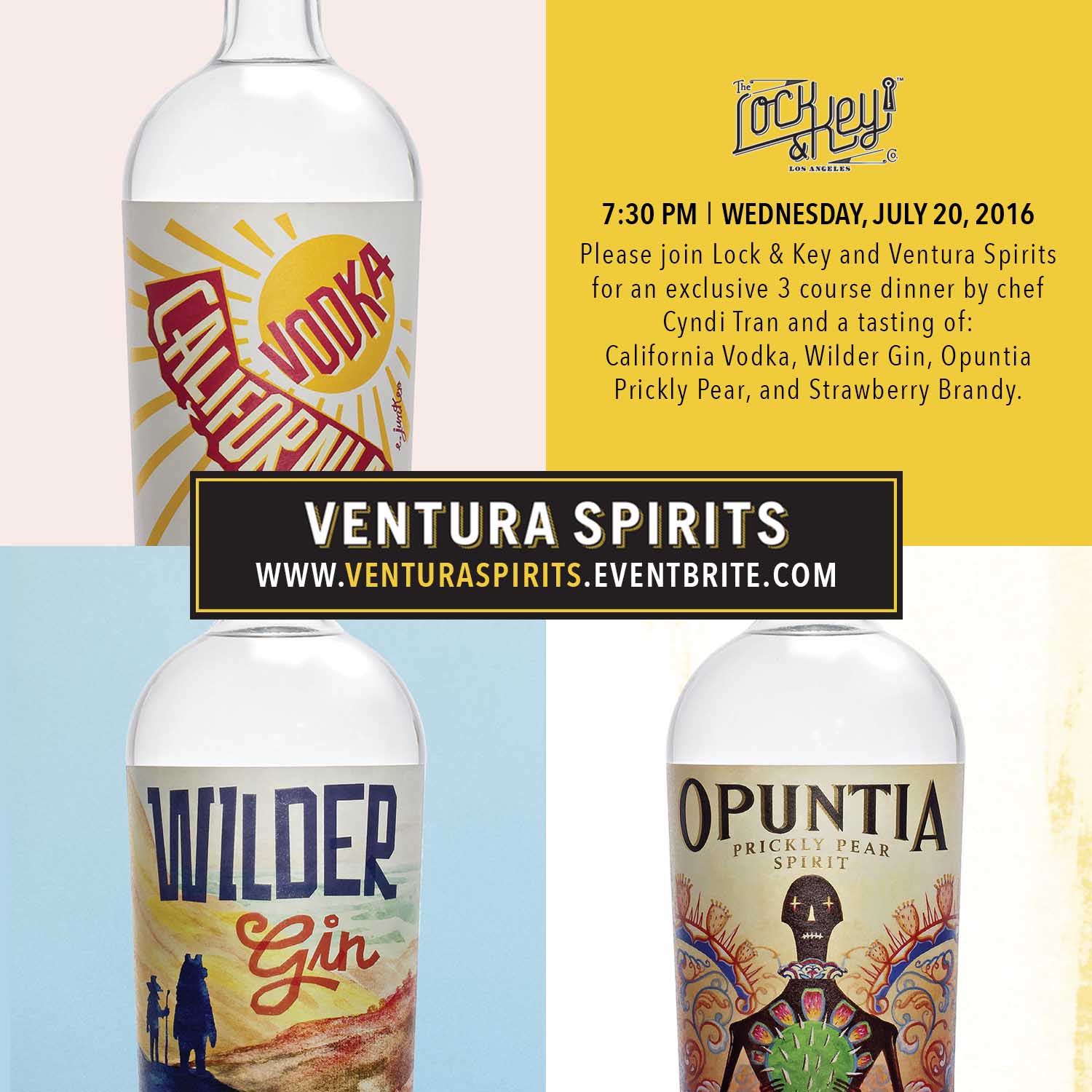 ---
CALIFORNIA VODKA
California Vodka is the only vodka in the world made from strawberries. This is not a flavored vodka - it is a neutral spirit that is actually distilled from strawberry wine. The locally grown fruit is fermented, distilled and bottled by hand at our craft distillery on California's central coast. This is California Vodka.
OPUNTIA PRICKLY PEAR
Opuntia is a prickly pear spirit, made from the fruit of the Nopal cactus. Its flavor is as singular as tequila's, an invigorating balance of fresh fruit and desert earth that is all its own. Over a ton of sun-ripened California fruit is fermented into wine and then distilled in each batch. This is a new spirit tradition that belongs to California.
WILDER GIN
Wilder Gin is distilled with wild-harvested, native California botanicals including sagebrush, purple sage, bay, yerba santa, pixie mandarin peel and chuchupate. This dynamic mix of the wild and the cultivated bursts with fresh, savory aromas, like taking a walk through the mountains of the central coast. Drink Wilder straight, or use it to bring out the wilder side of gin cocktails. This is not the Queen's gin, it's Wilder.
---
MENU
Appetizer
California cheese and charcuterie board accompanied with pickles, preserves, fruit and assorted thin breads
First Course
Summer Melon Panzanella Salad, avocado, grapes, lemon cucumber, basil, arugula, red onion, garlic ciabatta croutons, tomato vinaigrette
Second Course
Seared Salmon, marjoram citrus dressing, roasted cherry tomato, potato puree
Roasted Beef Tenderloin, salsa verde, caramelized onions, garlic lemon sautéed Swiss chard
Sautéed Summer Corn and Squash Succotash, green garbanzo, peppers, spinach, brown butter, piquillo pepper vinaigrette
Third Course
Strawberry Shortcake
Buttery shortbread biscuit, fresh whipped cream, California Vodka flambé strawberries
---
All sales are final. Tickets are non-refundable. Credit for future events may be issued at the discretion of the organizer.