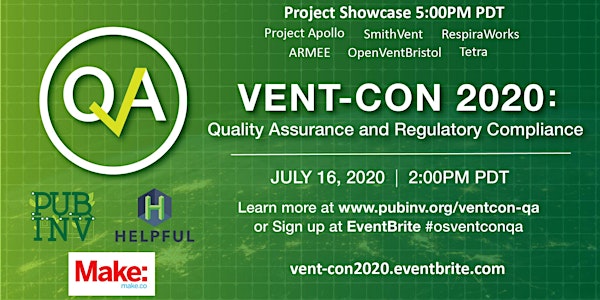 Vent-Con 2020: Quality Assurance and Regulatory Compliance
3 hours of FREE educational presentations followed by a 30 minute Project Showcase with some of the best open source ventilator teams!
About this event
Please join us for the second Vent-Con 2020 16 July 2:00PM PDT!
This FREE virtual mini-con will focus on Quality Assurance and Regulatory Compliance. Learn how you can navigate the regulatory maze and engage with experts. The Project Showcase at 5:00PM PDT will feature 6 of the best open source ventilator projects, followed by a 1 hour social event!
Vent-Con 2020 is supported by Public Invention, Helpful Engineering, Make.co
Conference Program
2:00 PM PDT, Dr. Erich Schulz, Medical Review
2:30 PM PDT, Michelle Lott, Common FDA Questions
3:00 PM PDT, Pierre Lonchampt, Risk Management
3:30 PM PDT, Adam Gosik-Wolfe and Santosh Rohit, Design Controls
4:00 PM PDT, Robert L. Read, PhD, State of Open Source Ventilation
4:30 PM PDT, Marc Jones, A Legal Perspective on Risk Management
5:00 PM PDT, Project Showcase with Panel Q&A(5 mins each)
5:30 PM PDT Social Event (1 hour)
Join the discussion on the Helpful Engineering Slack!
Since March, communities have formed around the perceived shortfall of ventilators needed to treat COVID-19. The pandemic created mayhem and confusion which has been painstakingly cleared away. We have now learned better what is needed to treat the disease, that the ventilators need to be more sophisticated, and that the crisis may have abated but the future remains uncertain, especially in the developing world.
Please join us to review the impressive progress, discuss the uncertain present, and forge a path forward into the future for makers, philanthropists, investors, government officials, medical professionals, and manufacturers involved in building pandemic ventilators.
Hosted by: