Location
3 W's Pavilion, University of West Indies
Gordon Cummins Highway
Wanstead, Saint Michael
Barbados
Sales Have Ended
Registrations are closed
Call or email for payment pick-up or drop off: Nicole Alleyne @ 253-9384/ hhccmeevents@gmail.com Early Deadline Registration and Payment - Oct 8, 2015 Early Registration Payments will be picked up between Oct 1-8, 20105 BDS$100 -Physician; BDS$80.00 - Allied Health Late Registration and Payment: Oct 9-11, 2015: BDS$120 - Physiican; BDS$100 - Allied Health Cheques can be made out to "Hibiscus Health Caribbean Inc"
Description
ABOUT THE SEMINAR
This continuing medical education seminar explores a range of venous disorders occurring in a variety of patients and situations. From blood clots to phlebitis, chronic venous insufficiency to ulcers, this seminar will address various diagnoses and treatment modalities from a range of health professionals including internists, dermatologists, cardiologists, surgeons and others. Imaging, surgical and non-surgical management of venous disorders will be included.
Continuing Medical Education Credit Expected: "C-Credit"
---
REGISTRATION
~Lunch & Coffee Break Provided~
http://venousdisease.eventbrite.com
246-269-6183; 253-9384; hhccmeevents@gmail.com
Early Bird - Registration & Payment by Oct 8, 2015
BDS$100 - Physician
BDS$80 - Nurse, Other Allied Health
NO REFUNDS AFTER OCT 8, 2015
Late - Registration & Payment Oct 9-11, 2015
BDS$120 - Physician
BDS$100 - Nurse, Other Allied Health
---
DRAFT AGENDA:
Chairperson - Dr. Anthony Harris, Cardiac Surgeon
(Times are subject to change)
Time
Topic
Speaker
1.00-1.05PM
Opening Remarks
Dr. Anthony Harris, Chairman
1.05-1.35PM
Venous Thromboembolic Disease: The Pitfalls of Management - A Current Review
Dr. Dawn Alleyne, Pulmonologist/ Intensivist
1.35-2.05PM
The Pharmacological Management of Venous Disease
Robert Carter, Pharmacist
2.05-2.35PM
Surgical Management of Pulmonary Embolism
Dr. Alan Smith, Cardiothoracic Surgeon
2.35-3.35PM
Lunch
3.35-4.15PM
The Role of Interventional Radiology in the Management of Acute Deep Venous Thrombosis and Prevention of Thromboembolism.
Dr. Fidel Rampersad, Interventional Radiologist, Trinidad (JIPA)
4.15-4.45PM
Venous Skin Ulcers – Prevention Treatment & Management
Dr. Andrew L Forde, Dermatologist
4.45-5.15PM
That "LIFESORE"!
Simone McConnie, Podiatrist
5.15-5.25PM
Break
5.25-6.05PM
Exploring New Oral Anti-Coagulants
Dr. Ronald Henry, Interventional Cardiologist, Trinidad
6.05-6.35PM
Superficial Venous Incompetence - Photo Phlethmography & DOPPLER Ultrasound
Ian Sealy, Imaging Specialist
6.35-7.10PM
Exploring Treatments, Interventions and Challenges in Venous Disease
- Medical & Surgical Interventions
- Case Studies
Dr. Anthony Harris, Cardiac Surgeon + Panel
7.10-7.15PM
Closing Remarks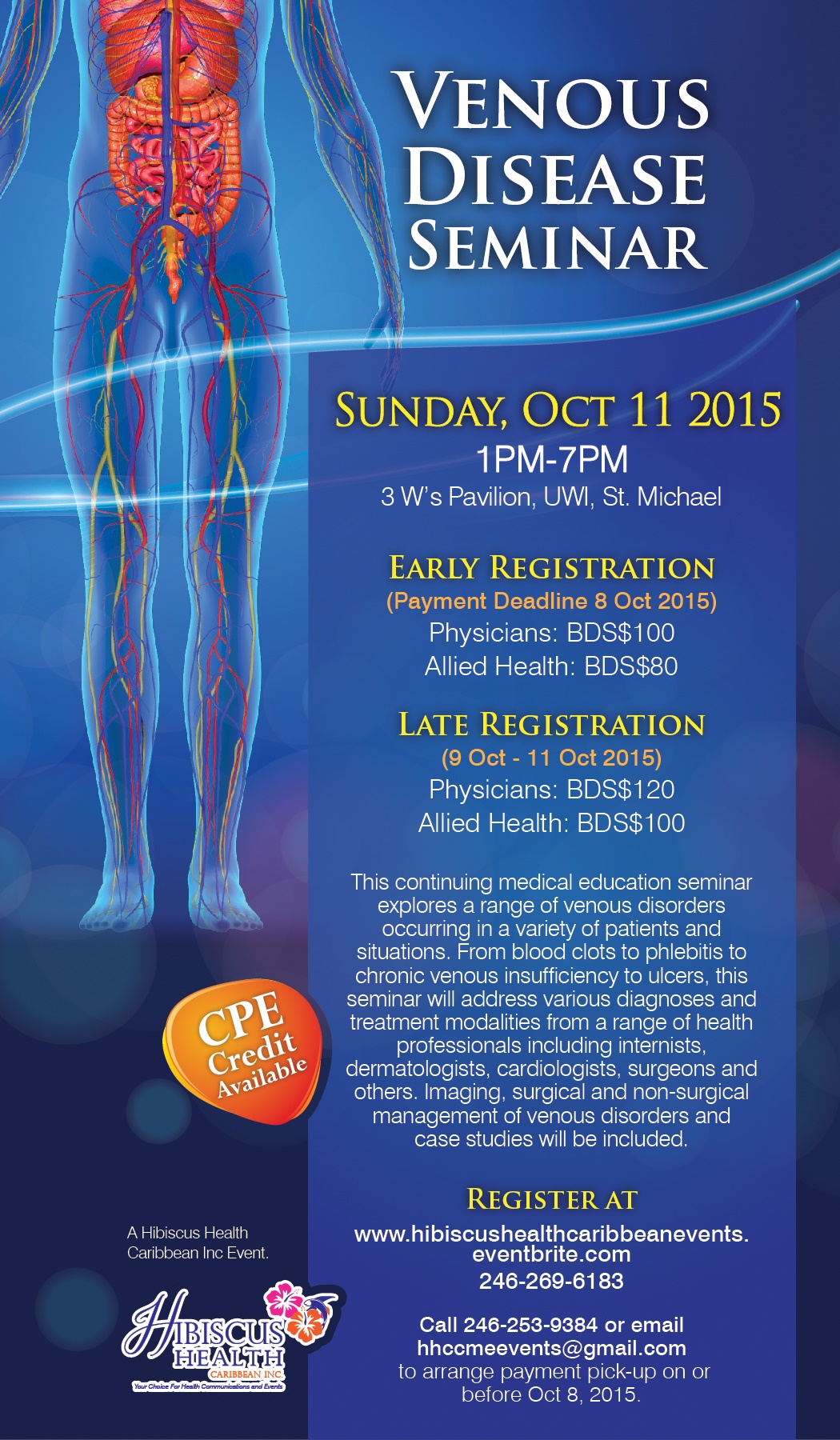 Target: Mixed specialists involved in the treatment of venous disorders along with General Practitioners and allied health professionals
SGS
Special Guest Speaker to Be Announced
Interventional Cardiologist, Trinidad
IS
Ian Sealy
Imaging Specialist
DDA
Dr. Dawn Alleyne
Pulmonologist/ Intensivist
MRC
Mr. Robert Carter
Pharmacist
DAL
Dr. Andrew L Forde
Dermatologist
MAH
Mr. Anthony Harris
Cardiac Surgeon
SM
Simone McConnie
Podiatrist
DFR
Dr. Fidel Rampersad - Special Guest Speaker
Interventional Radiologist, Trinidad
DAS
Dr. Alan Smith
Cardiothoracic Surgeon