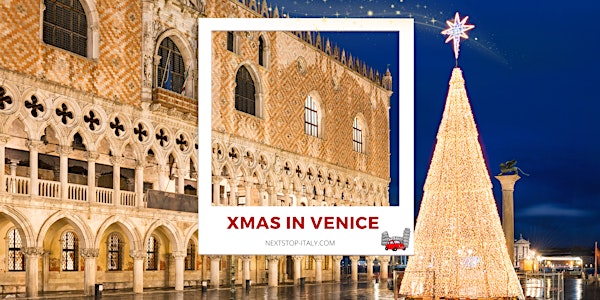 VENICE XMAS LIGHTS- Virtual Walking Tour
Live the magic of Christmas with us! Every year the centre of Venice is lightened up with Christmas lights!
About this event
✨Every year the centre of Venice is lightened up with Christmas lights, from the St. Mark's Square's colonnades to the Rialto Bridge, you will also find decorated gondolas! Most of the main squares have a market and the atmosphere is always very special. Festive songs are sung at special concerts in churches and piazzas throughout December, and church bells are rung all day on Christmas Day from the famous bell tower at St. Mark's.
✨Live the magic of Christmas with us! Join us on this engaging experience of a virtual walking tour! Stay comfortably seated on your sofa and get ready for something special. Our expert guide will tell you everything about Christmas in Venice and you'll admire lights and gorgeous decorations all over Venice.
✨This virtual walking tour will take you to see Venice's unique monuments and its magical views…From the Rialto Bridge to St Mark's Square, let our guide takes you on a journey through its beautiful narrow alleys and romantic canals . You'll get the chance to discover the most authentic, sophisticated and breathtaking side to Venice!
⏰ WHEN:
- Monday, Dec 12th at 12.00 PM EST (New York Time)
⏱️ Check in your timezone!
HOW TO JOIN
The tour will be hosted on Zoom. After the registration you will receive via email a personal link to access the virtual event. To protect your privacy your camera will be disabled during the event.
The tour will last approximately 1 hour. At the end of the tour you will be given the chance to interact and make questions just like a live tour. The tour takes place in English!
⛈️In case of bad weather, the virtual walking tour will be cancelled and rescheduled.
⏳Limited spots are available - register today to secure your spot!
⭐PRICE⭐ How much does the virtual tour cost?
Our virtual tour is tip-based. We prefer a system where you don't have to pay for a ticket in advance without knowing how the virtual tour is going to be instead you take part in the tour first and at the end you decide the price based on your satisfaction. Support our cultural activities with a voluntary contribution. Your contribution will help us continue our initiative and support the guides. You can LEAVE A TIP HERE
📺Can't watch our virtual tour live due to the time zone or are you unable to join us live? Register at the virtual tour and we will send you the recording hence you can watch it in your own time!
❤️ Check out all our Italy Virtual Tours: Italy awaits you!