Veneration of St. Padre Pio's Relics at St. Mary Star of the Sea Catholic Church, Sausalito

Saturday, September 8, 2018 at 8:00 AM

-

Sunday, September 9, 2018 at 12:00 PM (PDT)
Event Details
Veneration of the Relics of Saint Padre Pio, sponsored by the Saint Pio Foundation.
The Saint Pio Foundation is a non-profit charitable organization dedicated to the promotion of the spiritual charism of Saint Pio of Pietrelcina, universally acclaimed as one of the most venerated contemporary saints of the Catholic Church. An important initiative of the Saint Pio Foundation has been the Tour of the Relics of Saint Pio. The Tour of the Relics has provided a rare opportunity to individuals throughout the United States, Canada and Mexico, to spend time in prayer asking for Saint Pio's intercession in their lives and for the needs of others, considering than at least 80% of the current devotees of the Saint never had the opportunity to travel to Italy to visit the places where Padre Pio was born and he lived and died.
Come and venerate the official relics of Saint Padre Pio of Pietralcina, on the occasion of the commemoration of the 50th anniversary of his passing.
Schedule:
Saturday, September 8, 2018
Veneration: 8:00a.m. to 4:30p.m.
Mass: 5:00p.m.
Sunday, September 9, 2018
Veneration: 8:00a.m. to 12 noon
Masses: 7:30a.m. and 9:30a.m.


             

GETTING TO STAR OF THE SEA CATHOLIC CHURCH 

   

               180 Harrison Avenue, Sausalito
Parking for the Event will be at West America Bank, 3 Harbor Drive (across the street from Mollie Stone's Grocery) with shuttle van service to the church. 
Church lot reserved for hanicapped parking only.
Star of the Sea is a small church on a hill overlooking Sausalito. Our small parking lot will be used for handicap access to the event. We strongly encourage using public transportation by ferry or bus. In either case this will place you on Bridgeway Ave. To get to Star of the Sea from Bridgeway you will have to walk uphill for about 10-15 minutes via the Excelsior Lane steps or by walking up San Carlos Avenue. The church is about 180 ft above Bridgeway. It will be a true pilgrimage much like the pilgrimage of Padre Pio's followers to his monastery at San Giovanni Rotundo! Other options are included below:
By Ferry (Please refer to weekend Ferry schedule à goldengateferry.org) 15 min. uphill walk from ferry terminal. Link to walking directions https://goo.gl/maps/SLU3Um67mUR2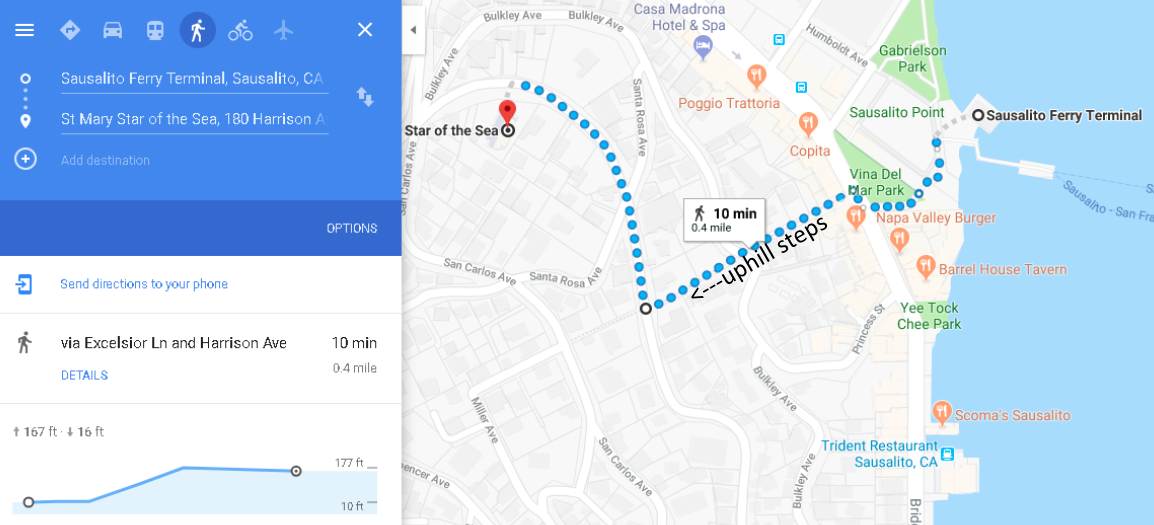 By Bus (Please refer to weekend bus schedule) Go to: goldengatetransit.org   #30 Bus Route along Bridgeway then 10 minute walk uphill
By Rideshare (Please refer to Uber.com, Lyft.com)**Drop-off/Pick-up Only.
By Auto(**THERE IS NO PARKING AT OR NEAR THE CHURCH**)
Limited Parking is available at West America Bank Plaza (3 Harbor Drive) at Bridgeway and Harbor Dr. in Sausalito with Shuttle Service to and from Star of the Sea Church. SHUTTLE SERVICE IS CONTINUOUS TO AND FROM THE PARKING LOT TO THE CHURCH AND BACK (There may be a wait depending on the times and numbers of guests.  We ask for your patience as we try and accomodate everyone as quickly as possible.)
If you would rather walk to the church from the parking lot the distance is 1.4 miles. Walking directions link from parking lot to church: https://goo.gl/maps/h38NzZA34mv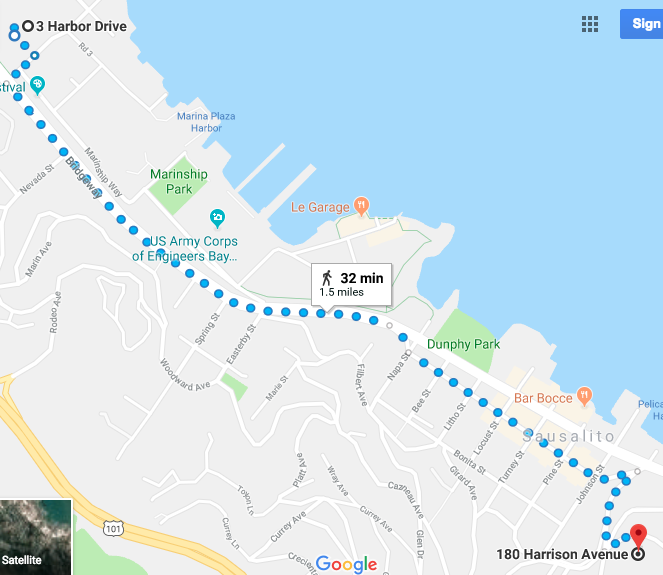 WHERE TO EAT
  Local Restaurants:
                                Sandrino Restaurant, Sausalito            http://www.sandrino.co/
Seahorse Restaurant, Sausalito         http://www.sausalitoseahorse.com/
           Spinnaker Restaurant, Sausalito        http://www.spinnakersasausalito.us/home 
Poggio Trattoria, Sausalito         https://www.poggiotrattoria.com/  
Frantoio Ristorante, Sausalito           http://www.frantoio.com/ 
Cibo Café, Sausalito                     https://www.cibosausalito.com
Angelino Restaurant, Sausalito         http://www.angelinorestaurant.com/
Aurora Ristorante e Pizzeria, Sausalito        http://auroraristorantesausalito.com/
Luna Blu Restaurant, Tiburon       http://www.lunablurestaurant.com/

When & Where

St. Mary Star of the Sea Catholic Church
180 Harrison Avenue
Sausalito, CA 94965


Saturday, September 8, 2018 at 8:00 AM

-

Sunday, September 9, 2018 at 12:00 PM (PDT)
Add to my calendar