鑑真大和尚 ── 動畫電影 免費票登記 Venerable Jian-Zhen (Animation Feature)

Sunday, May 29, 2011 from 2:00 PM to 5:00 PM (PDT)
Event Details
The best family event for Memorial Day long weekend - English subtitled animation film. 介紹 5/29 長周末的最佳家庭活動.
[The movie] broke the record in Taiwan with more than NT$30 million ticket sales......
《鑑真大和尚》票房超越3千萬 大破動畫國片紀錄
由國人自製的動畫電影《鑑真大和尚》自5月7日上映起,好評不斷,在口碑效應發酵之下,映演至今超過一個月幾乎場場客滿,絲毫不受五月份起上映的眾多暑假強檔所影響,票房持續穩定成長,台北市的票房在昨日正式突破一千萬大關,全省票房更是累積已突破3千萬新台幣,創下國產自製動畫片的票房新紀錄。透過電影的放映,更是將鑑真這位佛教界的一代宗師為法忘軀的精神,與中日文化交流的重大意義‧‧‧
---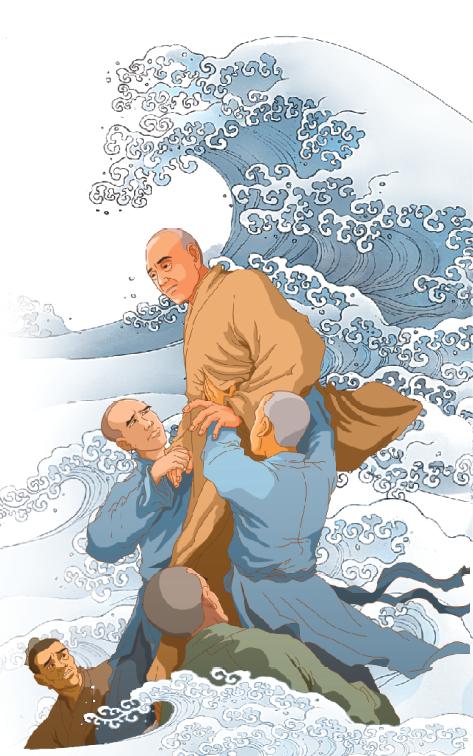 是什麼樣的願力,讓一千兩百多年前的唐朝鑑真大師,歷經十一載春秋,只為東渡日本傳戒?為什麼他五次東渡失敗,即使雙目失明仍不改其志?
鑑真大師為中日文化交流開創新頁。大師不僅為日本佛教律宗奠下基礎,他所興建的日本奈良唐昭堤寺,是偉大的建築瑰寶;更因對日本醫學的貢獻,他被尊為日本「醫學始祖」。
What kind of motivation and inspiration that made Master Jian-Zhen devote eleven years to sailing to Japan in order to teach the vinaya? With five failing attempts, Master Jian-Zhen finally arrived at Japan at his six trip. Even when losing his eyesight, he still held on his aspiration.
He opened a new chapter of culture exchange between China and Japan. Not only that Master Jian-Zhen laid the foundation for the vinaya sect of Buddhism, the Toshodai Temple he built also became an architecture treasure. And he was honored as the "Father of Japanese Medicine" for his contribution to Japanese medicine.
Time:
Sunday May 29th, 2011 at 2:00PM to 5:00PM
The theatre opens at 1:30PM (Seating is on a first come first served basis.)
Location:
Chabot College Performing Arts Center
25555 Hesperian Blvd., Hayward, CA 94545
(Click here for Chabot map and directions.) 
Tickets:
 免費索票   憑票入場,票務專線
 Free admission, ticket required.
  Ticket reservation: http://www.tcnw.org/thewill
 Ticket inquery hot lines: 
(408) 457-6969 • (415) 682-0566 • (510) 879-0971
More: 
When & Where

Chabot College
Performing Arts Center
25555 Hesperian Blvd.
Hayward, CA 94545


Sunday, May 29, 2011 from 2:00 PM to 5:00 PM (PDT)
Add to my calendar
Organizer
Tzu Chi Foundation was established in 1966 by Venerable Dharma Master Cheng Yen, who was named by TIME Magazine as one of the 100 most influential people in the world in year 2011. Tzu Chi Foundation has provided disaster relief over 70 countries with twenty million supporting members around the world.
To support Tzu Chi's mission by donation, please go to http://www.tcnw.org