Description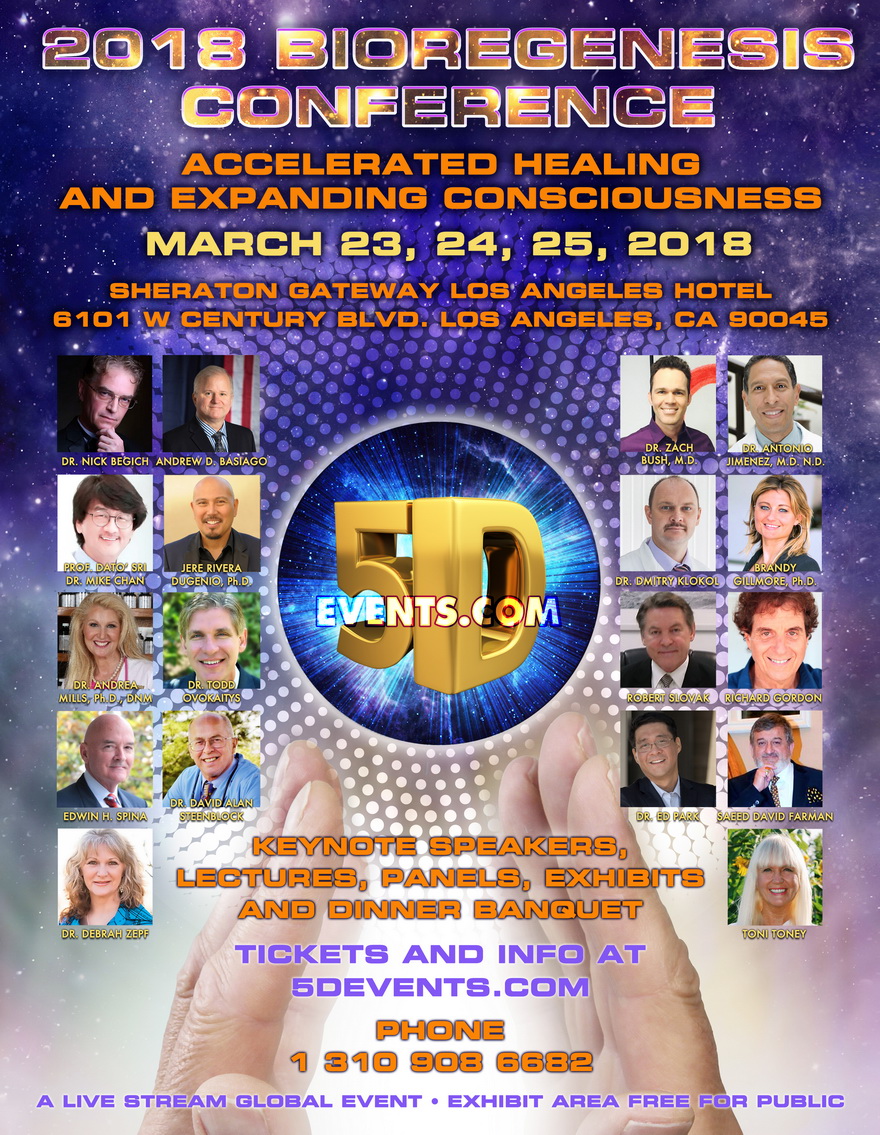 Exhibit space sales at the BioRegenesis conference.
NO REFUND
3 x 6 tables and 2 chairs are $1000 each
10 x 10 booths are $2500 each
Exhibits are free for public to visit.
more info:
5D Events welcomes you to their 18TH amazing 3 day event:
2018 BIOREGENESIS CONFERENCE
Accelerated Healing and Expanding Consciousness
When: MARCH 23, 24, 25, 2018, FROM 9:00 AM TO 11:00 PM DAILY
Where: Sheraton Gateway Los Angeles Hotel
6101 West Century Boulevard, Los Angeles, California, 90045
EVENT IS ABOUT: QUANTUM CONSCIOUSNESS & HEALING
SATURDAY NIGHT DINNER BANQUET
TOPICS: Quantum Consciousness, Quantum Healing, Energy Healing, Alternative Medicine, Accelerated Healing, Expanding Consciousness, Scalar Energy, Space &Time Travel.
SPEAKERS:
Dr. Nick Begich, Andrew D. Basiago,Esq., Dr. Antonio Jimenez, Dr. Zack Bush, Prof. Dato' Sri Dr. Mike Chan, Dr. David Alan Steenblock, Dr. Todd Ovokaitys, Dr. Ed Park, Dr. Jere Rivera Dugenio, Dr. Dmitry Klokol, Dr. Andrea Mills, Dr. Debrah Zepf, Brandy Gillmore, Ph.D., Toni Toney, Robert Slovak, Richard Gordon, Saeed David Farman & Edwin Harkness Spina.
Director of the event: David Farman (info@5devents.com)
Assistant Director: Technical Directors: Alan Bedian, Digital Recording & sound Engineer Dennis Whipple
THE BIOREGENESIS CONFERENCE
Accelerated Healing and Expanding Consciousness
​Fringe scientists, pioneering thinkers, revolutionary inventors and avant-garde health experts converge to share the most advanced and sophisticated information on the planet.
BioRegenesis refers to a collection of information, experiences technologies and mechanisms that promote acceleration of healing and expansion of consciousness via the reprogramming of the introns or junk DNA. It is built upon the foundation that consciousness is the organization intelligence within all things.
The BioRegenesis Conference is a three-day event that will host revolutionary presentations from leading-edge experts in their respective fields that will assist us in re-learning and re-shaping of our current perspective of the body and its ability to heal.
http://newhumanitymovement.com/exhibit.html
HTTP://5DEVENTS.COM
Phone: 1-310-908-6682
info@5devents.com