Event Information
Location
Online - link will be sent out shortly
Description
From "Vendor to Adviser" - my latest book is complete; we just have a few things like cover design and off to the printer it goes! I am so excited about this that I have put together a series of webinars, selecting just a few of my favorite chapters, to give you a taste of what is coming! Last time I covered effective demand generation programs and events...this time we are looking at two ctirical areas to focus on if you want to stay relevent over the next several years with your offerings. Do just one of these two things and you'll be successful. Don't, and you may find yourself competing on single digit profit margins.
- Understand the four things buyers buy
- Learn which two matter
- Get direction on how to specialize and where
- Better understand how to consult with your clients vs. just selling to them
- Learn better ways to structure what you are selling to create larger deals with multiple phases
- Learn how to get in early, before competition shows up
- Learn how to create business - moving buyers from no needs to urgent needs in just one meeting
Join me on Oct 28 at 1:00 PM EST on Webex!
Limited seating - so sign up soon.
IMPORTANT: If you do not receive a confirmation email, your email may be blocking the Eventbrite page - make sure you receive a confirmation, and later - information for accessing this event through Webex! If you don't receive this, please contact sarah@stelzl.us for details on accessing this event the day prior to the event.
Date and time
Location
Online - link will be sent out shortly
Organizer of Vendor To Adviser - Creating Profitable Business that Justifies New Budgets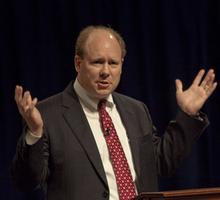 Keynote speaker and technology sales trainer, David Stelzl is an innovator in sales & marketing - He brings a fresh perspective on the high-tech consulting business - He believes the sales business should be exciting, helpful to clients, and highly successful. He believes there is a better way, as sales & marketing professionals embrace his vision and passion for helping solve today's complex business problems rather than vending point products.
Described as a visionary thinker and entrepreneur, David teaches his clients to function more like high-priced consultants and less like "sales" people. With a vision to bring back the concept of "Trusted Adviser", David is leading a movement where sales people embrace integrity, deliver value, and learn how to truly advise at the executive management level.