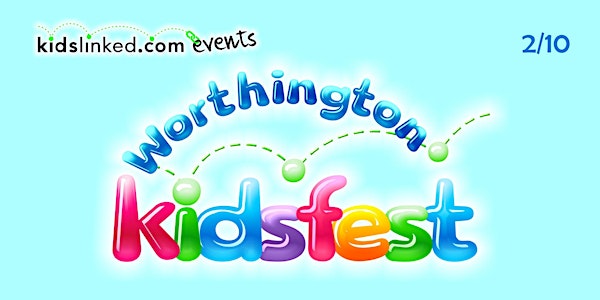 VENDOR REGISTRATION: Worthington Kidsfest 2/10/23
A winter event that includes characters, bounce park, shopping, tons of activities & connecting with the local businesses in the area!
When and where
Location
Worthington Recreation Center 345 East Wilson Bridge Road Worthington, OH 43085
Refund Policy
Contact the organizer to request a refund.
About this event
VENDOR REGISTRATION
10th Annual Worthington Kidsfest - 2/10/23
This is a fun, family community event connections you with area families looking for summer camps, connecting with area business, classes & programs for adults/kids, items for their home, or simply connecting with parents / moms. It will attract families and community from Worthington, Lewis Center, Polaris, Clintonville, and the surrounding area. Great way to find new customers with 1,000-1,500 attendees. It will be fun!
Vendor Registration
When: February 10th 2023 (Friday, 5PM - 8PM)
Where: Worthington Recreation Center (345 E Wilson Bridge Rd, Worthington, OH 43085)
Who Attends: Families from Worthington, Lewis Center, Polaris, Clintonville, and the surrounding area.
How it works: Indoor event! Families pre-register to attend the event and it's various fun activities. Admission is free.
Expected Attendance: 1,000 - 1,500+
Festival Eventbrite page: Click Here
Why families attend the event: This family event connects parents with summer camps, local community resources, classes & programs (kids or adults), childcare, health & wellness, items for their house, or simply things that you need when you are an adult (insurance, buying a home, or just other adult stuff).
What to do at the event:
Fun items: Tons of activities includes a bounce park, magician performance & more entertainment, contests including paper airplane/limbo/cake walk to win prizes, meet & greet with characters, free cotton candy, lollipop game, fun prize wheel, and free Valentine's candy!!
Summer Camp Expo: Great way for your family to find day, overnight, or travel camps, summer classes & programs or other things to keep your kids busy this summer.
Sponsorship or Booth Opportunities (event is indoors):
Booth included with sponsorship plus logo on website, flyers, posters, and more!
Fun Zone Area (Gold): 5'x2' sign at entrance fun zone + booth near area $500
Mystery Prize Wheel: Includes Prize Wheel + 8 different types of prizes (1,000+ total). Family preregisters – 80%+ of attendees visit this area: $500
Lollipop Game (Gold): 500+ lollipops at your booth + Fun Game + Very Interactive (we provide everything) $500
Plinko Game: Booth near front entrance + Last Stop/Completion of the Scavenger Hunt + We provide game & all prizes: $500
Map (Gold): Great branding sponsorship. Your brand/logo at the top of the event may that everyone receives. Email address of all attendees. Near the front entrance of the event. 1st stop on scavenger hunt. Very visible: $500
Main Stage (Platinum): Presenting Sponsor of all stage activities! Direct linked on event page (above stage schedule) + 5' x 2' banner at stage + Stage mentions during the entire event: $500
Event Bag (Gold): This is the bag that everyone receives at the start of the event. Key item and highly anticipated because of all the special goodies in it. You provide the bag $400 or we produce $800
Cookies or Popcorn (Gold): 200 servings of Cookies or Popcorn from your both (Popular item). $400 per item
Entrance Sponsor (Gold): Signage at main entrance of the event + Included on all posters, flyers + Stop on the Scavenger Hunt. $400
Booth Only Options:
General Booth Only (8 x 8): $200
Crafter or Direct Sales only (8 x 8): $75 (no on-site sales allowed)
Add-on Options
Scavenger Hunt (1 of 9 destination - must have booth): $50
Flyer Distribution to attendees: $50
Candy / Prize Donation (Supporter): Help us by donating for us to purchase candy & prizes: $10 to $300 contribution
Sponsorships No longer Available
Title Sponsor (Diamond): Titled into the name of the event + Headlined on all promotions (digital/print) + 2 - 5'x 2' Banners at Stage & Front Entrance. + Balloon Artist at Booth + 2nd Booth at Event: $800
Premier Sponsor (Diamond): Featured at top of event page + 2 - 5'x2' Banners at Stage & Front Entrance + Pick 1 Item below for Free + 3rd Booth at Event $600
Balloon Artist Sponsor (Platinum): Balloon Artist at your booth! This is a one of the most visited attractions that everyone loves. Lots of fun, lots of traffic. $500
Face Painter Sponsor (Platinum): Face painter at your booth! This is a hugely popular attraction that everyone loves. Lots of fun, lots of traffic. $500
Mystery Prize Item (Valentines Candy) / Character Zone: You receive 400+ Valentines Candy (Conversation hearts & other items) + Princess & Superhero Meet & Greet zone (families pre-register. Very visible, you will get a lot of traffic to your booth): $450