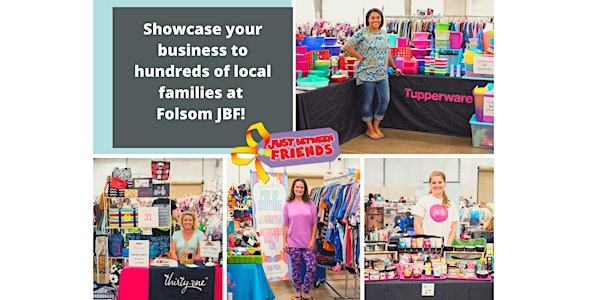 Vendor Registration: JBF Folsom Spring 2022
Folsom JBF is the largest children's consignment sale in the Sacramento region. Reach hundreds of families in one weekend!
By Just Between Friends Folsom
Date and time
March 17, 2022 · 9am - March 20, 2022 · 1pm PDT
Location
Folsom Sports Complex 66 Clarksville Road Folsom, CA 95630
About this event
THANK YOU for your interest in participating at Just Between Friends Folsom!
The following spots have already been fulfilled:
Norwex (all days)
Just Between Friends Folsom is Sacramento area's largest children's and maternity consignment sale!  With an anticipated 300+ consignors and over 2,000 shoppers for our sale, it is truly an event you have to see to believe! Vendor spaces/tables give you the opportunity to put your service or product in front of our specific target group of parents, families and expectant mothers. There are a limited number of exhibitor spaces from Thursday through Saturday. All spaces will be placed at the event allowing direct access to shoppers. Location is based on when your payment is received, first-come, first served.
Please select the days you want to participate as a vendor.  You can select a single day or participate during the entire event.
Your payment constitutes your agreement to the following terms and conditions with Just Between Friends Folsom, and Thrifty Mom, LLC. 
After you purchase your spot you will receive a confirmation email from Eventbrite immediately.  If there is a problem with your registration, I will personally contact you within 2-3 days.
Two days before the event you will be sent a detailed email about vendor set-up, and any other important information.
Sale Hours:
Thursday: 9am-7pm
Friday: 9am-7pm
Saturday: 9am-8pm
Sunday: 9am-1pm
TERMS & CONDITIONS:
Just Between Friends (JBF) Rights and Responsibilities
JBF will provide the vendor with the designated space rental; for the Just Between Friends Folsom Event.
JBF will only allow distribution of marketing materials that are appropriate for this type of sale. 
JBF will allow you to hand out said marketing materials ONLY at your table. You will not be permitted to leave your materials anywhere else in the event. 
JBF is providing you with space to promote your business. Soliciting JBF customers on the sales floor is strictly prohibited. Solicitation will result in forfeiture of your vendor space.
JBF reserves the right to provide a diversified group of vendors.  In the event of duplicates, the vendor who purchased their spot first will get priority and your payment will be refunded. 
JBF Reserves the right to turn away any vendor that does not comply with these rules. All Sales final.
Vendor Rights and Responsibilities
The "Vendor" agrees to bring a table and chairs.
The Vendor agrees that no children (except nursing infants) and no animals (except licensed service animals with documentation) are permitted at vendor tables.
The Vendor agrees that all items you wish to purchase at the sale must be purchased prior to returning to your table. Only sold items, with a receipt, can be held at your table. You MAY NOT hold items you intend to purchase at your vendor space/table.
The Vendor has the right to sell any family oriented merchandise associated with his/her company ONLY. The Vendor is responsible for all taxes that may be applicable and will abide by the City & State Tax laws.
The Vendor is responsible for all bookkeeping needs. This includes having needed cash for change.
The vendor understands that Just Between Friends Folsom, Thrifty Mom, LLC, The City of Folsom, and its participants are not responsible for any missing items and Vendor will hold Just Between Friends Folsom, Thrifty Mom, LLC, The City of Folsom, and its participants harmless for any material losses from theft or otherwise, as well as any physical injuries incurred during the event. 
***NO REFUNDS***
We would love to help you reach new customers!
FAQs
Do I need to be there the whole time?
No, you are free to set your own booth hours within the event. We offer full event booths as well as daily booths. 
Is my registration refundable or transferrable?
No, there are no refunds on vendor registrations and they are not transferrable.
What if my business is not listed for the booth tickets?
If your business is not listed, please select "other" and after registering send an email to GenaPascual@jbfsale.com on what your company is.  
What are the booth setup times?
Full Event /Thursday Booths: Wednesday at 8pm or Thursday at 9am.  *Full Event booths remain in place until the Sunday at 2pm
Friday Booths: Thursday at 6pm OR Friday at 1030am
Saturday Booths: Friday at 6pm OR Saturday at 830am
Sunday Booths: Saturday at 7pm or Sunday at 845am