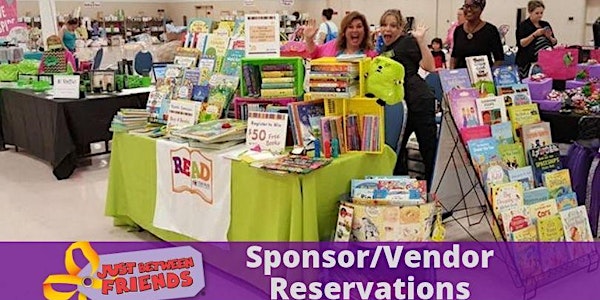 VENDOR Registration | Fall 2020 - JBF Nashville Music City
FS20 Sponsor/Vendor Payment & Info THANK YOU for your interest in participating at ourJust Between Friends Nashville Music Cit
When and where
Location
The Marketplace in East Nashville 400 Davidson Street Nashville, TN 37213
About this event
FS20 Sponsor/Vendor Payment & Info 
THANK YOU for your interest in participating at our Just Between Friends Nashville Music City Fall Event!
We LOVE to partner with local businesses and we are here to help!  We are excited to be in the newly constructed Expo Center at the Fairgrounds Nashville. With 32,000 sq ft of venue space, and an anticipated 200+ consignors and over 2,000 shoppers for our events, it is truly an event you have to see to believe! Vendor booths give you the opportunity to put your service or product in front of our specific target group of parents, families, and expectant mothers.
There are a limited number of vendor spaces from Wednesday through Saturday. All spaces will be placed at the event allowing direct access to shoppers. Location is based on when your payment is received, first-come, first served. Please select the days or how you want to participate as a vendor. You can select a single day or participate during the entire event.
BEFORE YOU PAY - HAVE YOU BEEN APPROVED TO BE A SPONSOR/VENDOR?Please complete this form to be preapproved! Click HERE!
Your payment constitutes your agreement to the following terms and conditions with Just Between Friends Nashville Music City, and PF Enterprises, LLC. 
After you purchase your spot you will receive a confirmation email from Eventbrite immediately. If there is a problem with your registration, you will be contacted within 2-3 days.
One week before the event you will be sent a detailed email about vendor set-up and any other important information.  
VENDOR BOOTH HOURS:
Booth Dates & Times:
9/30 - Wednesday | 2:30-8:30pm | Presale for qualified participants only
10/1 - Thursday | 9-8pm | Public Sale
10/2 - Friday | 9-9pm | Public Sale
10/3 - Saturday, 9-7pm | (9-11pm 50% off Presale and 11-7pm 50% off Sale)
No vendor booths on Sunday because it is a short sale day
NOTE: You can come and go as you choose on your selected days. However, we are not responsible for items left unattended. Booths do not include tables or chairs.
TERMS & CONDITIONS: (PLEASE READ CAREFULLY)
Just Between Friends (JBF) Rights and Responsibilities 
JBF will provide the vendor with the designated space rental (we do not provide table or chairs)
JBF will provide each registered vendor with presale passes based on their chosen package, if applicable. Early shopping during the Team Member Presales is not allowed.
JBF does not provide food or drinks to vendors.
JBF reserves the right to provide a diversified group of vendors. In the event of duplicates, the vendor who purchased their spot first will get priority and your payment will be refunded.
JBF cannot promise constant traffic to the vendor area. 
Vendor Rights and Responsibilities 
The Vendor must follow in accordance with the current federal, state and local mandates as it relates to COVID Safety Protocols, to include, but not limited to, sanitizing of shared spaces and items, and wear a mask or face shield while inside the venue sale space.
The Vendor will only sell items or services that are family-oriented with his/her company only.
The Vendor is solely responsible for the manning and operation of their booth.  Participation of all sale hours is not required however unattended items left at the table are the responsibility of the vendor and not JBF. 
The Vendor will not solicit JBF customers on the JBF sales floor and must only solicit from their assigned table space. Marketing materials should only be passed out at your booth. Failure to comply may result in forfeiture of your vendor space. 
The Vendor may not store JBF merchandise that has not been purchased at their vendor space.
The Vendor agrees that no children shall be left unattended at any time during the event, should the vendor choose to bring their children (no children allowed on Thursday unless an infant is worn in carrier or stroller)
The Vendor may not resell or share booth space with another company.
No prepared food or beverage may be sold at the vendor booth.
The Vendor will not sell illegal, unsafe or recalled items.
The Vendor is responsible for all bookkeeping needs. This includes having appropriate funds available to make change.
The vendor understands that Just Between Friends of Nashville Music City, PF Enterprises, LLC and the Fairgrounds Nashville, and its participants are not responsible for any missing items and Vendor will hold Just Between Friends Nashville Music City, PF Enterprises, LLC, the Fairgrounds Nashville, and its participants harmless for any material losses from theft or otherwise, as well as any physical injuries incurred during the event.
***NO REFUNDS***
FAQs
Do I need to be there the whole time?
No, you are free to set your own booth hours within the event. However, unattended items left at the table are not the responsibility of the vendor.  We offer full event booths as well as daily booths.
Is my registration refundable or transferable?
No, there are no refunds on vendor registrations and they are not transferable.
What are the booth setup times?
Full Event* / Wednesday Booths:  Wednesday between 11am - 2:30pm
Thursday Booths: Thursday at 7pm OR Friday at 8:45am
Friday Booths: Thursday at 7pm OR Friday at 8:45am
Saturday Booths: Friday at 7pm OR Saturday at 8:45am
How can I contact the organizer with any questions?
Yolanda Prince - yolandaprince@jbfsale.com (ph/txt) 615-707-7541