VENDOR OPPORTUNITY for #NaturalHairFestChicago 2-Day Main Event Summer 2018

Saturday, July 14, 2018 at 10:00 AM

-

Sunday, July 15, 2018 at 6:00 PM (CDT)
Event Details
Welcome to a world of Natural Hair and Beauty Culture, Natural Hair Fest Chicago Summer 2018.  OPEN TO THE PUBLIC!  Open to Natural Hair Care Professionals, Barbers, Students and Natural Hair Salon Owners. Join us for 2 Days of festivities and excitement on Saturday & Sunday, July 14-15, 2018 with a Marketplace, Classes, Product Demos, Panel Discussions, Fashion Modeling, Spoken Word, Live Entertainment and much more all centered around the Natural Hair Movement.

Natural Hair Fest Chicago is designed to promote a way of life that nurtures natural hair growth and teaches proper regimens for the care and maintenance of healthy, natural hair. We are equally concerned about beginning the process of healing and taking preventative measures to offset hair loss and disorders of the scalp that plague our communities in epidemic proportion. We summit to pin-point, intercept, negate and correct mis-education, mis-information, and bad habits that lead to challenges associated with managing coarse, curly, kinky, coily and multi-textured hair types.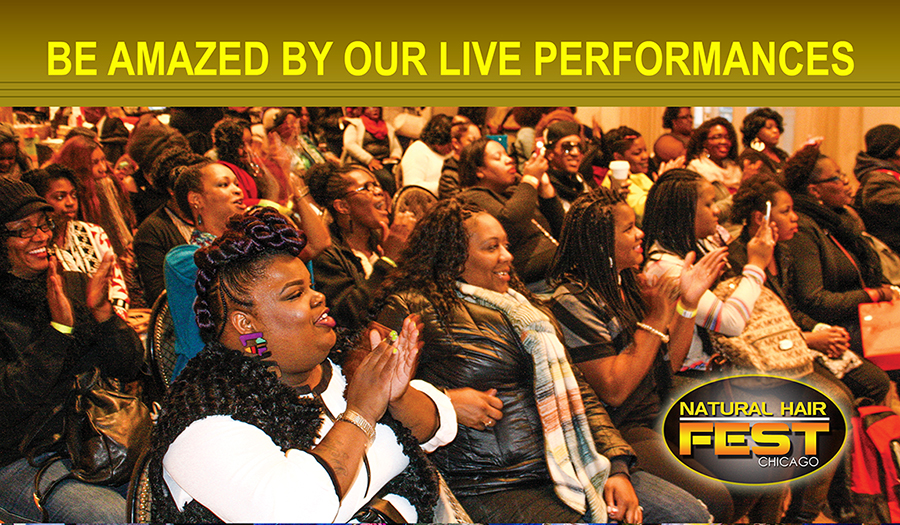 Natural Hair Fest Chicago is a one-stop destination where Consumers will be able to meetup and make conscious, person to person connections with skilled, Instructors, business-minded Professionals, Freelancers and Students in attendance who specialize in natural hair care.
We're exerting our energies to identify our mid-winter event headliners, which will be announced.  Furthermore, we are carefully planning a number of activities for our attendees: Fashion Segments, Hair Show, Hair Care Classes, Panel Discussions, Competitions, Live Entertainment, Salon/Barbershop Showcase, Free Product Demos, Spoken Word Poetry, Special Appearance, VIP Experience and much more.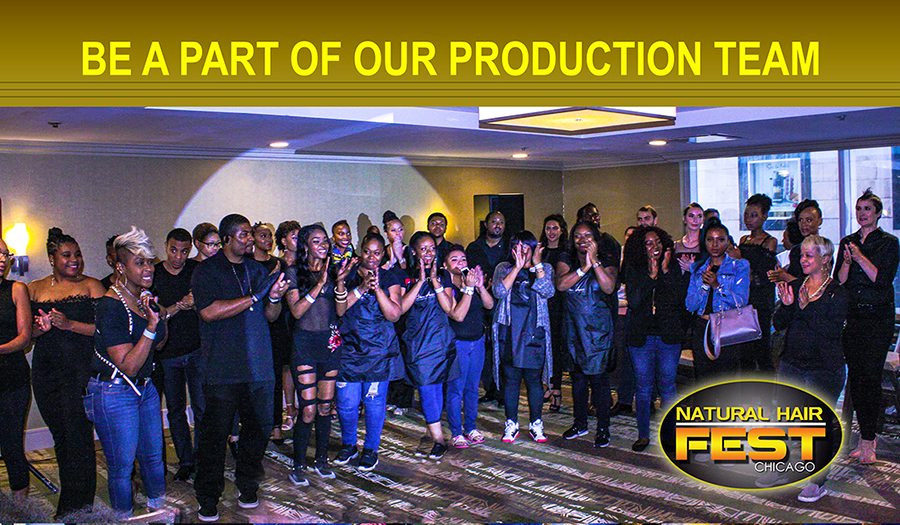 FOR MORE INFO:
312.254.5009
info@naturalhairfest.com
www.naturalhairfest.com
---
PLEASE NOTE: ALL SALE FINAL. NO REFUNDS. Paid amount can be applied to a future event. This is a POP-UP EVENT concept. Prices subject to change. Location subject to change. Event dates and number of days are subject to change. Check our website (www.naturalhairfest.com), Eventbrite pages and social media pages prior to attending for most current status of this event. Some restrictions apply.
When & Where

W Chicago - City Center
172 West Adams Street
Chicago, IL 60603


Saturday, July 14, 2018 at 10:00 AM

-

Sunday, July 15, 2018 at 6:00 PM (CDT)
Add to my calendar
Organizer
Downtown Chicago on a Sunday afternoon is the place to find style, and the place to be name-brand fashion glamorous. Old Navy, Nordstrom, and Macy's shopping bags are among the parade down the streets. Ipods, Roc-A-Wear jackets, Nine West stilettos, Nike and Abercrombie-covered bottoms pound the pavement bustling from point A to point B. On this afternoon, among the sounds of less pretentious straggling toddlers and shop-a-holics, Mark David Carter emerges bringing a different element of style by escaping the usual fashions that most bystanders were displaying and wearing tailored black slacks, dress shoes, and a camouflage military styled-jacket with two-zippers and eight buttons down the front. He commands the attention from onlookers as he weaves through pedestrian traffic.
"This is my uniform," Carter later explained.
An ordinary stroll down the street is a sales pitch for Carter, an event planner who has been hosting fashion shows and training high fashion models for ten years under his company, Inner Beauty Fashion Affair (IBFA). Fashion is an ever-changing, fast-paced world. It's competitive, cruel, tactless, tough to get in and even more difficult to achieve in.
Yet, Carter is one of the workhorses of this industry that provides a platform for fashion in Chicago. He serves as a stepping stone for aspiring models, established designers and beauty industry professionals, creating the environment, the fashion shows, the contests, and fundraisers. Unlike his competitors, Carter has managed to last for 10 years in a business where most don't last for a year.
How does he do it?
Each week, either Saturday or Sunday, rain or shine, Carter trains high fashion models at the Holiday Inn Mart Plaza atop the Chicago Apparel Center at 350 Mart Plaza Drive in the River North/Gold Coast community of downtown Chicago adjacent to Merchandise Mart. On this particular Sunday, at almost 11 a.m., Carter was spotted on the Brown Line platform making a quick dash off the train on his way to an IBFA workshop. Today, rehearsal would be on the sixteenth floor. He would be there until 10 p.m. that night.
Carter has personally trained dozens of students, including himself. Because of the inspiration of a fellow fashion model in Chicago, he decided to become an event planner and also train fashion models. "I already was an entrepreneur," says Carter. "I sold merchandise as a street vendor at Howard University in Washington, D.C. Howard's homecoming and spring break fashion shows also inspired me to enter fashion."
Carter moved from D.C. to Chicago in 1996, which was the year he saw his friend model in a show. However, inspiration wasn't the only thing that drove Carter to begin a career in fashion. "It wasn't my choice [to start fashion shows in Chicago]. It was an outlet to keep me connected to society, to the community. I was a caregiver [for my grandmother] and fashion was my plan to keep from losing myself and to also stay connected to the community," says Carter.
Some may find it hard to believe that Carter has strictly dedicated his life to fashion, much less believe that he has taught weekend classes for more than 12 hours a day. "I don't know. This is something I enjoy, that I'm passionate about," says Carter.
Carter isn't the only one aware of his passion and talent. "There really is a lot of order in these shows. The ladies have poise, the men have distinction- it's good to see that they're trained professionally and I'm really glad I came," remarked a woman when questioned after attending one of Carter's fashion shows, usually hosted during the summer and winter seasons.
Indeed, Carter's modeling workshops are full of energy. For 12 hours, the walls inside the Holiday Inn bleed with house music mixes as models vigorously train in everything from catwalk exercises, model poses, facial expressions, as well as a range of at least eight modeling combinations. Carter's training is very thorough and precise, and very covert.
Nika Hall, an IBFA student and fledging runway model, has trained with Carter for years. "Through [Carter] I have learned to pay close attention to detail. The techniques that he teaches helped me gain confidence on the runway, and stand out from other models outside of IBFA. This has proven to be an advantage for me in this competitive industry," says Hall.
Unlike Hall, a student known as Syc, is new to IBFA workshops. "I was introduced to Mark at one of his fashion shows. And I was so impressed with the models attitude and the way they were walking… So, I spoke with Mark David Carter at the end of the show," says Syc. "Since then, I've realized changes and improvements in my life. For example, I now know what preparations are necessary to attend an audition or model call [such as the all-black uniform]. I also have learned how to present myself and fashion designs properly on the runway during a show or in my day to day life."
IBFA workshops have a range of students, men and women, old and young, experienced and beginning, petite and plus size, the list goes on and on; but IBFA training is not only for high fashion models. Although, many of Carter's students continue into the fashion world, others don't. Regardless of their own personal career plans, IBFA students are allowed a chance to model in fashion shows hosted by the company.
IBFA hosts fashion shows annually and the fact it has lasted a decade is no small feat. The Small Business Association notes that 44 percent of small businesses, in general, don't last for more than four years.
"Every year becomes more challenging to produce events," says Carter. "It is my prayer, as a Nichren Buddhist, that helps me get through these trying times… You have to accept full responsibility for everything that's associated or affiliated with your passion."
For more commentary about the workshops, fashion shows, or to join IBFA in its cause to support the passions in everyone's lives or in your very own life, you're welcome to visit the IBFA official website at www.innerbeautyfashionaffair.com or www.metrosalonpro.com.
"Be fully committed and willing to exert all your energies for what you're passionate about. I'm proud of impacting, changing, and improving people's lives through my passion," Carter sincerely remarks after handling a business call and just before tending to another inquiring student of IBFA.
Get ready for the 11th Annual Inner Beauty Fashion Affair, entitled:  "PHOTOGENICA / PHOTOGENICO Winter Hair & Fashion Show International," scheduled to take place on Sunday the 1st of December 2013.
Sources:
SBA: Office of Advocacy. "Frequently Asked Questions. Advocacy: the voice of small business in government." www.sba.gov.
Occupational Outlook Handbook (OOH) 2006-07 Edition. "Demonstrators, Product Promoters, and Models." www.bls.gov.