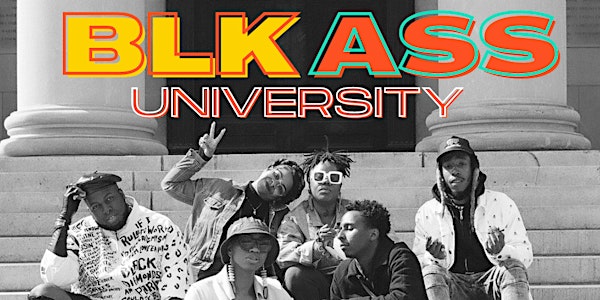 VENDING 101: BLK ASS UNIVERSITY 4-WEEK IMMERSIVE
Courses to elevate your BLK ASS business
Refund Policy
Contact the organizer to request a refund.
Eventbrite's fee is nonrefundable.
About this event
[This selection includes all 4 classes: 01/08/23, 01/15/23, 01/22/23, 01/29/23]
All 2022 we've been asking our vendors what business trainings and/or skill shares could help elevate them in their businesses + we've directly responded by building an online learning space: BLK ASS UNIVERSITY!
CLASS IS IN SESSION YA'LL! VENDING 101 is a 4 WEEK IMMERSIVE that can be purchased as a bundle for $100 [VALUED AT $600+] OR you can purchase courses individually [linked below each class description]
Class 1
[01/08/23] 12PM-2:00PM | 120 MINS- SAY IT WIT YA CHEST?: Speaking Confidently about your Brand [INDIVIDUAL PRICE $40]
Understanding the importance of brand missions/values
Engagement with your customers
Tips on sharing your brand story
Quick pitch tips
Class 2
[01/15/23] 12PM- 1:30PM | 90 MINS- NAME YOUR PRICE + STFU: Knowing your Value + Setting the Price Tag to Match [INDIVIDUAL PRICE $30]
Setting your price within your market
Tips on bundles + promotions
Payment methods
Inventory/sell-out tracking sheets
Product labeling, tagging + price list
Class 3
[01/22/23] 12PM-1:30PM | 90 MINS- SHOW UP + SHOW OUT: Vending Preparation + Execution [INDIVIDUAL PRICE $30]
Digital consistency
Vendor setup: do's + don'ts
Preparation + promotion
Manning your booth
Class 4
[01/29/23] 12PM-2:30PM | 150 MINS- AIN'T NO FOLLOW BACK:Beginner's Workshop for Social Media [INDIVIDUAL PRICE $50]
Canva demo
Reel demo
Sizing + Resizing posts
Capturing during vending events
Photo quality
Feed aesthetics
FAQs
Classes will be held on Zoom + will be recorded if you are not able to be present in class. Payments are non-refundable. It is not a requirement to be a vendor of BLK ASS FLEA MKT or be located in Maryland to participate.
The Course and Website are provided for informational purposes only. You acknowledge and agree that any information posted in the Course, in the Materials, or on the Website is not intended to be legal advice, medical advice, or financial advice, and no fiduciary relationship has been created between you and us. You further agree that your participation in the Course is at own risk. We do not assume responsibility or liability for any advice or other information given in the Course, in the Materials, or on the Website.
Questions? Email heycousin@blkassfleamkt.com