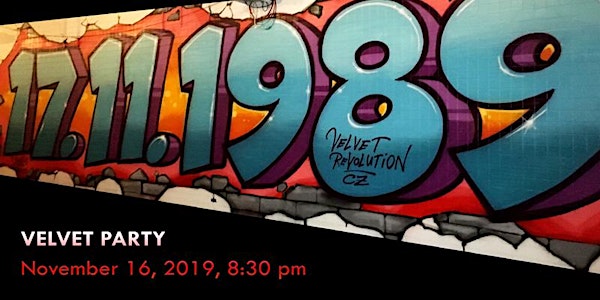 VELVET PARTY
Ages 21+
Alliance for New Music-Theatre and the Embassy of the Czech Republic
Closing Party for the Czech Embassy's "Mutual Inspirations Festival" celebrating the 30th Anniversary of the Velvet Revolution!!
When and where
Location
Dupont Underground 19 Dupont Circle NW Washington, DC 20036
Performers
Headliners
Featuring Czech DJ Alyazi
About this event
Alliance for New Music-Theatre, Embassy of the Czech Republic, and Dupont Underground invite you a Velvet Party to celebrate the 30th anniversary of the Velvet Revolution, a movement that restored freedom and democracy to the Czech people. DJ Alyaz from Prague, one of leading names of the club underground scene, will get the party going. As a skilled and versatile DJ, he operates across a wide range of tempos and club genres of contemporary bass music with his true roots centered on hip hop and turntablism. Underground movements continue to transform lives. Head to DC's hottest hidden venue, right underneath Dupont Circle, for an unforgettable night!
As part of the celebrations, view and take photos in front of the huge graffiti artwork pictured above by artist Jan Kaláb.
The event is also a part of the Mutual Inspirations Festival 2019.
VELVET REVOLUTION: Historical Background
On November 17, 1989, a student march in Prague marked the 50th anniversary of International Students' Day, the day a young student was killed by the Nazis during the German occupation of Czechoslovakia in 1939. As the students moved towards the center of the city, the riot police brutally attacked them. In response, hundreds of thousands of citizens found the courage to take to the streets to protest the suppression as well as the ruling communist regime itself. As the mass demonstration grew with each day and spread throughout the country, the stage for the dissident political movement Civic Forum was set. The communist regime fell and democracy was reinstated. The courageous dissident, prisoner of conscience, and talented playwright Václav Havel became the tenth and last President of Czechoslovakia and later the first President of the Czech Republic.