VELOCITY: RESILIENCE 2018 UCLA Anderson's Women's Leadership Summit
Description
VELOCITY: RESILIENCE 2018 UCLA Anderson's Women's Leadership Summit
Made possible by Beth Friedman ('87), Founder, InHer Circle LLC. Presented by UCLA Anderson Alumni Network, UCLA Anderson Women's Business Connection. In collaboration with UCLA LAW and UCLA Engineering Henry Samueli School of Engineering and Applied Science.
Now, more than ever, is a time for female leaders and influencers to come forward and share. Join us for Velocity 2018, where inspirational women who have learned, earned and triumphed will show how they've succeeded - and how we can open doors for each other in the future. Do not miss this unique celebration of the power and resilience of women!
We encourage both women and men to be a part of this energizing, thought-provoking, and inspiring event.
2018 Keynotes: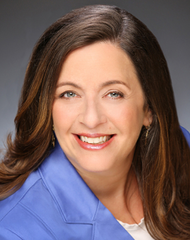 Susanne Daniels - Global Head of Original Programming, YouTube
Susan Love, M.D. ('98) - Chief Visionary Officer, Susan Love Research Foundation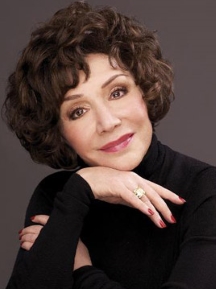 Lynda Resnick - Vice Chair and Co-Owner, The Wonderful Company
Agenda: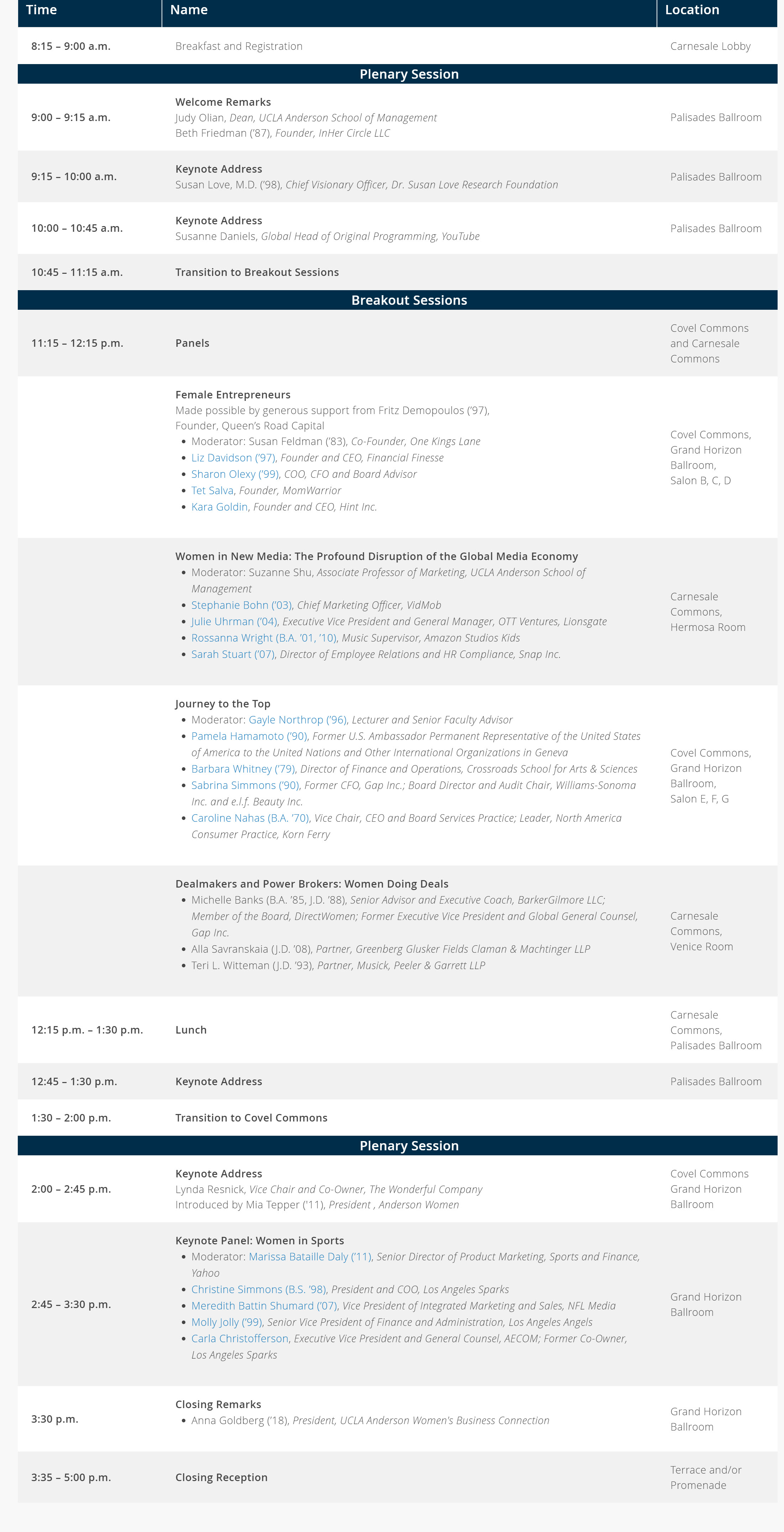 Additional Sponsors Include:


Parking Instructions:
UCLA is highly impacted in terms of parking; over 100,000 vehicles park at UCLA each day! A daily parking permit at UCLA costs $12. We highly encourage VELOCITY attendees to carpool or utilize ride-share options.
Driving Directions from the 405 Freeway:
1. From the 405 freeway, exit Sunset Boulevard EAST.
2. Proceed EAST on Sunset Boulevard for approximately 1.5 miles.
3. Enter campus by turning RIGHT onto Westwood Plaza.
4. Make an IMMEDIATE RIGHT onto Charles E. Young Drive North.
5. Enter Parking Lot 7 by turning LEFT at the stoplight.
6. Pull up to the kiosk to purchase a daily parking permit for $12 CASH ONLY from the attendants. If you arrive after 10:15am, please proceed past the kiosk and use the "Pay-By-Space" terminals throughout the parking lot to purchase your parking pass. You may then park in any unmarked spot; the northernmost spots (near where you entered) will be the closest to the stairs and Elevator 3 for pedestrian exit.
Note: Those with DMV Disabled Person "("DP") placards or license plates may purchase a UCLA DP permit for $7 CASH ONLY at the Lot 7 kiosk, then exit the lot and turn LEFT onto Charles E. Young Drive. Proceed up the hill and turn RIGHT onto DeNeve Drive, then turn LEFT into Lot "PSV". Enter Lot PSV and show your UCLA DP permit to the attendants, who will direct you to the spaces most convenient to the elevator. Proceed to the "Sunset Village Elevator & Stairs" and take the elevator to the lobby ("L") level; VELOCITY volunteers will direct you from there.
Walking Directions from Parking Lot 7 to Carnesale Commons (approximately 10-15 minutes):
1. After parking, walk to the northernmost area (near where you entered) to find the stairs and Elevator 3 exit; proceed to Ground Level.
2. When facing the street, turn LEFT and proceed uphill.
3. Continue to curve to the LEFT when you reach the first stop sign.
4. At the third stop sign, cross Charles E. Young Drive West. You will see "Robin & Albert Carnesale Commons" and a large outdoor staircase in front of you.
5. You may either enter at street level to take the elevator to the 3rd floor or walk to the top of the stairs. The Carnesale Commons Lobby will be to the right of the stairs on the 3rd floor.
Note: If you do not have a DMV-issued Disabled Person ("DP") placard or license plate but require assistance to reach Carnesale Commons, please email elizabeth.mckillop@anderson.ucla.edu in order to request a place on the shuttle from Parking Lot 7.
Drop-Off Directions at Carnesale Commons
1. Follow Driving Directions steps 1-4 and continue along Charles E. Young Drive North.
2. Curve to the LEFT and proceed through two stop signs.
3. Before you reach the third stop sign, you will see blue "RESERVED FOR VELOCITY DROP-OFF" signs at the white loading curb on your right. Pull over for immediate drop-off and departure.