Description
Just in time for summer, stop by Growing Hope to expand your weeknight menu with three new quick and easy dishes. In this hands-on class, you will learn how to combine fresh, healthy ingredients from the garden, exciting flavors, and common substitutions to create meals the whole family will love. You'll walk away with new recipes to add to your daily meal planning. Registration required by June 14. FREE for ALL!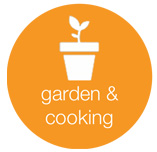 Garden & Cooking Workshops at Growing Hope combine and connect fundamental garden and kitchen skills. From garden planning and harvesting, to chopping and serving, these classes are truly seed to stomach.

About Veggucation: Explore gardening and cooking with Growing Hope's Veggucation workshops, classes, demonstrations, and tastings. Whether at our demonstration farm, in our certified kitchen space, or out in the community, we aim to motivate you to start growing, cooking and eating more seasonal, local produce in order to benefit your health. Pre-registration is required. Please register at growinghope.net/programs/growing-gardens or email Program Manager at growinggardens@growinghope.net. Classes will fill up so register early!
Cancellation Policy: Classes and Workshops will be cancelled unless the minimum enrollment of five attendees is met. Veggucations cancelled by Growing Hope due to low enrollment, weather, or closure will automatically be fully refunded. You'll be notified of a cancellation 24 hours prior to the start of the program.