Description
Enjoy the bounty of the growing season and learn how to preserve your harvest! Home Vegetable Gardeners turned "Garden Gurus", Luca and Matthias, for a class all about Sauces and Salsas. This class will cover selecting quality produce, the kinds of products that can be preserved at home, and the equipment you'll need to get started. We'll discuss basic food preservation techniques as well as what produce lends itself to which preservation technique and why. You'll leave with samples and the skills to enjoy the harvest all year long. This is an introduction class. Registration required by Sept. 15th. Growing Gardens Members can use their 15% membership discount to attend!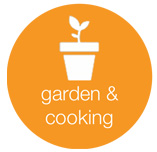 Garden & Cooking Workshops at Growing Hope combine and connect fundamental garden and kitchen skills. From garden planning and harvesting, to chopping and serving, these classes are truly seed to stomach.

About Veggucation: Explore gardening and cooking with Growing Hope's Veggucation workshops, classes, demonstrations, and tastings. Whether at our demonstration farm, in our certified kitchen space, or out in the community, we aim to motivate you to start growing, cooking and eating more seasonal, local produce in order to benefit your health. Pre-registration is required. Please register at growinghope.net/programs/growing-gardens or email Program Manager at growinggardens@growinghope.net. Classes will fill up so register early!
Cancellation Policy: Classes and Workshops will be cancelled unless the minimum enrollment of five attendees is met. Veggucations cancelled by Growing Hope due to low enrollment, weather, or closure will automatically be fully refunded. You'll be notified of a cancellation 24 hours prior to the start of the program.