Description
Nothing tastes better that homemade ice cream. Join Rob Hess at Go! Ice Cream to explore exciting new flavors along with traditional favorites. Rob will cover the origins of classic ice creams and demonstrate how to started making ice cream at home! Registration required by Sept. 26th. Growing Gardens Members can use their 15% membership discount to attend! This class will be held at Go! Ice Cream, 10 N. Washington Street, downtown Ypsi.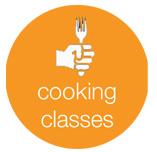 Veggucation Cooking Classes at Growing Hope provide the opportunity for culinary enthusiasts to take cooking classes with food experts. Many of these classes are taught by local chef instructors with help from our nutrition educators in order to provide you with guidance as you explore new cuisine and techniques. Each of these classes will provide you with the essential techniques and skills necessary to make delicious dishes and to taste the most of your garden this season.

About Veggucation: Explore gardening and cooking with Growing Hope's Veggucation workshops, classes, demonstrations, and tastings. Whether at our demonstration farm, in our certified kitchen space, or out in the community, we aim to motivate you to start growing, cooking and eating more seasonal, local produce in order to benefit your health. Pre-registration is required. Please register at growinghope.net/programs/growing-gardens or email Program Manager at growinggardens@growinghope.net. Classes will fill up so register early!
Cancellation Policy: Classes and Workshops will be cancelled unless the minimum enrollment of five attendees is met. Veggucations cancelled by Growing Hope due to low enrollment, weather, or closure will automatically be fully refunded. You'll be notified of a cancellation 24 hours prior to the start of the program.