About this Event
Rally Pizza and Veganizer are teaming up to offer a special vegan menu for the month of January, and we couldn't be more excited about it! Come through for four savory vegan courses plus dessert, available throughout the month.
No tickets needed. Just stop by Rally Pizza anytime in January for the Veganizer menu. (Please note that Rally Pizza is closed on Jan 1 and Jan 6. Regular hours on all other days are 11am to 9pm.)
MENU
4-course Savory Tasting Menu $43
Hot Mess Smashed Potatoes $8 - Roasted smashed potatoes topped with smoky mushroom-cashew bechamel and hot sauce
Vegetable Pakoras $9 - Chickpea flour batter pakoras with winter squash, sweet potato, onions and cilantro, served with beet cashew raita
Warm Lentil, Root Vegetable, and Greens Bowl $13 - Spiced palouse tan lentils, roasted root vegetables, baby kale, herbed tahini, date molasses dressing, Red Truck Farms sprouts
Winter Wonderland Pizza $18 - Ash Tree Farms mushrooms, roasted cauliflower, pickled red onions, cashew cream, lemon zest, and spiced hazelnuts
Sorbetto $4 - Rotating flavors throughout the month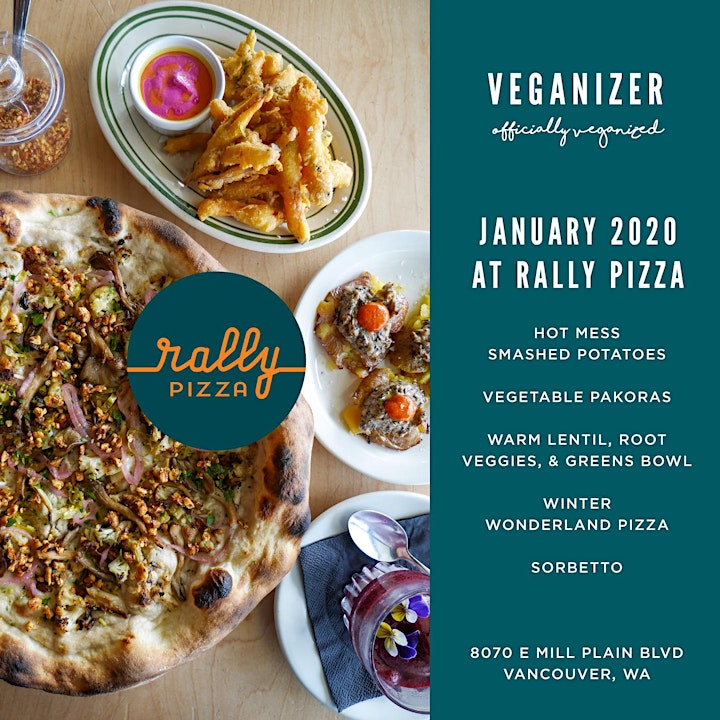 RALLY PIZZA
Rally Pizza is Vancouver, WA's family-friendly restaurant specializing in ingredient-driven Neapolitan style pizzas and frozen custards. Rally is led by the dynamic couple Alan Maniscalco and Shan Wickham: Alan Maniscalco serves as Executive Chef, creating classic and seasonal pizzas, salads and sides featuring local ingredients and nearly everything made in-house, from mozzarella to house smoked meats. Shan Wickham is General Manager and Pastry Chef specializing in rich, decadent vanilla frozen custard 'concretes' and sundaes. In addition to a rotating, seasonal menu, Rally offers a selection of Northwest wine, beer and spirits, and a convenient walk-up counter for to-go orders any night of the week.
www.rallypizza.com
VEGANIZER PDX
Veganizer is a food consulting agency that collaborates with omnivore restaurants to host #officiallyveganized events and expand their vegan offerings, while bridging the gap between omnivore establishment and the vegan customer. Led by vegan blogger Waz Wu, the Portland chapter has quickly gained momentum since its launch in early 2017 and partnered with MF Tasty, Doug Fir Lounge, Red Sauce Pizza, Quaintrelle, Gumba, and many more. Veganizer PDX has been featured on KGW News, Eater PDX, Willamette Week, and local podcasts.
www.theveganizers.com/portland.html