Description
SOLD OUT! Thank you for your support! This event will be a vegan takeover of the main dining room at Doug Fir Lounge. To get on our mailing list to hear about other upcoming events, please visit:
https://www.theveganizers.com/portland.html
UPDATE: Due to the popularity of this event, we've added more seats and a second dinner seating. Instead of hosting this popup in the private dining room, this will be a vegan takeover of the main dining room! Only the Veganizer Mystery Menu will be served. Please join us for this one-of-a-kind tasting menu!
------------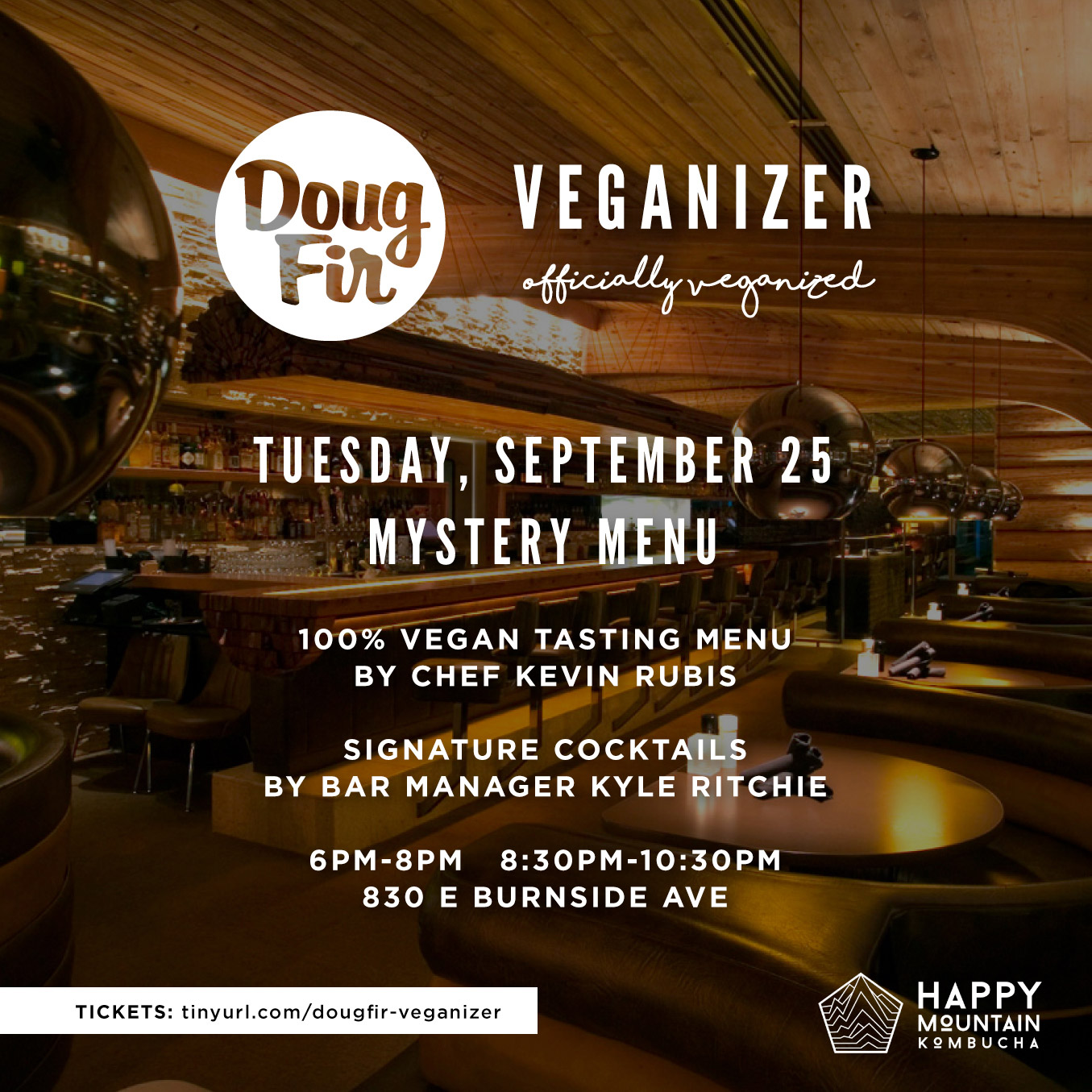 Veganizer PDX is thrilled to be partnering with the famed Doug Fir Lounge! Chef Kevin Rubis has always included vegan items on the Doug Fir menu, and he will be offering an #officiallyveganized multi-course mystery menu for our collaboration. All of the dishes on the menu have never been served at Doug Fir before, and Bar Manager Kyle Ritchie will be crafting signature cocktail pairings featuring local kombucha contributed by our friends Happy Mountain Kombucha.
Your $35 Mystery Menu ticket includes 1 amuse bouche, 4 savory dishes, 1 dessert. Cocktail pairings and other beverages will be available for purchase.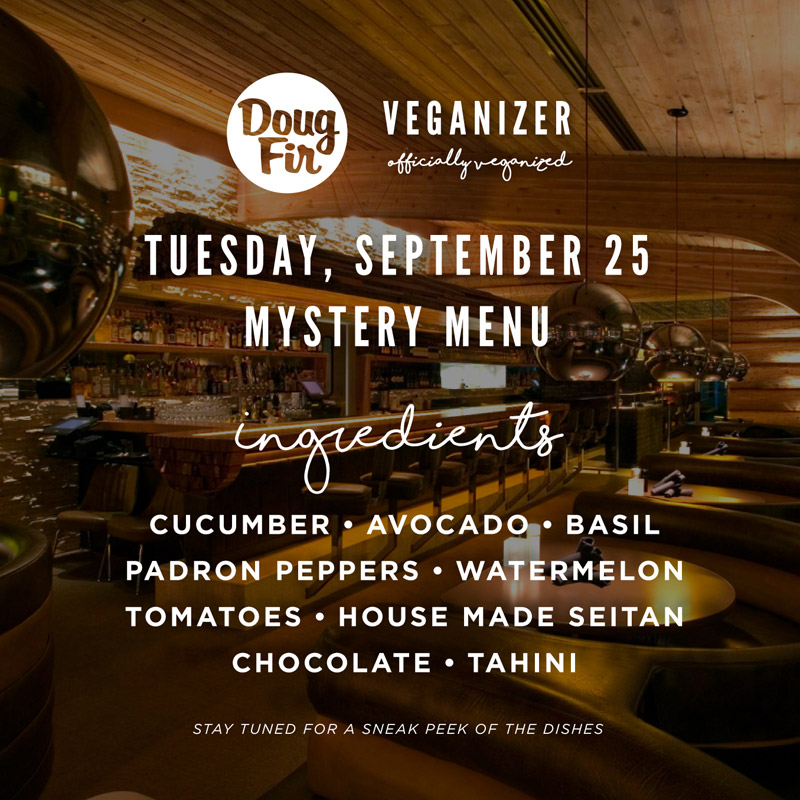 KEVIN RUBIS, CHEF

From his roots as a Pittsburgh bike messenger to his current standing as an Executive Chef in one of the most iconic establishments in the food-driven city of Portland, Chef Kevin Rubis brings life and character to the food he creates.
Slinging sandwiches and working in kitchens in Pittsburgh led him to develop his passion for food and inspired him to pursue his Culinary Degree from Pennsylvania Culinary Institute. Chef Rubis ended up working at the Bigelow Grille under Chef Kevin Sousa, who later founded Superior Motors. The two hit it off and stuck together, working on several projects including re-conceptualizing a taco shop, and converting an old hot dog shop into a fun global street food restaurant. Later, Chef Rubis was the opening Sous Chef of Salt of the Earth, Sousa's fine/casual concept.
Since moving to Portland in 2014, Chef Rubis sought out work at local institutions such as Papa Haydn, Besaws, Country Cat, and he even ran the kitchen at Nong's Khao Man Gai. He was part of the opening crew and served as Executive Chef for the short-lived Buckman Public House concept before finding his home at Doug Fir in late 2017.
At Doug Fir, he has re-established relationships with local farms and has brought the kitchen back to thinking seasonally and putting fresh ingredients first. The dishes he creates are polished yet unpretentious, and reflect the vibrance and excitement of a world-class music venue in a world-renowned food city.
KYLE RITCHIE, BAR MANAGER

Originally from Albuquerque, NM, Kyle Ritchie took his first kitchen job at the age of sixteen. Shortly afterwards, Kyle moved to Denver, CO and continued to pursue jobs in cooking, jumping from kitchen to kitchen as many young cooks do. During that time, Kyle found himself surrounded by great bar programs and talented bartenders, and he volunteered his extra time with bar prep and garnishes, and, of course, asked many questions about everything relating to the bar.
In 2010, Kyle moved to Portland after he decided that he wanted to continue learning as much as possible about hospitality and cocktail making. Working in places like Park Kitchen and running the kitchen at the Rum Club further confirmed his desire to bartend. From the creativity involved in blending ingredients in one glass, to the importance of using the right ice, Kyle was fascinating by it all. After spending a year back in Albuquerque as the Executive Chef at Marcelos, Kyle finally made the transition to bartending. Kyle was brought on for a new project, The Buckman Public House, where he soon earned the position of bar manager. During that time, he realized how much more he could do with all the ingredients in that one glass.
By working with some amazingly talented bartenders and pushing boundaries based on his past experience, Kyle has finally found his niche combining his culinary background and molecular side with cocktail making. Kyle will be joining the Doug Fir team in September and is excited for this new chapter.
VEGANIZER PDX
Veganizer is a plant-based food consulting and marketing agency. We collaborate with omnivore restaurants, offering an opportunity to get creative in the kitchen and expand the vegan options on their menus, while bridging the gap between the vegan customer and non-vegan establishments.

Lead by veggie food + lifestyle blogger, Waz Wu the Portland chapter has collaborated with MF Tasty, SouthFork, Red Sauce Pizza, Quaintrelle, Feastly, and more. We're honored to have been featured on KGW News, Eater PDX, and local podcasts since our launch in early 2017.