Description
Please join us on March 10 for Veganizer PDX's first #officiallyveganized event of 2019: Bella Pizza!
Bella Pizza currently has a couple vegan items on the menu, but on March 10, they'll be offering 4 vegan pizza pies and 4 vegan salads for a special Veganizer pizza party! This is the first time the new vegan pies will be offered, and we'd love to hear your feedback to help Bella determine which ones should stay on the menu.
Your $10 ticket includes your choice of a vegan slice AND a side salad or vegan knots(6). There are two seatings available: 11am and 1pm.

Ticket holders will be guaranteed a seat and entered into the raffle for a chance to win a $25 gift card to Bella Pizza. We will do our best to accommodate as many walk-ins as possible, but please keep in mind that this is a special event, and the kitchen will prep according to the final ticket count in an attempt to reduce food waste.

As always, we kindly ask that you remember to tip Bella's staff as they'll be hustling on the day of the event!
THE PIES
Bella's Famous: cashew-roasted pepper base, marinated tempeh, spinach, mushrooms, pepperoncini
Kashmir: cauliflower curry base, vegan cheese, roasted potatoes, green peas, mint
Besame Mucho: red sauce, vegan mozzarella, soyrizo, roma tomatoes, roasted poblanos, cilantro pesto swirl
Peace Train: tahini-white sauce base, roasted eggplant, red onions, roasted chick peas, harissa swirl

THE SALADS
Caesar: romaine, vegan cheese, croutons, lemon wedge with soy-tahini dressing
Verde: red leaf lettuce, bell peppers, chick peas, red onion with balsamic vinaigrette
Greek: red leaf lettuce, vegan cheese, pepperoncini, sun-dried tomatoes, kalamata olives, red onion with balsamic vinaigrette
3-Leaf: spinach, arugula, red leaf lettuce, almond ricotta salata, spiced pepitas, slivered apricots with soy-tahini dressing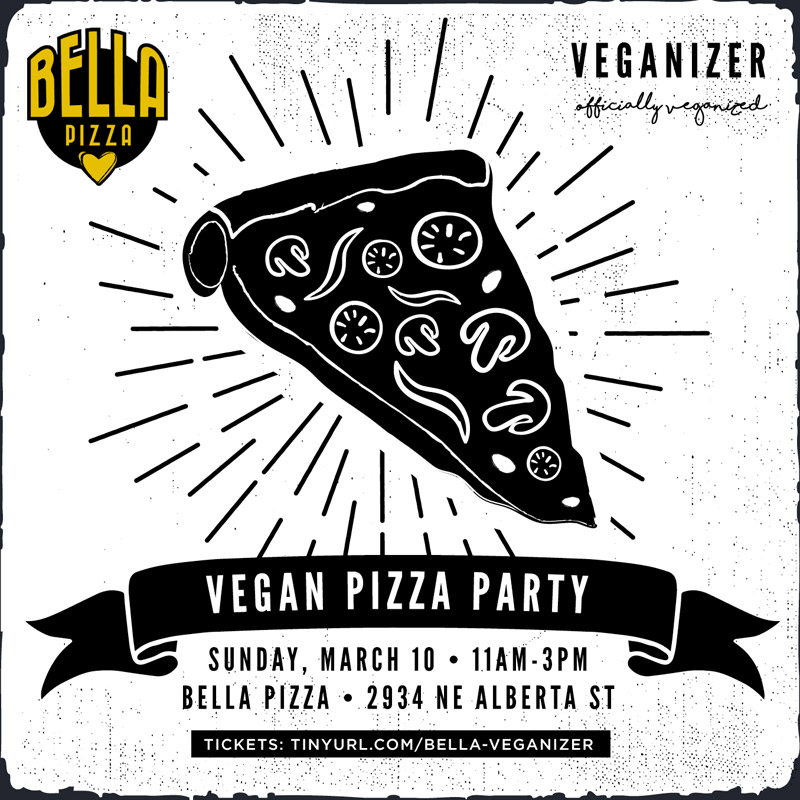 BELLA PIZZA
Founded in 2001, Bella Pizza is a neighborhood pizza shop that brings a taste of straight up, East Coast pizza to Portland. Bella is dedicated to the art of making hand-tossed, hearth baked pizza with the perfect balance of crust, sauce, cheese and toppings. Crispy & chewy, tender & delicious… GENUINE pizza pie!
VEGANIZER PDX
Veganizer is a plant-based food consulting agency. We collaborate with omnivore restaurants, offering an opportunity to get creative in the kitchen and expand their vegan offerings, while we help bridge the gap between the vegan customer and non-vegan establishment.

Lead by veggie food + lifestyle blogger, Waz Wu, the Portland chapter has collaborated with MF Tasty, Red Sauce Pizza, Quaintrelle, Doug Fir, and more. We're honored to have been featured on KGW News, Eater PDX, and local podcasts since our launch in early 2017.