Join Rhode Island Vegan Awareness for a special VIRTUAL Book Launch Party for the new book, VEGAN VOICES: ESSAYS BY INSPIRING CHANGEMAKERS
About this event
Join us virtually to celebrate the launch of VEGAN VOICES, featuring essays by 50 of the most inspiring changemakers at the forefront of the vegan movement.
Keynote by Victoria Moran, Videos, Readings, Music, Cooking demo, Panel discussion, Prize giveaways and more! VEGAN VOICES writers will join in from around the world!
Emceed by Dr. Elisa Beth Haransky-Beck
Date: Sunday, October 10, 2021
Time: 1:00 – 2:30 PM EDT
Location: This is a virtual event. The link will be sent to all attendees in advance.
This is a free event and all are invited but you must register through Eventbrite in advance.
"VEGAN VOICES brings you the thoughts and experiences of the visionaries who have built this powerful movement. From ethics and activism to aesthetics and economics, it looks at all sides, charting an optimistic way forward for humans and for all the other animals with whom we share the planet."
— Dr. Neal Barnard, President, Physicians Committee for Responsible Medicine
"There are as many reasons to be vegan as there are vegans, as this lovely anthology makes clear. So many of my heroes in one place—what a treat. Read it and be inspired."
—Bruce Friedrich, Co-founder & Executive Director, The Good Food Institute
Questions? Contact Laura Barlow: Laurab14383@gmail.com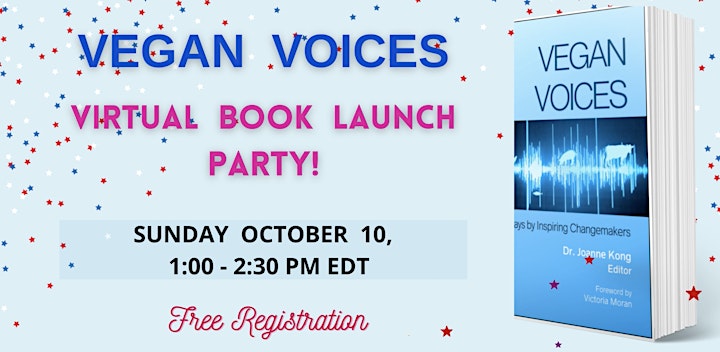 Organizer of VEGAN VOICES Virtual Book Launch Party
Rhode Island Vegan Awareness is a non-profit organization dedicated to advocating veganism for a more peaceful and just world for all life.

We actively work to ~
Inspire justice and true respect for other species and the earth.
Our television PSA, film screenings, library displays and more, have exposed compelling reasons to choose vegan. Featuring vegan cuisine at events helps people see how easy and delicious being vegan can be.

Educate the public with critical information. Since 2001,
RIVA has reached thousands through outreach tables, wo
rkshops, guest speakers, and the distribution of free Vegan Starter Guides.

Support the local community.
Our website and special events are all additional ways that RIVA creates a vegan friendly community.