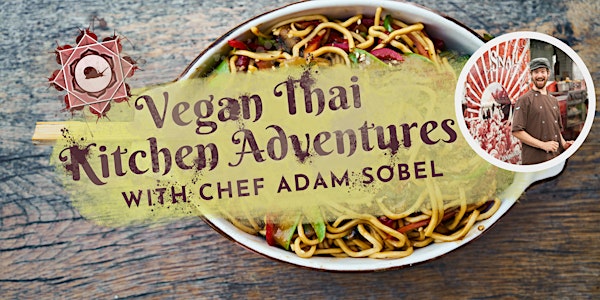 Vegan Thai Kitchen Adventures
Learn to make classic plant-based dishes from Thailand like a pro!
Date and time
Saturday, June 17 · 1 - 3pm PDT
About this event
Outrageous plant-based flavors from Thailand, direct to your home kitchen!
Join chef Adam Sobel on a culinary adventure in your home kitchen. You can either cook along with the class or kick back and watch it demo-style. Everyone registered will also be sent a recording of the class and a copy of the recipes to follow along with any time.
Recipes covered in this course:
👉Por Pia Tod
Enjoy crispy and crunchy vegan Thai spring rolls, packed with a delicious filling of fresh vegetables, glass noodles, bean sprouts and aromatic herbs and spices
👉Prenang Curry
with fragrant herbs and spices such as lemongrass, galangal, and kaffir lime leaves, and featuring a medley of fresh vegetables, chewy fried tofu, and a rich and spicy curry sauce
👉Larb yuba salad
A vegan twist on the classic Thai salad, packed with lemongrass soy skins, crisp lettuce, fresh herbs, and a sweet and tangy dressing that will have you coming back for more.
👉Pad kee mao
Vegan chicken drunken noodles made with wide rice noodles, fresh vegetables, and a savory sauce flavored with basil and chili, perfect for those who love bold and fiery flavors.

👉Mango black sticky rice
A popular Thai dessert made with glutinous black rice, fresh ripe mango, and a drizzle of creamy coconut milk
About the organizer
Hey folks! I'm Adam Sobel, a self taught chef who made a pretty popular vegan food business called The Cinnamon Snail.
I learned by cooking at home, and then working in other people's restaurants for about 12 years. So, if I can do it, so can you!
My cookbook "Street Vegan" is available at your favey local book store, or on the world wide web.
I have been featured as a chef at The James Beard House, and have represented the USA at the World Street Food Congress in the Philippines.
The Cinnamon Snail was rated as NYC's #1 highest rated food business of any kind on Yelp back in 2014, and was also rated the #4 highest rated in the entrie country. It won too many awards and accolades to mention, including numerous Vendy Awards, PETA Libby awards, Farm Sanctuary Compassionate Commerse Award, and was at the top of countless top 10/ topp 100 best food truck lists. Gothamis named our cute little truck " the best food truck in NYC". Anyway, I dont even remember all the awards, but it was kind a lot.
When I am not doing food related stuff, I go on all kinds of adventures with my wacky home schooled kids, I practice and teach yoga, and my family and I are licensed wild-life rehabilitators.