Sales Have Ended
Ticket sales have ended
Ticket sales for VSF: Nights have ended
Sales Have Ended
Ticket sales have ended
Ticket sales for VSF: Nights have ended
Description
Hey LA! Summer is upon us and its HOT out there. Are you ready for a reprieve from this insane summer heat?
You know we are!
INTRODUCING VEGAN STREET FAIR: NIGHTS
Choose one or both: Friday, September 2nd | Saturday, September 3rd 5pm-11:59pm
This exclusive 2 night event is a great excuse to get your friends together and kick it with amazing eats, dancing, and drinks all under the stars.
Vegan eats, a beer garden, musical entertainment provided by Flashpants, and games for everyone!
No more food tickets. Shorter lines. We want you to eat it all! Cash and credit happily welcome. ATMs on site too.
Vegan eats curated by our favorite FatKid @VeganFatKid.
Remember, this is a limited event people so pick a night, get your entrance ticket and come #EATALLTHEVEGANTHINGS with us! Tickets will sell out fast.
This event is all ages however there will be very loud music. 12 and under are free.
Food and drink purchased separately. Ticket Sales Final. No Refunds.
Vendors:
Burgerlords
Equelecua Cuban Cafe
Mandoline Grill
Tqueria La Venganza
Ridiculous Baking Company Featuring The Herbivorous Butcher
Cha Cha Kombucha
Charlie's Brownies
Cup My Cakez
Divine Dips Ice Cream Truck
The Federal Bar
Ihsan's Falafel
India Jones Chow Truck
The Donuttery
Todo Verde
Vegan Dots
World Empanadas
Yoga-urt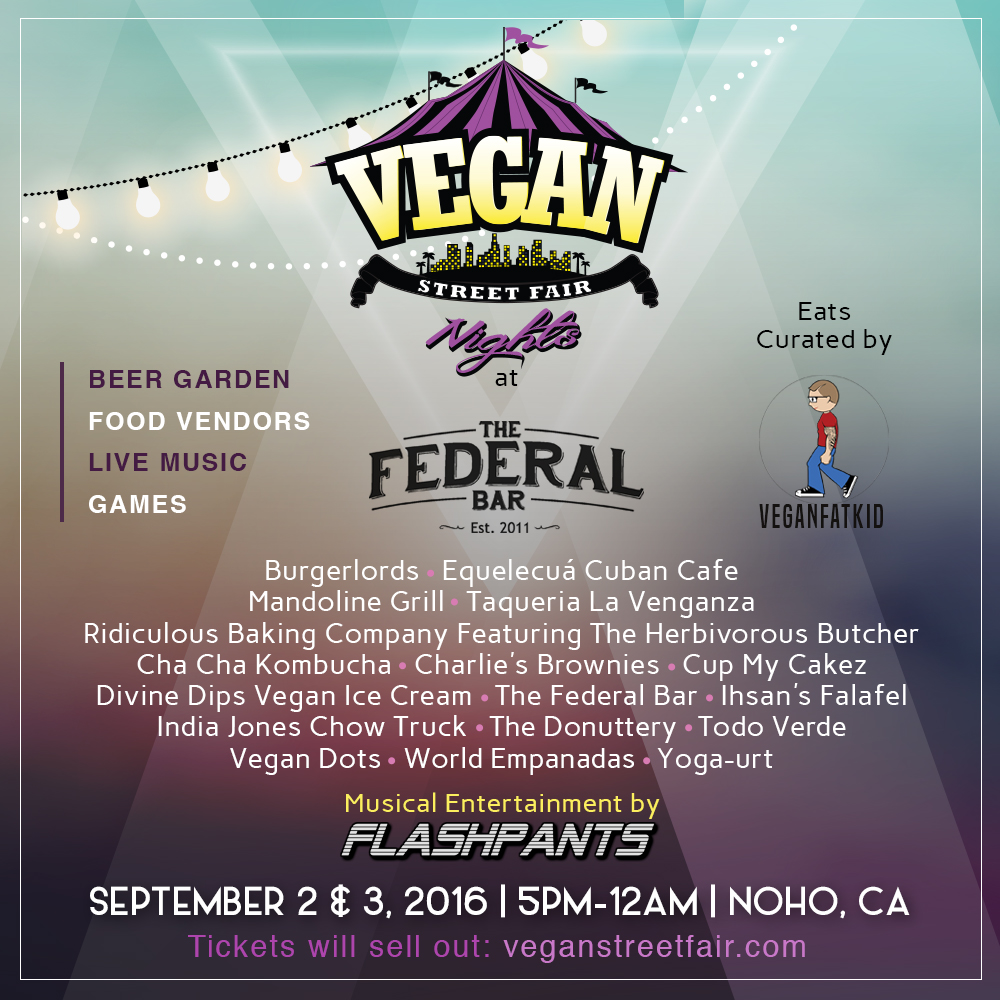 FAQs
#VSFNIGHTS, baby!
Can't wait to see you all and party until midnight.
A few last minute details:
Parking and travel info CAN BE FOUND HERE. Park at your own risk! We really recommend ride shares. Like for real... :)
Vendor lists and menus CAN BE FOUND HERE.
The address to the event is The Federal Bar, 5303 Lankershim Blvd, North Hollywood, CA 91601.
Entrance is on Weddington Street.
VIP Entrance is on the right and General Admission is on the left. There will be signs or someone pointing you in the right direction.
Wristbands will be given to you upon checking in at the Weddington St entrance and are only good for Friday and Saturday nights, respectively. Wear those wristbands until you have fully left the building for real.
VIP Swag Bags valued at over $100 (!!!!!!!!!) can be picked up at the Merch tent at any point from 5pm-12am using the tear off voucher on the actual wristband so guard it with you life as you will not be ableto redeem your VIP bag even if you "lost it." We will hang on to the bags until you need them but cannot hold a bag for you after you've redeemed your voucher. You pick it up, you keep it. Them's the rules. Take pics and videos and post about your #VSFSwag! We love to see that stuff (and so do sponsors who want to know people are actually enjoying their stuff!)!
VIP lines are meant for fast access to all vendor booths. Service windows are for General Admission ticket holders. Only attendees with VIP wristbands will be allowed to use the fast pass lines at each booth. Yeah, we're looking at you Sneaky Sally. :P
There are NO MORE FOOD TICKETS (woo hoo) and each vendor will be accepting either cash, credit, or both so come prepared. There will be ATMs on-site should you need them.
BRING WITH YOU: your eventbrite ticket (printed or on your mobile device), empty tupperware for leftovers if you're savvy and a go-getter, your ID if you're entering the beer garden, activities for your children to play with (there will be a family area for sitting down so small blankets or towels to sit on in this area would be perfect. Just be mindful of other families and share the space with each other), cash or credit cards to pay the vendors and buy merch, your dancing shoes, your feel-good attitude (its seriously contagious)!
LEAVE AT HOME: companion animals, outside food and drink, drug paraphenalia, weapons of any kind, large bags, any fatphobia you may be harboring, perceived gender roles, bad juju. :)
All bags will be searched before entering (this includes upon re-entry... there you are again, Sneaky Sally).
This is a NON-SMOKING event- this includes e-cigs, Sneaky Sally. Should you need to smoke, you are free to exit and enter to do so as long as you're still wearing your wristband.
All beer in the 21+ Beer Garden hosted by The Federal Bar is Barnivore.com approved BUT all beers must stay in the Beer Garden- you may not take them out.
Complimentary Water- feel free to bring an EMPTY reusable water bottle for refills at the VEGAN SNACKS tent.
Snapchat Geofilters are aplenty for this event, so snap, use a geofilter, and send it to us too! We'd love to see what you've done, what you're eating, who you're hanging with.. you know... the good stuff! Also feel free to add any Snaps to LA Story or any other pertinent stories you may see! Also, tag us on Instagram or Twitter posts using #veganstreetfair and #vsfnights! We love reposting your stuff!
#VSFBINGO will be ROCKING so be sure to follow the rules! Anyone who fills up their card/ IG with selfies before their night is through automatically wins a FREE VSF tee shirt at the Merch Tent. We'll check your feed and give it a thumbs up or thumbs down! No cheating though! Seriously though... who invited Sneaky Sally???
All GAMES on site are free to enjoy and can be checked out from the Games Tent including board games, pool cues, balls, air hockey pucks, etc. In order to check out games, we'll hold onto your ID and you will be responsible for returning the game within the hour. Once you return the complete and undamaged pieces back, you will receive your ID back. You are free to switch out available games but only 1 allowed per person. Waitlists are available. If you plan on checking out the beer garden, get your ID checked first to receive your writband before you check out any games.


Have SO MUCH FUN! Take lots of pics, show off how awesome the vegan lifestyle is, and enjoy the night time vibe!





We look forward to seeing you!