VEGAN Gourmet Thanksgiving Dinner & Storytelling Evening

Saturday, November 30, 2019 from 7:00 PM to 11:00 PM (CET)
Event Details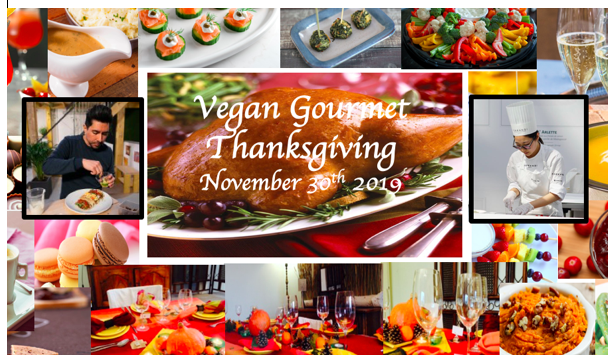 Vegan Gourmet Thanksgiving & Storytelling Evening
November 30th, 2019
19:00 – 23:00
               Join a VEGAN Gourmet Thanksgiving Extravaganza with all the traditional Thanksgiving recipes, delicacies, dishes and more. See the full menu below that includes "foie gras", "turkey" "salmon", "cheese" "chantilly"…..all 100% VEGAN. Come to explore and share these delicious plant-based alternatives. There will be not one but TWO Chefs in the kitchen. Alexandre Zamudio, a Vegan Chef who has worked in four Vegan restaurants in Paris as General Manager, Head Chef, Founder and House Manager. His "forté" is in creating dishes with the texture and taste of meat and fish but plant-based. Alongside Alex is Michelle Ou, International Pastry Chef and graduate of Ferrandi, Europe's leading culinary institute. With a "passion for plating", Michelle sees a plate as her canvas and with artistic and aesthetic flair creates elaborate presentations. She will showcase this on Thanksgiving from designing the appetizers to the three-dessert Café Gourmand.
                 If you have been to a Storytelling Evening before, this Thanksgiving Storytelling Evening will be slightly different. Gourmet for one with an apéritif to digestif , wine and crémant in-between and secondly, will be a formal sit-down dinner for only 18 guests. Thirdly, interspersed between courses will be entertainment from an Opera Singer, Pianist and Jazz Singer. Not to forget the Storytelling aspect, it will be a recounting of the story of Thanksgiving.
               If you are VEGAN or just curious to share a plant-based Thanksgiving Meal together do come and join.

                                                          Gobble Gobble!!
                                                                             

Bernadette


                                                                   

Founder & Host

Storytelling Evenings


                                                                                    
P.S. For a LAUGH see these 2 minute videos to get you in the mood for a VEGAN Thanksgiving. Songs made famous by Diana Ross with a VEGAN twist.   "You Can't Hurry Love" and "I Will Survive"
https://www.youtube.com/watch?v=rCJ78Ttzuf4
https://www.youtube.com/watch?v=8jGOc0P5DEI..
Vegan Gourmet Thanksgiving Menu

Apéritif
Fresh Fruit Cocktail (with or without alcohol), and Kir
with nibbles, nuts, and olives
Appetizers

"Salmon" Mousse Canape
on Cucumber with Dill and Lemon zest
"Foie Gras"
with Fig Chutney and Pomegranate garnish
Spinach Cashew "Parmesan" Balls
with zest of Ginger and Cumin
Crudités
Cucumber, Carrots, Zucchini, Tomatoes & Bell Peppers with "creamy" herb dip
Pumpkin Ginger Soup
with caramelized Pecans and splash of "cream"

Lemon Sorbet
"Turkey"
with hint of Sage & Rosemary garnished with Figs, Chestnuts & Gravy
Cranberry Pomegranate Sauce with zest of Orange and Ginger
Cornbread Stuffing with Celery & Apple
Sweet Potatoes with Pineapple
Corn BreadFrench Green Beams with Toasted Almonds
Fruit Skewer
Mango, Pineapple, Persimmon, Grapes
with Honey Lime dressing and sprig of mint

Champagne & Dessert
Surprise Café Gourmand Trio of Three Desserts
Selection of Coffee and Tea with After Dinner Chocolates
Digestif
An Aperitif, glass of Champagne, Digestif, and two glasses of Red or White wine or Crémant included. Additional Wine and Crémant available for purchase or feel free to bring your own.
If you have never been to a Storytelling Evening here is an FAQ
WHAT ARE THESE STORYTELLING EVENINGS? 

Events at a private residence where a storyteller (author, entertainer, artist, musician, magician, opera singer, dancer, actor, expert in a particular field) tells a story around culture, lifestyle, entertainment, travel or the arts. The idea is to ENTERTAIN, AMUSE, EDUCATE, ENLIGHTEN or any combination thereof.
WHERE DO THESE EVENTS TAKE PLACE?
Usually in Paris at the private residence of Host Bernadette Martin. However, with the launch of Storytelling Evenings Las Vegas in 2017, events can be held at any location across the globe.
WHO ATTENDS?

25-30 Storytelling aficionados who hail from across the globe and understand English.
WHAT IS THE DINNER MENU?

The menu varies and is a very important part of the evening. With advice from a Chef, cuisines from the "four corners of the globe" have ranged from Mexican, Italian, Lebanese, Thai, Canadian, Spanish, Indian, French, Cajun, French, regional French and oftentimes fusion. Vegetarian and Vegan options are available with advance notice. Wine, juice, and other beverages are served as well as a selection of teas and coffee with a delightful dessert.

WHAT IS THE COST?
 
45 Euros  (65 Euros for Thanksgiving Gourmet) which includes presentation, 5 course dinner, champagne, wine, beverages, juice, dessert, coffee.

HOW DO I REGISTER?
On this site    
www.visibilitybranding2015.eventbrite.com

HOW OFTEN ARE THESE STORYTELLING EVENINGS? 

Once a month usually on a Saturday
DO YOU WELCOME SUGGESTIONS FOR STORYTELLERS?
 Yes!  This could be you, someone you know in Paris or someone who may be passing through.

WHO HAVE BEEN THE PREVIOUS STORYTELLERS?
 For a full list and description of the past 50 plus Storytelling Evenings, view on this site   
www.storytellingevenings.com

Save This Event
When & Where

Private residence. Codes sent with RSVP
55 Boulevard Richard Lenoir
75011 Paris
France


Saturday, November 30, 2019 from 7:00 PM to 11:00 PM (CET)
Add to my calendar