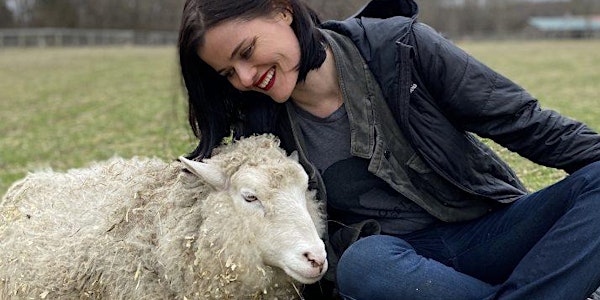 Vegan Ethics with Rachel McCrystal on March 13th!
Learn about the ethical foundation of vegan living with Woodstock Farm Sanctuary's Executive Director, Rachel McCrystal.
About this event

We hope everyone's 2021 is getting off to a great start, and we invite you to commit or recommit to decisions that promote justice for animals. Mark your calendar for Saturday March 13th, 3:00pm EST when we will host guest speaker Rachel McCrystal for a talk on Vegan Ethics! We're thrilled to welcome Ms. McCrystal to present information on the ethical basis for vegan choices.
Rachel McCrystal is the Executive Director at Woodstock Farm Sanctuary. She has been at the Sanctuary for seven years. Rachel has volunteered for and worked at various animal rights, conservation, and sheltering organizations over the last 15 years with a focus on development, marketing, campaigns, and strategic planning. She's been widely published with stories on animal rights and liberation.
Only pre-registered participants will receive the link to join, so be sure to register!
We will send a Zoom link and passcode for entry to all registered attendees 3 days prior to the event. This event will not be recorded.

SUPPORT PROGRAMMING LIKE THIS:
This event is FREE, but we appreciate donations or raffle ticket sales to help us continue to host online events like this one, and, when safe again, to hold our in-person Vegan Living Programs and other free events.
We are currently selling virtual raffle tickets for three fabulous prizes! The raffle winners will be named at the conclusion of the event. Enter to win one or more of these items:
A $50 gift card for Erin McKenna Bakery (formerly Baby Cakes). Enter to win a $50 gift card for Erin McKenna Bakery's vegan and gluten free cakes, cupcakes, cookies, donuts, muffins, rolls, brownies, and more. Items ship nationwide.
A $50 gift card for Riverdel Vegan Cheese. Based in New York City, Riverdel proudly offers a highly curated selection of artisanal vegan cheeses, ranging from housemade cashew and oat cheese to local purveyors to special selections from further afield, in addition to carrying several well-known brands and gourmet foods such as vegan caviar and cold cuts. Items ship nationwide.
An 18" x 24" canvas print of an original Monarch Butterfly photograph by Ruth McDade. Ruth McDade is a nature photographer, her subjects are frequently songbirds and butterflies, such as this Monarch butterfly. When she is not at her favorite garden spot Ruth is often photographing animal rights events and for five years, the Vegan Living Program in NY. Item ships nationwide.
Raffle tickets can be purchased at www.veganlivingprogram.org/raffle. Tickets are $5.00 each for single tickets and $20.00 for five. U.S.A. residents only due to shipping restrictions.
We will announce the raffle prize winner immediately after Ms. McCrystal's talk. You need not be online at that time (though we hope you will be!), as we will contact the winner via phone or email after the event. Good luck!