SoFlo Vegans and Melissa Guzman from The Caribe Vegan presents Veg Night Out, the first 100% Vegan Night Market in South Florida.
About this event
SoFlo Vegans and the Caribe Vegan proudly present Veg Night Out, the first 100% Vegan Night Market in South Florida. Everyone is welcome to this FREE event, so invite friends and family to join you in a kid and pet-friendly environment.
Enjoy delicious vegan food, goods, hair and skincare, fashion, jewelry, comic books, and more. We even have a hydration station brought to you by Allini Water Filters.
Listen to LIVE music spun all night by international emcee, producer, and artist E.P.H.N.I.K.O.
View art displays from 2x Grammy-nominated lead singer of the band, Locos for Juana, Itawe Correa.
Chances to win prizes throughout the night at the SoFlo Vegans booth, including an opportunity to receive a free tote bag with coupons and promo items from our sponsors.
Stop by our sponsors Leaves & Roots Lounge to listen to music and enjoy exotic teas and beverages.
Learn more about the event and all of our participating vendors.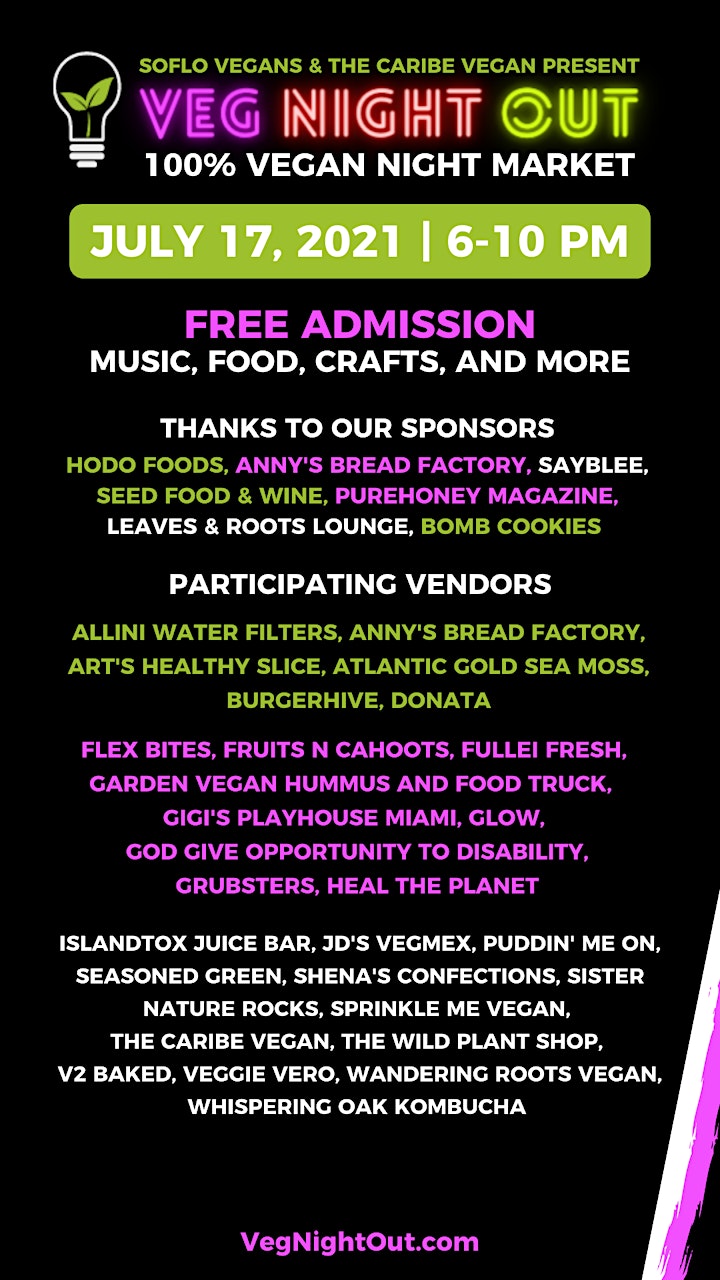 About SoFlo Vegans
SoFlo Vegans provides promotional services, media content, and LIVE events for the veg-friendly community in Miami-Dade, Broward, and Palm Beach county.
About The Caribe Vegan
Melissa Guzman is the owner of The Caribe Vegan food truck in Miami, Florida. She shares her background and motivations for operating an all-vegan food truck in South Florida. They specialize in Caribbean-inspired dishes.
About Mass District
Veg Night Out is taking place at one of the fastest-growing art districts in South Florida. Mass District is a collection of creatives & businesses with a vested interest in the community & economic development of Fort Lauderdale through the arts. Veg Night Out is taking over the District for an evening to showcase the collective power of the vegan community.
Become a Vendor or Sponsor
If you would like to register as a vendor or sponsor, click the link below.
https://vegnightout.com