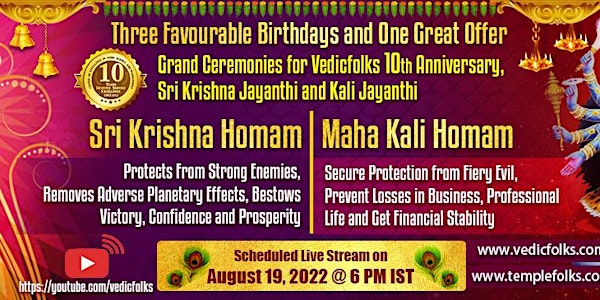 Vedicfolks 10th Anniversary-Sri Krishna Homam & Maha Kali Homam
Vedicfolks 10th Anniversary-Sri Krishna Homam & Maha Kali Homam
About this event
Don't miss out the Life time opportunity to Join with us on Grand Ceremonies for "Vedicfolks 10th Year Anniversary" Celebration with divine aspect of Sri Krishna Homam and Maha Kali Homam.
Use this Link to Make your Presence on that day. Hurry Please be Ealry Bird to grab your chance!
Lord Krishna Homam:
Lord Krishna – Krishna Jayanthi or Krishna Janmashtami – Vedicfolks will perform Sri Krishna Homam. Lord Krishna was born on the midnight of the eighth day of Hindu lunar calendar in the month of Shravana or Tamil month Avani (mid-August to mid-September). According to Bhagavad Gita, the lord will appear whenever there is dominance of evil to annihilate it and uphold unity, faith and righteousness. Janmashtami celebrates the togetherness of people and establishes close bonding within the family and society at large. Lord Krishna encourages devotees to follow the path of truth by loving and living to the fullest.
Maha Kali Homam:
Goddess Maha Kali also manifested on this day – Phalgun Shukla Dwadashi to kill demons Madhu and Kaitambh. It's the day when the goddess appeared in front of Lord Brahma from the organs of Lord Shiva such as eyes, face, nose and arms to destroy the fiercest enemy. Invoking the goddess on Kali Jayanthi fulfills all aspirations of the devotees. The goddess is pleased when invoked on the day and blesses everyone with prosperity, stability, fame, triumph etc. She also annihilates enemies who troubles her true followers, and also bestows good fortune for you and family.
*We Request all our Devotees to Participate to participate in this Grand Event and Make this More Auspicious as well as Memorable Moment.