Description
vcfo Conversations: Strategies on Addressing Fraud in eCommerce
Join vcfo in our "Conversations" series Wednesday, October 25th 7:30 am - 9:00 am at the AT&T Executive Education and Conference Center at UT Austin as we discuss the topic of eCommerce Fraud. While technologies continue to facilitate e-commerce, fraud remains an issue with more creative opportunities for fraud appearing, exponentially raising the risk level of loss.

Our panel of experts will discuss topics ranging from

• Fraudulent payments
• Chargeback fees
• Account takeovers
• Fulfillment issues/merchandise losses
• Risk based approach

Attendees will emerge more prepared to face new and growing financial risks in the eCommerce landscape.
*Admission is complimentary by invitation. Light breakfast will be served and garage parking provided at event.


Our Industry Expert Panel Members Include: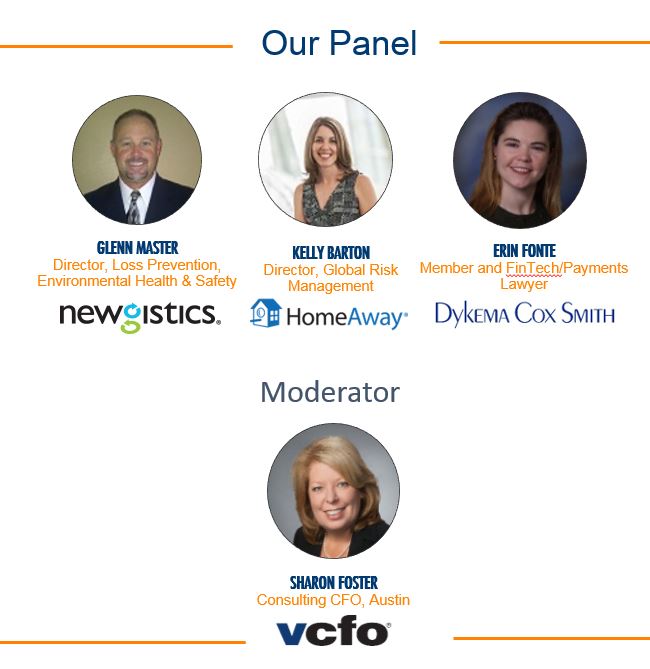 Glenn Master, Director, Loss Prevention, Environment Health & Safety of Newgistics
Kelly Barton, Director, Global Risk Management of HomeAway/Expedia
Erin Fonte, Member and FinTech/Payments Lawyer, Dykema Cox Smith
Moderated by vcfo Consulting CFO, Sharon Foster