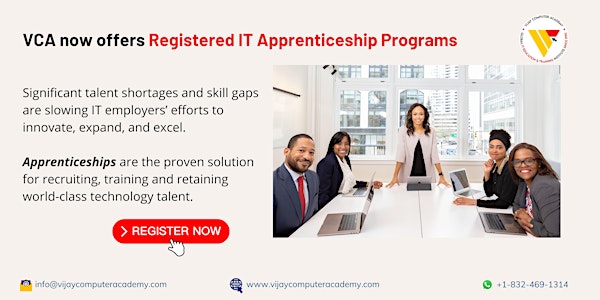 VCA Registered IT Apprenticeship Programs - Info Session for Employers
Join VCA Registered IT Apprenticeship Programs Info Session and learn how your company can benefit from IT apprenticeships
About this event
Hello Employers, Become VCA's partner to nurture the talent pipeline for the next generation of the IT professionals.
This info session is for businesses , organizations and corporation interested in Registered IT Apprenticeship Programs.
We understand that employers are worried about so many challenges in today's world.
Apprenticeships are an amazing way to recruit, train and develop your team, with wide-ranging benefits. Whether you're looking to increase productivity, create a more diverse workforce, or take control of your digital skills gap, an apprenticeship programme could be the way to go.
So as you can see, the benefits are countless. Not only that, but you will also do an enormous amount for someone's career and personal development.
It's a win win situation.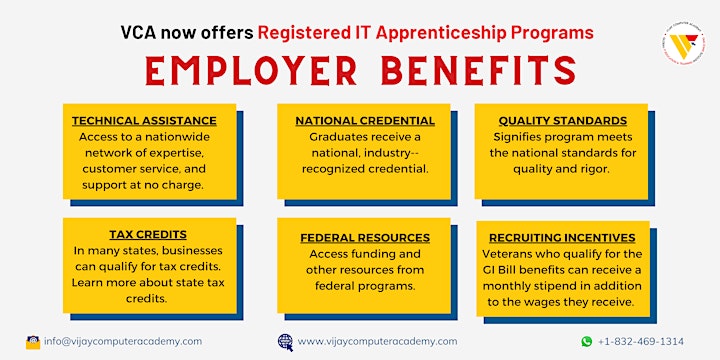 Join VCA's info session webinar
and learn how a registered apprenticeship program will have a positive impact on both your companies need for workers now and in the future while providing transparent career pathways that will engage and retain employees. Learn the basic steps of an employer apprenticeship from those that help process, train, fund and launch registered apprenticeships.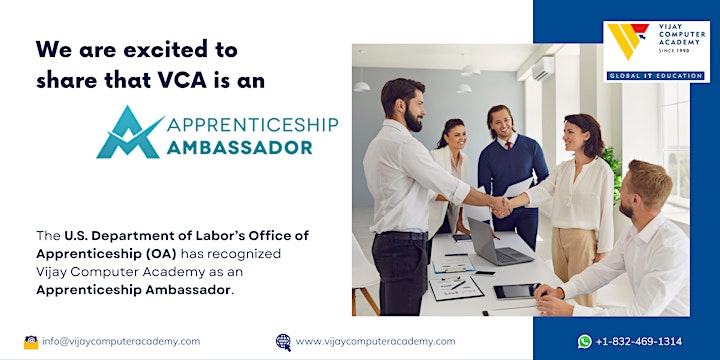 VCA - A workforce partner who understands your business, your industry and the region.
We are very thrilled and proud to announce that Vijay Computer Academy is a Registered IT Apprenticeship Program by DOL now. This is an extension and expansion of our missions of bridging the skills gap and workforce development and empowering underserved communities through our world class IT education and training programs for last 30+ years.
VCA's Registered IT Apprenticeship Programs are addressing the current Skilled Labor Gap in IT and other technology fields by training the workforce of tomorrow.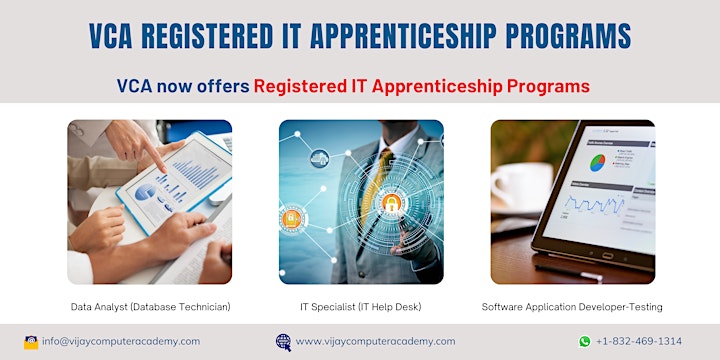 LINK TO EVENT WILL BE SENT AFTER REGISTERATION
Questions? Contact us :
🖥 www.vijaycomputeracademy.com
📲 +1-832-469-1314
📧 info@vijaycomputeracademy.com
📍 10701 Corporate Drive Suite 387 Stafford, TX 77477