Description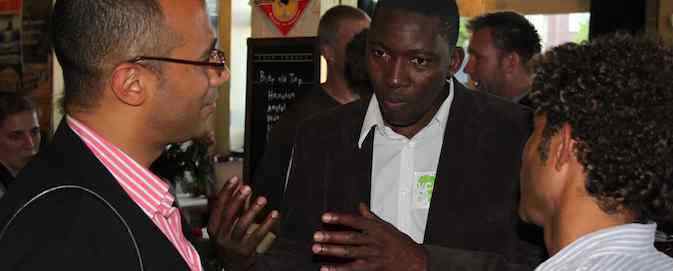 VC4Africa will attend the Private Equity World Africa conference on the 19th -21st of March 2012. This is also a great opportunity to organize a VC4Africa meetup and bring together members in the area!
See photos from the previous event!
The first meetup was held in London (on Dec. 4th, 2009) and brought together between 20-30 members. The group was diverse and included people from UK, Ethiopia, South Africa, Senegal, Zimbabwe, Surinam, Kenya, Nigeria, India, Ghana. The break up was also diverse across professions (entrepreneurs, investors, researchers, lawyers, etc).
It will be great to follow up this initial meetup with a second event. We look forward to seeing old and new faces! In the meantime, feel free to contact me at ben [at] vc4africa.biz.
Speak soon and happy networking,
Ben
What is a VC4Africa Meetup?
Second to networking online, VC4Africa makes use of the Barcamp model (an international network of user generated conferences - open, participatory workshop/events, whose content is provided by participants) to organize our very own series of VC4Africa Meetups. We like this open format because it means that anyone can participate. Any member of VC4Africa can organize a meeting in their area whenever they feel there is a need. As with all VC4Africa Meetups, they are simply a place for members to meet one another and share thoughts and ideas. No speeches, no agenda, nothing planned.
The loose structure allows for lots of networking. Just remember, everyone is expected to pay for their own drinks : ) As VC4Africa we help you organize the meeting and promote it across the network. Events have already been hosted in Kigali, Kampala, Nairobi (2x), Johannesburg, Lagos, Tunis, San Francisco, Atlanta, Washington DC, New York, London, Leuven and Amsterdam.