Description
Celebrating African entrepreneurship, Africa's venture capital community VC4Africa organizes a global series of VC4Africa meetups as part of Global Entrepreneurship Week 2013!
VC4Africa members from around the globe are taking the initiative to host a meetup in their own town on Thursday November 21st. These informal networking meetings bring together local networks of entrepreneurs, angels and VC investors eager to be part of Africa's next great success stories.
On this page you can sign up for the VC4Africa Global Entrepreneurship Week meetup in Addis!
This meetup will be hosted at iceaddis. The meetup is held on Thursday November 21st from 6:00 PM to 9:00 PM.
Feel free to sign up for this free event and help us spread the word! Happy Networking!
IMPORTANT NOTICE: NEW ENTRANCE!
Please note that the main road in Lideta (the normal entrance to iceaddis) is completely blocked due to construction! See the image below for the road that should be used, indicated in blue, from the City Council to iceaddis. See the enlargement on the right side of the map, showing the new entrance to be used to iceaddis.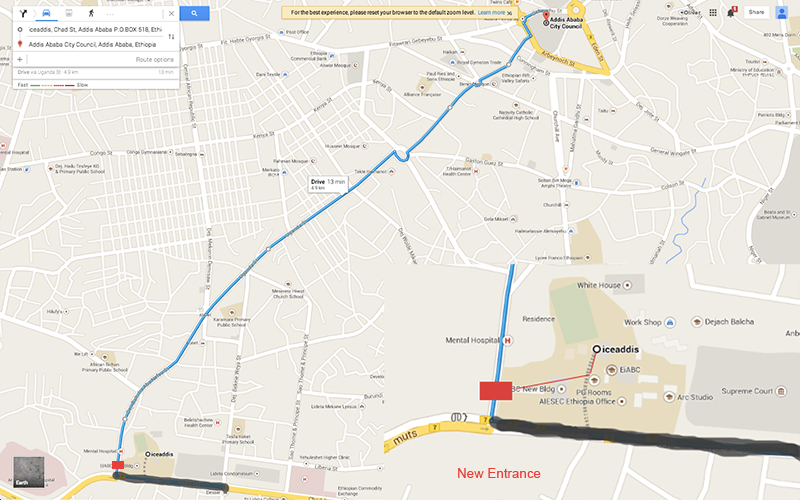 About VC4Africa meetups:
Venture Capital for Africa (VC4frica.biz) is the largest online community connecting African entrepreneurs and investors. Our meetups serves as an additional networking venue where VC4Africa members and supporters meet face to face to share thoughts and ideas. There are no speeches; no agenda and nothing planned which allows for lots of networking and info swapping. Just remember, at VC4Africa meetups everyone is expected to pay for their own drinks :-)
About Global Entrepreneurship Week:
Global Entrepreneurship Week is the world's largest celebration of the innovators and job creators who launch startups that bring ideas to life, drive economic growth and expand human welfare. During one week each November, GEW inspires people everywhere through local, national and global activities designed to help them explore their potential as self-starters and innovators. These activities, from large-scale competitions and events to intimate networking gatherings, connect participants to potential collaborators, mentors and even investors—introducing them to new possibilities and exciting opportunities.