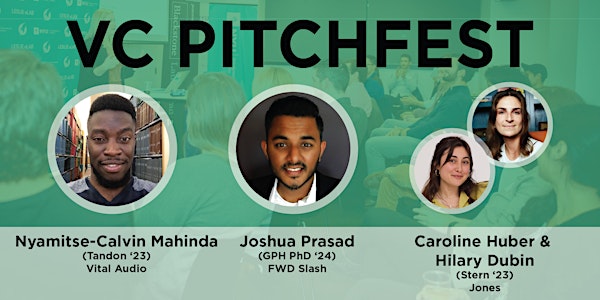 VC Pitchfest (Healthcare Edition)
The VC Pitchfest is a unique opportunity for NYU student and faculty entrepreneurs to present their startups to VC Investors.
When and where
Location
NYU Entrepreneurial Institute (Leslie eLab) 16 Washington Place New York, NY 10003
About this event
The VC Pitchfest is a unique opportunity for NYU student and faculty entrepreneurs to present their ventures and innovations to Venture Investors, fellow NYU entrepreneurs, and the wider startup community in a friendly competition! We are excited to host a VC Pitchfest on Thursday, October 27th (6:00 - 7:00 pm) at the Leslie eLab (16 Washington Place).
The teams pitching were selected by the NYU Entrepreneurial Institute team and will be presenting to a panel of venture investors from top venture capital funds across NYC.
Pitching Teams:
JonesA judgment-free journey to a vape-less life, through a personalized nicotine replacement subscription, behavioral support and digital community. Founders: Caroline Vasquez Huber (Stern, MBA '23) and Hilary Dubin.
Vital Audio: Detects heart health by audio to triage patient care. Founder: Nyamitse-Calvin Mahinda (Tandon '23)
FWD SlashWorks with healthcare and community organizations to enable value-based social determinants of health (SDoH) programming like housing-first. Founder: Joshua Prasad (Global Public Health, PhD candidate '24).
Investor Panel:
Come support your fellow NYU entrepreneurs and learn more about starting a scalable and successful venture! 
This event is hosted three times per semester, and is sponsored by the NYU Innovation Venture Fund. Additional information can be found here.
*THIS EVENT IS ONLY OPEN TO CURRENT NYU STUDENTS, FACULTY, AND STAFF, AND EACH ATTENDEE WILL BE REQUIRED TO SIGN IN WITH THEIR NYU ID CARD & VIOLET GO PASS*
The NYU Entrepreneurial Institute provides reasonable accommodations to people with disabilities. Requests for accommodations for events and services should be submitted at least two weeks before the date of the accommodation need. Please email entrepreneur@nyu.edu for assistance.