VBSR's 2013 Spring Conference - Local Innovation, Global Inspiration: Leveraging Grass Roots and Global Action to Advance Social Responsibility

Tuesday, May 14, 2013 from 7:30 AM to 5:30 PM (EDT)
Who's Going

Loading your connections...
3 of your friends are going.
Share it to get more people on board!
Share

Sara Haughty
San Francisco, California

Luke Picard
London, United Kingdom

Rick Vespucio
Florence, Italy
Event Details

 @VBSR     #vbsrspring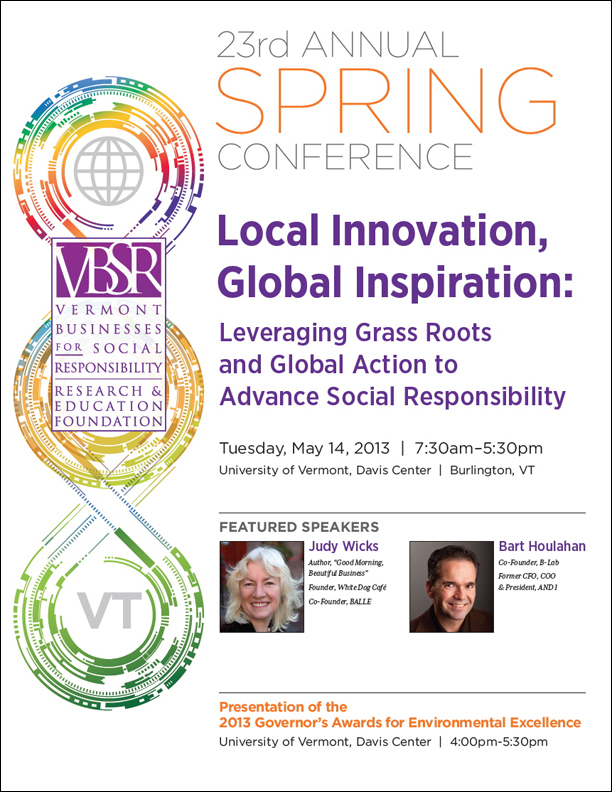 Conference Agenda
May 14, 2013
7:30-8:30
REGISTRATION AND LIGHT BREAKFAST
8:30-8:45
OPENING REMARKS
Andrea Cohen, Executive Director, VBSR
Brian Dunkiel, Dunkiel Saunders Elliott Raubvogel & Hand; Chair of the Board, VBSR

8:45-9:45
MORNING KEYNOTE ADDRESS, Sponsored by      Vermont Community Loan Fund

Judy Wicks - Author, "Good Morning, Beautiful Business"; Founder, White Dog Café, Co-founder, Business Alliance for Local Living Economies (BALLE)

Judy Wicks founded the White Dog Café on the first floor of her Philadelphia row house in 1983. As the restaurant grew, so did her notion that the strength of her business relied upon the quality of its locally grown ingredients. Envisioning how strengthening relationships among like-minded independent, locally owned businesses could inspire profound social change, she founded the Sustainable Business Network of Greater Philadelphia in 2001, and co-founded the nationwide Business Alliance for Local Living Economies that same year. Judy also founded Fair Food in 2000, dedicated to building a local food system in the Philadelphia region. In 2009, she sold the White Dog through a unique agreement that preserves local, independent ownership and maintains sustainable business practices, including buying from local farmers, composting and using renewable energy. Her book, Good Morning, Beautiful Business was published by Chelsea Green, in March, 2013.
10:00-11:30
CONCURRENT WORKSHOPS - SESSION A
Workshop 1
Just Good Business: Family Friendly Work Policies
Join former VT Governor Madeleine Kunin and other workplace advocates as we explore successes, challenges, and opportunities for establishing family friendly culture, policies, and practices in our organizations. This workshop will explore how far (or not) the workplace has evolved to support the needs of women and families. Whether for childcare, eldercare, or personal care, flexibility in work schedules is one tool that can help attract and retain talented employees. Equal Pay, Paid Sick days, and other policy trends will also be discussed. 
Cary Brown, Executive Director, Vermont Commission on Women
Madeleine Kunin, Former VT Governor; Author "The New Feminist Agenda: Defining the Next Revolution for Women, Work, and Family"
Beth Sachs, Co-Founder, Vermont Energy Investment Corporation (VEIC)
Workshop 2
SR Toolkit: Utilizing Life Cycle Assessment (LCA) to Develop Environmentally and Socially Responsible Products and Energy Solutions
Explore how Vermont businesses are using Life Cycle Assessment (LCA) to help guide their product development, business decisions and community relations. Come learn how to use LCA in your business and put the science behind your marketing claims. LCA assesses environmental impacts throughout all stages of a product's or service's life, from-cradle-to-grave (from raw material extraction through processing, manufacture, distribution, use, and end of life). LCA provides us with a holistic methodology to evaluate environmental impacts without burden shifting (changing one bad outcome for another). Join EarthShift, Seventh Generation, and Shelburne Farms as we explore how Vermont businesses are using Life Cycle Assessment (LCA).
Melissa Hamilton, Managing Director, EarthShift LLC
Alec Webb, President, Shelburne Farms
Martin Wolf, Director of Product & Environmental Technology, Seventh Generation
Workshop 3
Show Me the Money: The New World of Capital Raising in the JOBS Act Environment
Crowdfunding, community supported enterprise, and other emerging, alternative forms of grassroots financing are highlighted by entrepreneurs and practitioners alike. Includes up-to-date review of the JOBS act and its implications for community based financing. The panel will discuss structuring, implementing, and closing a private offering in the new JOBS Act environment, as well as the process of raising capital from private investors in an offering exempt from the registration requirements of applicable securities laws (i.e. community based offerings). Panelists will discuss how entrepreneurs can structure an offering to attract the right type of investors and provide a fair rate of return without jeopardizing the long-term success of the enterprise. Different investment structures will also be reviewed, ranging from pure equity deals, to hybrid structures like convertible debt, to pure debt transactions, including the advantages and disadvantages of each structure for both the investors and the founder.
Kevin Harper, Founder, Bristol Bakery & Café, Inc.
Eli Moulton, Director, Merritt & Merritt & Moulton
Freeman White, Founder & President, LaunchT, Inc.
Moderator: Ken Merritt, Managing Director, Merritt & Merritt & Moulton
Workshop 4
Bright Ideas:  Alternative Marketing Strategies that Rise Above the Clutter
Success stories of alternative marketing approaches and strategies that are effective, cheap, memorable… and fun! Want to break out of the staid and expensive world of traditional marketing while differentiating yourself from the competition? Looking for innovative and creative ways to put your products, services, and your mission in front of consumers?  Join representatives from Ben & Jerry's, SunCommon, and others as they share real world stories of Vermont companies that have successfully cut through clutter without breaking the budget.  Others have put a smile on their customers and revenue in the till; you can too!
Chris Miller, Social Mission Activism Manager, Ben & Jerry's
Duane Peterson, President, SunCommon
TBA
11:45-1:00
NETWORKING LOCAL-VORE LUNCH
Sponsored by MVP Healthcare, featuring locally-sourced ingredients.

AFTERNOON KEYNOTE ADDRESS, Sponsored by Vermont Community Loan Fund

Bart Houlahan - Co-founder, B-Lab; Former CFO, COO & President, AND 1

Bart Houlahan, 45, along with his partners, Jay Coen Gilbert and Andrew Kassoy, co-founded B Lab in 2006.  B Lab is a nonprofit organization dedicated to using the power of business to solve social and environmental problems.  B Lab drives systemic change through three interrelated initiatives: 1) Certified B Corporations: a corporate certification for sustainable businesses and social enterprises that meet higher standards of social and environmental performance and legal accountability; 2) GIIRS Ratings and Analytics: a ratings platform (analogous to Morningstar and Capital IQ) that drives capital to impact investments by assessing the social and environmental performance of companies and funds;  and 3) Benefit Corporations: a new, legally-recognized corporate form that changes corporate fiduciary duty, permitting companies to create shareholder value and social value.
Prior to B Lab, Bart was President of AND 1, a basketball footwear and apparel company.  Over the course of 11 years, Bart helped to finance, operate and scale the business to $250 MM in brand revenues with distribution in 80 countries.  AND 1 undertook a leveraged recapitalization in 1999 with TA Associates, and was sold in May, 2005, to American Sporting Goods out of Irvine, CA.  Before AND 1, Bart was an investment banker with Stonebridge Associates, BNY Associates, and Prudential-Bache Securities.  Bart is a Henry Crown Fellow of the Aspen Institute and an Advisory Board Member of the Center for the Advancement of Social Entrepreneurship (CASE) at the Fuqua School of Business.  A graduate of Stanford University, Bart now resides in Devon, PA, with his wife, Chrissy, and daughters, Molly, 20 and Carly, 18.
1:15 - 2:30
CONCURRENT WORKSHOPS - SESSION B
Workshop 5
Health Insurance Evolution: Understanding and Preparing for Changes to our Healthcare System
Not to be missed for businesses with less than 50 employees! Get the latest developments, information and resources for moving to the health insurance exchanges established by the Affordable Care Act. An expert panel provides the most current information available, identifies resources available to businesses, and answers your questions about transition to the Vermont Health Benefit Exchange marketplace. With three of the people working most directly on health care reform for Vermont small businesses, this forum will talk about what the new laws coming into effect at the end of this year will require of small businesses, including key actions and decisions small businesses need to take in 2013. We will specifically talk step-by-step through the biggest decision employers with fewer than 50 employees have to make, which is whether to offer health insurance in 2014 or not. Time for questions and helpful handouts will be provided! 
Bram Kleppner, CEO, Danforth Pewter; Co-Chair, Medicaid & Exchange Advisory Board; Member, Governor's Business Advisory Board on Health Care Financing
Robin Lunge, Director, Health Care Reform, State of Vermont Agency of Administration
Nicole Weidman, Small Business Project Director, Vermont Health Connect

Workshop 6
Metrics that Matter: The B Impact Assessment Tool for Measuring and Monitoring SR Performance
New for 2013! VBSR has partnered with B Lab to provide members free access to B Lab's internationally recognized Impact Assessment tool!  This practical workshop provides an introduction and practical advice from businesses that are utilizing the Impact Assessment.  How do we measure our company's social and environmental impact?  How do we create a roadmap of improvements to advance our sustainability efforts?  This practical workshop discusses how 8,000 small businesses have used the B Impact Assessment to measure their social and environmental performance and learn best practices.  Come take a visual tour of the Impact Assessment and hear local experts share their stories about what they learned through the experience.
Flip Brown, Owner, Business Culture Consultants
Jed Davis, Director of Sustainability, Cabot Creamery
Ashley Orgain, Corporate Consciousness, Seventh Generation
Hardik Savalia, Head of Standards, B Lab
Moderator: Judy Warriner Walke, Collaboration & Planning Consultant

Workshop 7
Walking the Talk: Next Generation "Green" Employee Benefits
Discover innovative approaches and programs for "greening" employee benefits and incentives.  There are a number of VT businesses that have provided "green" benefits to their employees as a way of meeting their own organizational goals or mission, or simply as a way to reduce their employees' negative impact on the environment.  After an overview of emerging programs and best practices from around the country, a panel of representatives from Vermont businesses will discuss their experience with green benefits, including challenges and future opportunities.  The goal of the workshop is to broaden understanding and identify opportunities for "green" benefits as promising new approaches to meet the needs of employers, their staff, and the planet.
Jennifer L. Chiodo PE LEED AP, Managing Partner, Cx Associates, LLC
Nick Lange, Consultant, Vermont Energy Investment Corporation (VEIC)
Andrew Savage, Director of Communications and Public Affairs, AllEarth Renewables
Tim Shea, Title, National Life Group
Moderator: Nikki Kuhn, Senior Consultant, Vermont Energy Investment Corporation (VEIC)

Workshop 8
Big Ideas: Key Features and Building Blocks of the "New Economy"
Join a panel of New Economy thinkers to learn about the opportunities presented by public banking, crowd sourced investment, commercial barter and other exchange systems. The New Economy offers businesses in Vermont a variety of tools for expanding markets, lowering costs, configuring ownership, and obtaining critical finance and investment.
William Bittinger, Chair of the Board, Donella Meadows Institute
Gary Flomenhoft, Gund Institute for Ecological Economics at UVM
Gwendolyn Hallsmith, Executive Director, Global Community Initiatives
Amy Kirschner, VBSR Marketplace

Workshop 9
Into the Cloud: Digital Resilience & Security Training for Small Business
An interactive training session that introduces participants to various cloud computing tools and how these tools can help create resilience and continuity in times of disaster.  This workshop, jointly conducted by the Vermont Digital Economy Project and the Vermont Small Business Development Center, is an interactive training session that introduces participants to various cloud computing tools and how these tools can help create resilience and continuity in times of disaster, protect sensitive documents, bolster online presence, and increase business productivity. Participants will be introduced to online back-up tools and shown how they function, as well as disaster preparedness measures that cloud computing can provide.

Sharon Combes-Farr, Director, VT Digital Economy Project, VCRD
Patrick Ripley, Assistant Director of e-Commerce, VT Digital Economy Project, VTSBDC
2:30 - 2:45
NETWORKING BREAK

2:45 - 4:00
CONCURRENT WORKSHOPS - SESSION
Workshop 10
Strategic Insights: Demystifying the Vermont Brand
Learn more about the Vermont brand's rational, cultural and emotional attributes and how to enhance your business through informed opportunities and connections. Panelists will review recent research findings and demonstrate how to deploy the Vermont brand to differentiate products, recruit personnel, and enhance socially responsible business norms.
Elliot Burg, Assistant Attorney General, State of VT
Kathy Murphy, Chief Marketing Officer, State Of VT
Dan Weinstein, Director of Market Strategies and Insights, Resource System Group

Workshop 11
Workplace Design: Creating Workplaces that balance Collaboration, Concentration, Teamwork and Privacy
Using market research, analytical tools and local project examples, we will share specific design and planning strategies you can use to provide a comfortable balance between teamwork and individual privacy. Yahoo CEO Marissa Mayer recently announced an end to her company's work-at-home policy.  This policy change is intended to promote collaboration in the office, but the reason many employees choose to work from home is to escape the interruptions that hinder privacy and focused work.  In today's workplace, how do we design spaces that facilitate creative teamwork while simultaneously allowing for focused tasks free of distraction?

Matthew Bushey AIA LEED AP, Associate, TruexCullins Architecture and Interior Design
Jackie DesLauriers, Account Manager, Creative Office Pavilion
Jason Rouillard, Project Manager, Dartmouth College Office of Planning and Design
Margaret Gilchrist Serrato PhD AIA ASID LEED AP, Workplace Strategist, Herman Miller

Workshop 12
Report from the Golden Dome: VBSR Public Policy Update
Health care reform, the future of wind energy, marijuana decriminalization and state budget cuts from the federal sequester were just a few of the items on the Vermont Legislature's plate this year. Get the inside scoop on the big issues under the Golden Dome in 2013 and how they will affect your business. Key members of the Vermont Legislature will attend if the session has concluded for the year.

Sen. Tim Ashe, Chair of the Senate Finance Committee – (confirmed if Legislature is adjourned)
Sen. Claire Ayer, Chair of the Senate Health and Welfare Committee - tentative
Pat Heffernan, President, Marketing Partners, Inc.
Rep. Tony Klein, Chair of the House Natural Resources and Energy Committee (confirmed if Legislature is adjourned)
Moderator: Daniel Barlow, Public Policy Manager, VBSR

Workshop 13
Emerging Trends:  Warming Up to Fossil Fuel Divestment
Divestment helped turn the tide in South Africa, can it help us shed our addiction to fossil fuels?  Hear from panelists on the leading edge of fossil free divestment and socially responsible investing.  This workshop will discuss an emerging movement around fossil fuel divestment, with specific perspective from institutional investors, retirement plan managers, and personal wealth advisors. 
Eric Becker, Chief Investment Officer, Clean Yield Asset Management
Matthew Derr, President, Sterling College
Maeve McBride, Operations Coordinator & Divestment Campaigner, 350Vermont
Rob Thomas, President, Social(k) Inc.

Workshop 14
Keeping it Real:  Sustaining Values and Mission During Organizational Transition
Discover strategies and lessons for preserving your organization's mission, values and culture in times of significant change, challenge and transition.  What happens during a change of ownership, a friendly merger, a significant increase in sales volume, or the opening of a new location?  How do the leaders and employees work together to change what is required, and hold on to the values that matter?  What are the best practices at aligning mission, vision, and strategy so that the organization doesn't lose its heart and soul?  We'll examine this topic from multiple perspectives, as we seek to understand and share best practices in creating and sustaining successful transitions.
Julie Goodhart, Owner, HRM Strategies
Rebecca Kraemer, Vice President IT&D, Consulting, Small Dog Electronics
Victor Morrisson, COO & Acting CEO, Dr. Hauschka Skin Care, Inc
Moderator: Flip Brown, Owner, Business Culture Consultants
4:15 - 4:30
CLOSING REMARKS
HONORABLE GOVERNOR PETER SHUMLIN
4:30 - 5:30
PRESENTATION OF THE 2013 GOVERNOR'S AWARDS FOR EXCELLENCE
Deb Markowitz, Secretary, Agency of Natural Resources

VERMONT-THEMED COCKTAIL RECEPTION
Unwind while sharing your news and insights from the day with colleagures, peers and friends. Cash Bar.

When & Where

University of Vermont's Davis Center
590 Main Street
Burlington, VT 05405


Tuesday, May 14, 2013 from 7:30 AM to 5:30 PM (EDT)
Add to my calendar
Organizer
Vermont Businesses for Social Responsibility
VBSR's 2013 Spring Conference - Local Innovation, Global Inspiration: Leveraging Grass Roots and Global Action to Advance Social Responsibility