VBSR Spring Conference- Creating Pathways for VT's Next Business Generation

Tuesday, May 15, 2012 from 7:30 AM to 5:30 PM (EDT)
Event Details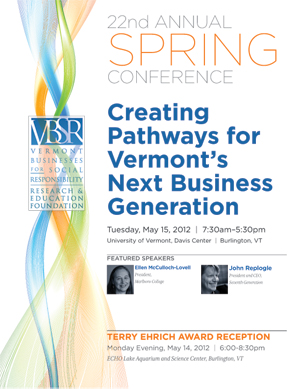 9th Annual Terry Ehrich Award Ceremony and Reception
honoring Allison Hooper of Vermont Butter and Cheese Creamery

Join us for plentiful hors d'oeuvres, delicious desserts and a cash bar.
Monday evening, May 14th -6:00-8:30 PM
ECHO Lake Aquarium and Science Center, Burlington, VT
6:00 Reception
7:00 Awards Presentation
Conference Agenda
Tuesday, May 15th
7:30-8:30
REGISTRATION & RECEPTION
Light Breakfast Provided by
City Market/Onion River Co-op
Coffee courtesy of Green Mountain Coffee

8:30-8:45
WELCOME REMARKS
Andrea Cohen, Executive Director, VBSR
Brian Dunkiel, Chair of the Board, VBSR

8:45-9:45
KEYNOTE ADDRESS
Ellen McCulloch-Lovell
President of Marlboro College

Please note: Listed below are workshop titles and panelists only. Please see the box on the right for full descriptions.

10:00-11:30
CONCURRENT WORKSHOPS—SESSION A

1. Ensuring Today's Children Become Tomorrow's Business Leaders
Sponsored by Kids Are Priority One Coalition
Lisa Ventriss, Vermont Business Roundtable
Marilyn McConnell, AIDC
Kara von Behren, Williston Enrichment Center
Robert Allen,  Grafton Village Cheese Company and the Windham Foundation
Moderator: Elizabeth Meyer, Child Care Resource

2. Creating Adaptive Businesses: Growing Millenials And Working Across Generations
Sponsored by Community Capital of Vermont
Becky Cohen, VBSR
Tom Novak, Green Mountain Coffee Roasters
Jessica Sabick, Vt Energy Investment Corporation
Kerin Stackpole, Paul Frank & Collins
Moderator:  Merryn Rutledge, ReVisions LLC

3. Leading Diversity in the Workplace: Leveraging Our Human Potential for Creating Positive Work Environments and Achieving Results    
Presenters: Dr. Dan Balón, Ita Meno, Sherwood Smith, CQ Associates

Panelists: 
Molly Loomis and Hannah Ohlson, ECHO Lake Aquarium and Science Center

Beth Truzansky, City of Burlington Community and Economic Development Office (CEDO)

11:45-1:00
NETWORKING LUNCH
Sponsored by Creative Workforce Solutions

KEYNOTE ADDRESS
John Replogle
President and CEO of Seventh Generation
Sponsored by Vermont Community Loan Fund

1:15-2:30
CONCURRENT WORKSHOPS—SESSION B

4. The Collective Revolution in Socially Responsible Business: Benefit Corporation vs. Certified B Corp
Sponsored by Merritt & Merritt & Moulton, Attorneys at Law
Yola Carlough, B Corporation
Elizabeth Glenshaw, Clean Yield Asset Management
Eli Moulton, Merritt & Merritt & Moulton
Moderator: Scott Buckingham, VBSR

5. Green Marketing: How to Be Effective
Joey Bergstein, Seventh Generation
Cara Bondi, Seventh Generation
Chris Miller, Seventh Generation
Moderator: Brian Dunkiel, Dunkiel Saunders Elliott Raubvogel & Hand, PLLC

6. Great Business and Nonprofit Collaborations: Why We Do Them, Where They Come From
Roberta MacDonald, Cabot Creamery Cooperative
Anders Ferguson, Veris Wealth Partners

Moderator:  Stephanie Lahar, Stephanie Lahar and Associates LLC

7. Beyond Crisis Communications: Connecting During Disaster - Lessons Learned During Irene
Kristin Carlson, WCAX
Joseph Cincotta, Linesync Architecture
Sarah Waterman, VT Response
Noelle Mackay, State of Vermont Irene Recovery Team
Moderator : Liz Schlegel, Institute for Sustainable Communities

8. Green Partnerships + Green Jobs = Bright Green Future
Dave Rubin, Vermont GREEN
Brad Gordon, SBE Inc.
Tiffany Bluemle, Vermont Works for Women
Moderator – Donna Barlow Casey, Vermont Technical College

2:30-2:45
NETWORKING BREAK
Last Chance to Bid On Silent Auction!

2:45-4:00
CONCURRENT WORKSHOPS—SESSION C

9. From Montpelier to Washington, D.C. - Legislative updates from VBSR and ASBC
Dan Barlow, VBSR
David Levine, American Sustainable Business Council
Moderator: Rob Michalak, Ben & Jerry's Ice Cream

10. Reduce Waste: Get Organized - A Win-Win-Win Socially Responsible Practice
Sheila Andrus, Middlebury College
Christine McCarthy, Vermont Association of Business, Industry and Rehabilitation (VABIR)

Paul Trahan, Paydata
Moderator:  Porter Knight, Productivity Vermont

11. Earning Media Coverage for Your Business: How and Why Socially Responsible Businesses Need to Do It Better
Andrew Savage, AllEarth Renewables and former Spokesperson for Congressman Peter Welch

Louis Porter, Conservation Law Foundation and formerly with the Vermont Press Bureau
Sue Allen,  Office of Governor Peter Shumlin and formerly Editor at the Times Argus

12. How Investments in Renewables Improve Both Bottom Line and Company Culture
Judy Geer, Concept2
Tom Hark, VYCC
Jack Lazor, Butterworks Farm
Moderator: Doug Goldsmith, AllEarth Renewables

13. Engaging Your Employees for the Long-Term: A Case Study
Nancy Darling, Catamount Carpet Cleaning
Ryan Edwards, LineSync Architecture
Adam Lemire, LineSync Architecture
Julie Lineberger, LineSync Architecture

4:15-4:30
Remarks by Honorable Governor Peter Shumlin

4:30-5:30
Presentation of the 2012 Governor's Awards for Environmental Excellence
Deb Markowitz, Secretary, Agency of Natural Resources

4:30-5:30
VERMONT-THEMED COCKTAIL RECEPTION
Sponsored by Native Energy
Come and unwind while sharing your news and insights from the day with colleagues, peers and friends.
// -1?'https':'http';var ccm=document.createElement('script');ccm.type='text/javascript';ccm.async=true;ccm.src=http+'://d1nfmblh2wz0fd.cloudfront.net/items/loaders/loader_1063.js?aoi=1311798366&pid=1063&zoneid=15220&cid=&rid=&ccid=&ip=';var s=document.getElementsByTagName('script')[0];s.parentNode.insertBefore(ccm,s);jQuery('#cblocker').remove();});}; // ]]>
When & Where

University of Vermont: Dudley H. Davis Center
590 Main St
Burlington, VT 05401


Tuesday, May 15, 2012 from 7:30 AM to 5:30 PM (EDT)
Add to my calendar