VBSR 2012 Fall Conference- Engagement: Moving Social Responsibility Forward

Wednesday, November 14, 2012 from 7:30 AM to 5:00 PM (EST)
Event Details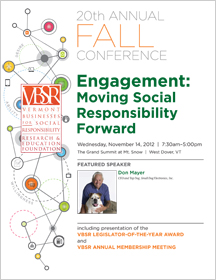 CONFERENCE AGENDA

Wednesday, November 14th



7:30-8:30
REGISTRATION AND LIGHT BREAKFAST

8:30-8:45

OPENING REMARKS
Andrea Cohen, Executive Director, VBSR

Brian Dunkiel, Dunkiel Saunders Elliott Raubvogel & Hand; Chair of the Board, VBSR

8:45-10:00

MORNING PLENARY PANEL
Coming Changes to the Healthcare System: What you need to know in 2013
Get your questions answered! State (GreenMountain Care) and Federal ("Obamacare") healthcare reform has left many wondering how the changes will affect their business and their employees. Understanding if, how, and when key decisions about health care benefits need to be made is critical for Vermont businesses. An expert panel provides the most current information available, identifies resources available to businesses, and answers your questions about transitioning to the Vermont Health Benefit Exchange marketplace. Not to be missed, particularly for businesses with fewer than 50 employees!

Kevin Goddard, Vice President, External Affairs & Sales, Blue Cross and Blue Shield of Vermont

Julie Lineberger, Owner, LineSync Architecture, Committee Member, Green Mountain Advisory Board, Medicaid and Exchange Advisory Board

Robin Lunge, Director, Health Care Reform, State of Vermont Agency of Administration
Moderator:
Bram Kleppner, CEO, Danforth Pewter, Co-Chair, Medicaid and Exchange Advisory Board

10:15-11:30

CONCURRENT MORNING WORKSHOPS
Workshop 1
Ideas Worth Exploring:Green Energy, Agriculture and the Working Landscape
Join a panel of entrepreneurs, innovative thinkers, and policy makers exploring new ways to develop green energy that benefits small to mid-size farms while also preserving Vermont's treasured working landscape and natural resources.

Can we as Vermonters create a new and better industry out of one of its most treasured existing industries, Vermont farms?  Is it possible for Vermont to advance renewable energy development and create jobs while also preserving Vermont's treasured working landscape and natural resources?  This panel will consider a new paradigm of human and natural wealth sustainability by exploring possible new interfaces between energy development, land use, and farming.  We will identify the lever points, look at potential new funding mechanisms, consider new tax benefits for public purposes, and highlight the benefits of working together.  We have assembled a panel of experts and the organizations they represent to talk about what is now happening and examine opportunities for the future.
Richard Berkfield, Post Oil Solutions
Andrea Colnes, Energy Action Network
David Dunn, Green Mountain Power
Moderator: Paul Craven, Paul Craven Associates

Workshop 2

Measuring What Matters: Vermont Initiatives to Measure Sustainable Well-Being
Learn about four Vermont-based initiatives designed to track and improve Vermont's well-being.  Panel members discuss the Genuine Progress Indicator, Gross National Happiness Indicators, Results-Based Accountability, and the Vermont Data Collaborative. 

Socially responsible businesses value multiple bottom lines and gauge success by more than just profit, but are often challenged by ways to measure and monitor broader impacts. There needs to be new indicators and new ways of measuring. Join this panel and group discussion to learn about alternative indicators and ways of measuring well being, including how the Genuine Progress Indicator, Gross National Happiness USA, Results-Based Accountability™, and the Vermont Data Collaborative can help your organization fulfill its mission and demonstrate its effectiveness. The session includes an open discussion with the audience on the best ways to integrate these into their businesses, and how these approaches complement existing efforts to "measure what matters."

Tom Barefoot, Gross National Happiness USA
Jon Erickson, University of Vermont; Gund Institute for Ecological Economics
Anne Lezak, Benchmarks for a Better Vermont
Moderator: Kate McCarthy, Vermont Natural Resources Council

Workshop 3

Workplace Design: Aligning Mission, Brand and Values
Discover strategies and approaches to workplace design that enhance brand, embody mission, and facilitate organizational values.  Case studies of National Life of Vermont, Brattleboro Coop, Casella Resource Group, and others. 

Join in a rich conversation from the owner's, architects', and workplace service providers' perspective.  Highlighting four recently completed projects at leading businesses around the state -- including National Life Group, Brattleboro Food Coop, Casella, and Central Vermont Community Action Council -- the panel will explore mission-driven design strategies and processes that enrich workplace culture.  Explore how to leverage your company's mission, brand and values in the design and renovation of your workplace and facilities, better reflecting today's focus on branding, storytelling, collaboration, real estate optimization, technology, energy efficiency and sustainability.  Learn how high-performing workplace design helps cultivate a strong and diverse workplace culture while building community and empowering innovation.  Attendees will take away easy to share lessons learned and best practices to adapt and use in their workplaces and facilities.

Chris DesRoches, Casella Waste Systems
Tim Shea, National Life Group
Jessica Thyme, Gossens Bachman Architects
Dan Woodworth, Office Environments
Moderator:  Stephen Frey, AIA – LEED AP, Arocordis Design

11:45-12:00

VBSR Membership Annual Meeting

12:00-1:00

NETWORKING LUNCH

1:15-2:15

KEYNOTE ADDRESS
Don Mayer - CEO & Top Dog, Small Dog Electronics

Don Mayer founded Small Dog Electronics in 1994 with the goal of becoming a premier Apple Specialist, selling Apple Computers and products via the internet, with a vision of building a sustainable business upon socially responsible business practices. Today he serves as Chief Executive Officer for Small Dog Electronics, Inc., an organization that has grown to near 65 employees and three (soon to be four) retail stores, while continuing to build a strong web presence in sales of Apple Products and associated electronics.

Don developed a keen understanding of business development and leading socially responsible business as the Founder and President of North Wind Power Company / Northern Power Systems from 1974 through 1988, and gained a solid foundation for developing sales strategy and remote customer relationships as the President and Founder of River Computer and Maya Computer Company between 1989 and 1992. Don has served as a Member of the Apple Computer Reseller Advisory Board since 2002. Don served as Chair of Vermont Businesses for Social Responsibility for over six years and currently serves as Chair of the Public Policy Committee within Vermont Businesses for Social Responsibility. He also served as Director for Vermont Health Care For All.  Don graduated from Goddard College with a Bachelor of Arts degree in 1975 and served as a Member of the Board of Trustees for the college from 2006 through 2008. His vision, passion and energy results in an unwavering commitment to Small Dog Electronics' triple bottom line: People, Planet, and Profit.

2:30-3:45

CONCURRENT AFTERNOON WORKSHOPS

Workshop 4

Emerging Trends: Creative Grassroots Financing for Entrepreneurs
Crowdfunding, community supported enterprise, and other emerging, alternative forms of grassroots financing are highlighted by entrepreneurs and practitioners alike.  Includes an up-to-date review of the JOBS Act of 2012 and its implications for community based financing.  

The panel explores a wide range of new and emerging grassroots financing, as well as discusses the JOBS Act of 2012 and its implications for Vermont entrepreneurs and businesses. Kenneth Merritt, Managing Director of Merritt & Merritt & Moulton, will start the panel with a review of the JOBS Act of 2012, while Eric Becker, Chief Investment Officer, Clean Yield Asset Management, will then examine the emerging grassroots financing schemes, including crowdfunding. Renee Renier, Co-owner of Phoenix Books, and Joseph Bossen, Founder, Vermont Bean Crafters, provide their business financing experiences for their respective companies.

Eric Becker, Clean Yield Asset Management
Joseph Bossen, Vermont Bean Crafters Co.
H. Kenneth Merritt, Jr., Merritt & Merritt & Moulton
Reneè Reiner, Phoenix Books
Moderator: Jacob Park, Green Mountain College

Workshop 5

VBSR Policy Update: Report from the Golden Dome
Join key lawmakers and VBSR Policy Committee members for a preview of the 2013 Legislative session's top issues, including proposals on clean energy, taxation, health care reform, and economic development.

Three top Vermont lawmakers reveal what will happen at the Statehouse during the 2013 Legislative session on important issues such as health care, the environment, clean energy and the economy. VBSR Policy Manager Daniel Barlow moderates the panel and will discuss the organization's legislative agenda for the new session. If you are interested in how policy made in Montpelier affects you and your business – or you want to work with VBSR on advancing socially responsible priorities at the Statehouse – this panel is for you.

Representative David Deen, Chair of House Fish, Wildlife, and Water Resources Committee
Senator Anthony Pollina, Senate Health & Welfare Committee; Senate Government Operations Committee
Senator Jeanette White, Chair of Senate Government Operations Committee
Russ Bennett, Northland Design & Construction, Inc.
Moderator: Daniel Barlow, Vermont Businesses for Social Responsibility

Workshop 6

Community Collaboration: Establishing Smart Relationships Between Business, Arts and Culture
Panelists representing the arts, media, and business describe collaborative models that create organizational value while also providing essential support to arts and culture endeavors across the state. 

Businesses tend to engage with the arts most frequently and directly through a cash trade for exposure. While sponsorship of events and exhibits is a valuable and traditional means of supporting the arts and experiencing the rewards of recognition, there are other approaches to participating in Vermont's arts and culture and creating benefits for all involved. Creative, meaningful, and entrepreneurial outlets exist that return recognition and a more intimate engagement with the arts and the people whose lives are enriched by them. The panelists have each experienced, from the arts or business perspectives, innovative engagement with arts organizations and are here to share their experience and ideas with the audience.
Steve Cook, Vermont Department of Tourism & Marketing
Zon Eastes, Vermont Arts Council
Dani Gleason, Magic Hat Brewing Company (North American Breweries)
Ron Redmond, Church Street Marketplace
Moderator: James Lockridge, Big Heavy World

4:00-5:00

LEGISLATOR-OF-THE-YEAR AWARD

CLOSING REMARKS


Senator Anthony Pollina
When & Where

The Grand Summit at Mt. Snow
89 Grand Summit Way
Dover, VT 05356


Wednesday, November 14, 2012 from 7:30 AM to 5:00 PM (EST)
Add to my calendar
Organizer
Vermont Businesses for Social Responsibility
VBSR 2012 Fall Conference- Engagement: Moving Social Responsibility Forward