VBSR 2011 Fall Conference - "Resiliency in Uncertain Times"

Wednesday, November 16, 2011 from 7:30 AM to 5:00 PM (EST)
Event Details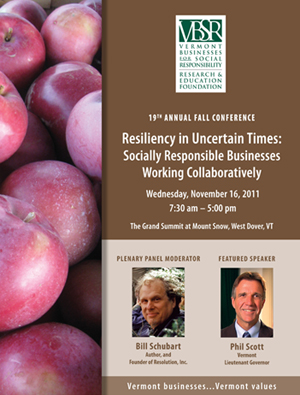 Conference Agenda
7:30-8:30
Registration and Light Breakfast
Coffee courtesy of Green Mountain Coffee

VBSR Chapter Kickoff
(8:00-8:30)
Grab some coffee and join us for a discussion about our newly created VBSR Chapter model and promotion of new chapter development.

8:30-8:45
WELCOME REMARKS
8:45-10:15
MORNING PLENARY PANEL
A Conversation On Resiliency—Adapting to Uncertain Times

Moderated by Bill Schubart
Author, and Founder of Resolution, Inc.
Often crisis or uncertainty creates new opportunities. In this conversation, panelists will address how to proactively anticipate change, and put creative and innovative practices in place that allow business and communities to strengthen their resiliency and stay ahead of the curve.
With panelists:
Louise Calderwood, Center for an Agricultural Economy and Vermont Food Venture Center
When costs of business operation increase, what opportunities arise for new models of regional cooperation and production?

Amy Cortese, journalist and author of "Locavesting: The Revolution in Local Investing and How to Profit From It"
In times of tightened lending practices, what are innovative and creative new models for financing and investing?

Representative Ann Manwaring, Wilmington
When nature creates a crisis, how do you respond proactively to find opportunities for rebuilding and retooling?

Lawrence Miller, Vermont Secretary of Commerce
How can the economy of a town or region adapt after a key employer closes or relocates?
10:30-11:45
3 CONCURRENT WORKSHOPS - MORNING SESSION
See session descriptions in box at right.

12:00-1:30
NETWORKING LUNCH
VBSR will present our 2011 Legislative Leader awards to Senator Claire Ayer (D), Addison County, and former Rep. Mark Larson (D), Burlington, for their leadership this year in reforming Vermont's health care system.

1:30-2:45
3 CONCURRENT WORKSHOPS - AFTERNOON SESSION
See session descriptions in box at right.
Afternoon treats courtesy of Brattleboro Food Co-op

3:00-3:30
AFTERNOON KEYNOTE SPEECH
Buying Local is for Everyone
Phil Scott


Vermont Lieutenant Governor
One of Phil Scott's highest priorities as Vermont's Lieutenant Governor is to encourage individual consumers and businesses to buy locally whenever possible. He strongly believes in the link between commerce and community, and takes every opportunity to remind Vermonters that choosing to support your neighbors' businesses represents a critical avenue to being more self-reliant as a community and as a state. He also challenges the common assumption that buying local is always more expensive. In fact, local goods and services have shown to be very cost-competitive, and can become even more affordable with increased demand. Join us to talk with Lt. Gov. Scott about initiatives that encourage and enable all of us to support and stimulate our local economy.
3:45-5:00
Cocktail Reception
When & Where

The Grand Summit at Mount Snow
89 Grand Summit Way
West Dover, VT 05356


Wednesday, November 16, 2011 from 7:30 AM to 5:00 PM (EST)
Add to my calendar
VBSR 2011 Fall Conference - "Resiliency in Uncertain Times"