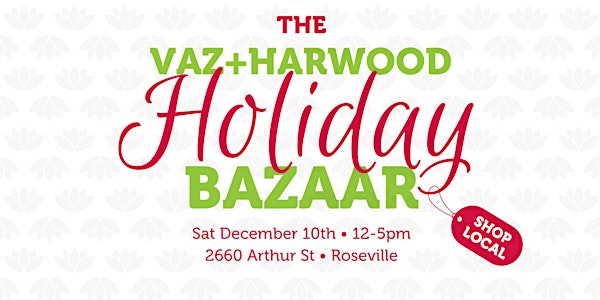 Vaz+Harwood Team Holiday Bazaar - Shop Local
Shop unique + handcrafted gifts from local makers for the holiday season. Over 55 vendors! Edible goods, wood crafts, wearables, and more.
When and where
Location
2660 Arthur St 2660 Arthur Street Roseville, MN 55113
About this event
Welcome to the 1st Annual Vaz+Harwood Holiday Bazaar!
Holiday shopping just got easier this year. The Holiday Bazaar has something for everyone, AND allows you to support HYPER LOCAL Minnesota artists at the same time.
So who are Vaz+Harwood? We're a residential real estate team and we love a good maker's market! We are big into building community and helping anyone and everyone achieve their homeownership dreams. Check us out if you or anyone you know is thinking of buyer or selling a home now or in the future.
Back to the Holiday Bazaar... all our vendors keep 100% of their sales! We wanted to craft an event for local makers and community members to come together and support one another.
Featuring an incredibly diverse group of vendors, take a look below at what you can find at the market this year! If you can't make it to the market, please shop directly from the vendors at their linked shops below.
P.S. We'll also be collecting donations for Neighbors Inc at the bazaar! If you would like to bring a non-perishable item to donate as an optional 'entry ticket' we will be delivering all donated goods following the event.
---------
Angry Peanut Press: Small-edition prints, screen-printed clothing for babies and children, cards, tea towels, t-shirts, and art prints
Awohali Designs: Beaded jewelry
Barbara Holtz: Holiday lighted decor
Bearded Candle Co: Wood Wick Candles & Wax Melts
Blackbird Revolt: Shirts, prints, classes
Botanical Atelier: Soap, tea and herbal remedies
Bundles of Love: Benefit table. Crocheted/knit/sewn goods
Chosen and Free: Jewelry
Christopher's Creations: Paintings
The Clever Farm Girl: Items from reclaimed wood and repurposed items. Holiday and home décor items
Creative Littles: Play dough kits and sensory items
Crocushill Creatives: Framed ink illustrations
Draftwood: Jewelry and keyrings, bottle openers, beer coasters and beer flights, wooden tops and Harry Potter style wands
Edible Arts: Jellies and jams
Emma Skala Pottery: Pottery
The Eyetalian Gravy Co: Artisanal Pasta Sauce, salsa, bath products & gnomes
Galaxy Rise Creatives: Pendants , felt holiday ornaments
Golden Boies: Jewelry and permanent jewelry
The Gumbo Lady LLC: Sweet Tea /Candy Yam Hotsauce / Roux
The Happy Ohana: Hawaiian inspired jewelry and wooden products
ILO Studio: Metal jewelry and Ornaments
Ivy Frozen: Baby/toddler stuff, toys, and kawaii/nerdy accessories, women's clothing
Jackie's Homemade Love Soup: Dry soup mixes
Jessica Zator: Original watercolors and prints.
Katie Diaz: Jewelry, baby items
Kiley's Kocoa Shop: Fresh Hot Cocoa
KJMarie Originals: redesigned vintage jewelry + coin purses
Krysty Thelen: Knitted accessories and painted pots
Linda Rinaldi: Greeting cards, home decor, Christmas ornaments
Linked with Love: Crochet snugglers, stuffed animals, and baby blankets
Marnie's Dog House: Cross stitch portraits, ready to gift items, kits and accessories for the DIY stitcher
Meraki Soul Art: Mandala Art - handmade artisan gifts and baked goods
Merlin's Mind of Metal: Chainmail jewelry/clothing/decorations
Mi sota Essence: soaps, body and bath oils, teas, salves
MN Make: Laser cut jewelry
Mud + Bark: Ceramic garden signs, small home decor/ornaments
Mx. Matchery: Crocheted purses, headbands, etc., baked goods, and quilled art
Nature Framed: Soaps, candles, jewelry
Nite Dot Art: Ornaments, magnets, earrings, pop sockets, mugs and more
NPauj Designs: Earrings & Hair Accessories
Orenge's Art: Painted and Paint your own concrete art work
Pioneer Birchworks: Handmade Birch Bark & wildflower jewelry
Practicute: Quirky and useful gifts: cord snappers, reusable produce bags, ornaments, keychains
The Purposed Parent: Baby and toddler feeding sets, support services, classes, and resources!
Renee's Cooking Oils: Cooking Oils
Saint Paul Spice Company: Hot sauces
Shadeflower Divines: Mother Earth bottles, tarot readings, and stationery. With Sunbird Crochet: Artful crochetry including: dream catchers, home goods, scarves, hats, bookmarks, barrettes, and more
Skidmore Ponce Studios: 3D printed toys and gifts
Skipping Ruby: Seed bead, resin and stone jewelry
Small Kims: Ceramics/stickers/digital painted pet portraits
Taha Made: Macrame
Theo Rysavy: 3D printed items, charms, accessories
Thrifty Wick Candles: Candles, Handmade soap
Two Dusty Bears: Traditional and 3D woodcrafts
Uhuru Books: Earrings from Kenya
Wenda Winter Wear: Hats and mittens