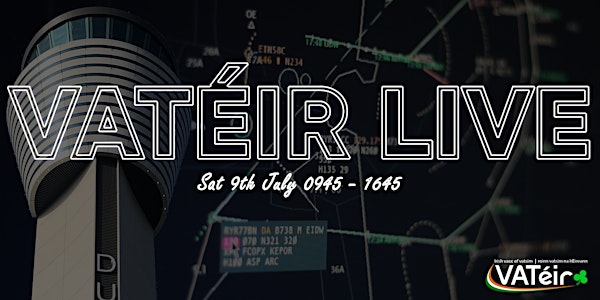 Location
Carlton Hotel Dublin Airport
Old Airport Road
K67 P5C7 Dublin
Ireland
Sales Have Ended
Ticket sales have ended
Thank you very much for supporting VATéir. We look forward to meeting you on the day!
VATéir Welcomes you to "VATéir Live".
About this event
VATéir prides itself on being able to provide a platform to it's controllers and pilots where they can simulate air traffic control procedures to as close as possible compared to those used in the real world but there has always been one main thing missing. We can all staff the FIR up, control hundreds of planes and get them through our sectors safely but when the other controller mutes their mic stopping you from coordinating with them it can get frustrating.
So we are going to solve that problem! VATéir is going to set up it's own operations room, staff the FIR and bring the simulation to the next level.
In the past two years, VATéir has seen so many new faces (or rather voices) joining the community, starting or completing their vATCO training or keeping the controllers busy by flying in and out of the FIR. We feel now is the right time for VATéir to go LIVE!
On Saturday the 9th of July 2022, we would like to invite all of our controllers to the Carlton Hotel beside Dublin Airport (specific details below) and take position in the temporary operations room.
This event has been held in the past many times and afforded a lot of members the opportunity to meet each other in person, get to know each other even more and just have a bit of craic. Previously known as "The VATéir Fly-in", it forged many long standing real-world friendships and proved to just be a very enjoyable day.
Another great aspect of VATéir Live is that we welcome those that just want to pop by for a nose, to have a look at what goes on in the background and to meet the people behind the voices you commonly hear while flying around Ireland on the network.
We look forward to seeing you all there!