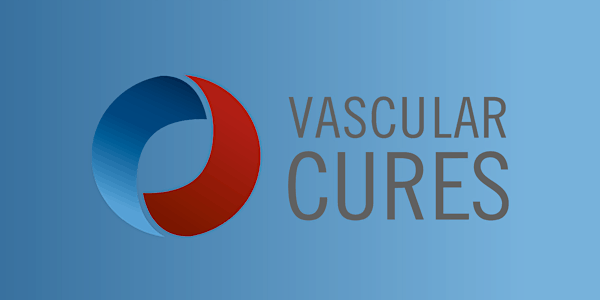 Vascular Cures Virtual Innovation Summit
Vascular Cures Virtual Innovation Summit
Date and time
Friday, September 18, 2020 · 9am - 1pm PDT
About this event
2020 Vascular Innovation Series
Virtual Innovation Summit
Patient-Centered Technology for Harnessing & Using Data Remotely - Opportunities and Limitations in PAD Research & Care
Summit: September 18th, 2020 | 9am-1pm PT, 12pm-4pm ET
Report Out Session: October 6th, 2020 | 11am-12pm PT, 2pm-3pm ET
Join us for a half-day of presentations from vascular health leaders and brainstorming sessions designed to propose solutions to the most pressing unmet needs fin vascular health. The meeting will bring together a multi-disciplinary, multi-stakeholder group of patients and key players in vascular health to address "Patient-Centered Technology for Harnessing & Using Data Remotely". As a leader in your field and partner to Vascular Cures, we invite you to participate in this important endeavor as a partner and premier change agent in the field of vascular health.
Summit Objectives
• Access and leverage the unique experiences of specialists, stakeholders and patients in clinical care and research to develop integrated approaches to addressing the fields' highest unmet needs
• Map out collaborative projects to address the identified issues and prioritize the patient experience
• Develop innovative strategies to accelerate collaborative solutions, including identification and collection of shared data that could be leveraged
Speakers
Jeffrey Olgin, MD, UCSF
Gallo-Chatterjee Distinguished Professor of Medicine
Chief, Division of Cardiology
Co-Director, Heart and Vascular Center
Oliver Aalami, MD, Stanford University
Clinical Associate Professor of Surgery
Director, Biodesign for Digital Health
Mary McDermott, MD, Northwestern University Feinberg School of Medicine
Jeremiah Stamler Professor of Medicine
Alejandro Reti, MD MBA
National Vice President, Clinical Performance at OptumCare
Former Chief Medical Officer, Optum Analytics
Former reimbursement and coverage consultant, Avalere Health
Speaker TBD
Program Overview
Innovation Summit Half-Day Meeting: September 18th
9am Welcome & Impact Reports from Prior Summits
10am Speaker Presentations
12pm Concurrent Breakout Sessions (PAD & CLTI)
1pm Closing Remarks
Post-Summit Report-out: October 6th
11am Welcome, Summit Recap
11:10am Breakout Session Report Out, Q&A: PAD
11:30am Breakout Session Report Out, Q&A: CLTI
11:50am Closing & Next Steps
About the organizer
Vascular Cures is the only 501(c)3 nonprofit organization representing the millions of patients with Vascular Disease in the U.S. We focus on creating long-term, shared resources that accelerate development of new treatments and improve patient health.