Various Web Help Clinic Sessions Available!

Multiple Dates
Event Details
Web Help Clinic sessions are conveniently scheduled after hours throughout the work week so that most anyone can make the clinics work with their own busy schedules.
Nope, There's No Sales Pitch … Seriously.
When you book a Web Help Clinic, there's no sales pitch EVER and absolutely ZERO pressure or obligation of any kind. You come, get the advice, guidance or clarity you need for your web or mobile project and that's it. End of story … unless, of course, you don't want it to be the end. You are welcome to learn more about engaging us for additional support and services beyond your clinic time. But that's totally up to you to want or decide. We will not push ourselves on you during your clinic so you can rest assured you are not being lured to any unwelcome sales pitches of any kind.
Here's What a 45-Minute Web Help Clinic with Our In-House Web Expert and Digital Marketing Strategist Mayra Ruiz-McPherson Will Allow You to Do
When you book a 45-minute Web Help Clinic with our in-house web expert and digital marketing strategist Mayra Ruiz-McPherson, you'll be able to do any of the following:
Bring in your web design concepts, ideas, wireframes to gain seasoned, objective feedback

Share your web and online marketing goals and challenges for strategic direction and tactical guidance

Ask any question(s) about web development or mobile technology as they pertain to your project

Share your web project RFPs or your short-listed vendor proposals for objective input to help you determine the best vendor choice given your budget and project requirements

Collect insight and real-world advice regarding web vendor management or outsourcing without any obligation, expectations or sales-pitch pressure

Discuss your short and/or long-term web strategy to bounce off ideas and learn about considerations you may not have yet taken into account

Address concerns pertaining to web vendor contracts with someone who's been there, done that many times over *
* While Mayra is not an attorney, she can often point out areas in a vendor or agency contract needing more clarification, explanation or requiring further legal review.
What Mayra Ruiz-McPherson Brings to the Table … and How You Can Benefit!
Seasoned digital strategist.

Mayra's extensive experience in marketing and digital communications spans 17 years in multiple industries.


How you benefit:

Because Mayra's background is so diverse, she often shares advice or renewed perspective based on her past and current experiences assisting organizations and individuals (freelancers, business owners, etc.) in need of practical, real-world guidance.

In depth interactive experience.

Mayra's proven background managing both small and robust web applications for companies and business owners spans more than 10 years.


How you benefit:

This means the advice Mayra presents to you comes from a place of hands-on, first-hand experience helping with all kinds of projects no matter their size, complexity or budget.

Senior level web managerial experience.

Mayra has held senior-level web positions throughout her career, including Interactive Marketing Manager overseeing corporate websites on behalf of a local IT consulting firm as well as Director of Web Communications managing multiple web properties with large teams, large budgets and large web infrastructures for a national financial services firm


How you benefit:

Those who feel their site or web application is in limbo or in need of an entirely new direction and seek strong strategic, long-term vision for their online efforts will gain immensely from Mayra's leadership in this arena. Her capability in defining long-term technology, marketing and revenue goals and possibilities for most any web endeavor helps site owners to transcend beyond any plateaus to reach new heights of innovation and identify new and potential lines of revenue.

Extensive instructional background in a variety of web subjects.

Mayra has extensive experience as an adjunct instructor teaching web design and development. She spent two years (four 15-week continuing education semesters) teaching Web Design & HTML at the Corcoran School of Art + Design in Georgetown from 2000-2002. She's also spent several years as adjunct instructor for continuing education programs geared towards working adults in Jefferson County, West Virginia where she taught multiple subjects pertaining to digital marketing and web design.


How you benefit:

Someone who develops training curriculums for continuing education adults must clearly have the ability to effectively communicate and teach subjects in an easy-to-follow format. This is a major plus in the world of web where the endless jargon of HTML, JQuery, PHP, OAuth, MySQL, JAVA and much more seems like alphabet soup to most. Mayra will assist you in making sense of all the tech geek speak and take things a step further by describing the pros, cons and various options available for your review and consideration.

Insourcing and outsourcing-experienced.

Throughout her career, Mayra's worn both hats: she's been the vendor being outsourced to OR she's been the employee outsourcing web work on behalf of an employer.


How you benefit:

Web Clinic participants are able to speak with someone who's worn both hats and who has seen it all from both sides of the coin. As a result, Mayra knows the ins and outs of maneuvering through all things web, web vendor and more. Additionally, because of her extensive experience working with, working for and managing third-party agencies of all shapes and sizes, Mayra can weave her way through all the lingo and tech clutter to provide you with insight, counsel and a clear picture in layman's terms making things easy for you to understand.
About Mayra Ruiz-McPherson

Brand Journalist and Digital Strategist Mayra Ruiz-McPherson is founder of Ruiz McPherson Communications (RMC), a marketing ingenuity practice based in Herndon, Virginia. Mayra — who also founded and launched the online career community SocialMediaJobsDC.com — often presents various digital and social media-focused topics tailored to business owners and senior-level marketing managers. She also instructs a number of courses, workshops and training sessions as well as provides private, on-site training on social media tools and strategies.
In between professional engagements, Mayra guest blogs and contributes content regularly to a number of publications both in and outside the Washington DC metro area. Mayra is also the editor of The Better Social Business Blog, "Pet Tech" columnist for the Virginia Maryland Dog Magazine, contributes an "e-Trends" column to the Loudoun Business Journal and is founder of the Loudoun Fairfax Local Bloggers Meetup group which mentors and helps local bloggers network, learn and exchange ideas.
An avid Twitter user, Mayra writes often about Twitter trends, features and tools as Examiner.com's Washington DC Twitter columnist.
Refund Policy

Ruiz McPherson Communications (RMC) does not currently offer a refund policy for Web Help Clinics. However, if you are not able to attend a clinic which you have signed up and paid for, RMC will allow for the allocated funds to be placed towards a future clinic date and time OR for one of our upcoming or future classes. If you have any questions or concerns, please contact Mayra directly at mayra@ruizmcpherson.com for more information and/or clarification.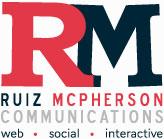 Where

Ruiz McPherson Communications
720 Lynn Street
Herndon, VA 20170


Multiple Dates
Add to my calendar
Organizer
We lead digital strategy for #mobileapps #websites #digitalmarketing #socialmedia #SEO #SEM #PPC. We love Drupal & WordPress. Our lead instructor is Mayra Ruiz-McPherson, a senior digital strategist with 18+ collective years of interactive marketing, web project management and online communications.